Man up or get in the zone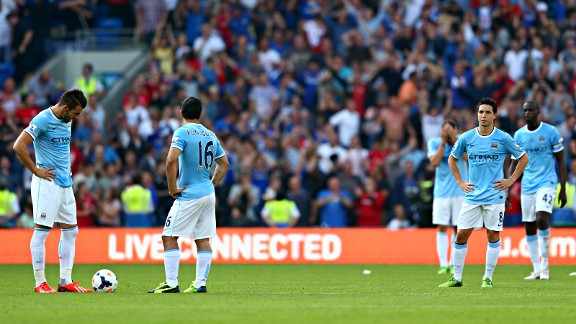 GettyImagesDejected Man City players look on as they head towards a 3-2 defeat in Cardiff.
Now that the dust has settled on the first defeat of the season and the damage of the loss was eased by the bore draw played out at Old Trafford on Monday night, everything isn't looking to bad for Manchester City. Four points off the top, but with a game in hand, and the leagu's top scorers -- after all, it was goals scored that was the problem last season.

The defence, however, did raise some eyebrows in the last game. During the season opener they were solid, but it was difficult not to be when Newcastle very kindly opted out of attacking. But, while the Magpies declined their offensive options one week, the Blues did the same to their defensive responsibilities the next. Three goals conceded and errors aplenty in each.

It's inevitable, given City's good defensive record under Roberto Mancini, and that he and new manager Manuel Pellegrini use different tactics, that the old regime and the current set up will be compared. Mancini's zonal marking system came under criticism, but appeared to work fairly well for large spells; Pellegrini's man marking system has failed its first stern test.

It looked more like a fictional marking system, if the truth's being told.

It's important to remember that there is no one correct system. Both zonal and man marking has pros and cons, and providing either is done correctly, either can work very effectively.

When Roberto Mancini took charge of the Blues in December 2010, he immediately revolutionised the defence. He needed to: Mark Hughes' City were conceding goals like that was the aim of the game (in the Welshman's final three games, City scored seven, conceded nine and got four points). If anything needed looking at, it was that.

What Mancini did almost instantly was to switch styles: Hughes's lacklustre man marking became a much tighter zonal set-up. Ok, so the defensive focus meant the Blues didn't exactly add to their goal tally as much as they had done in the first half of the season, but the biggest improvement was that they didn't need to. They no longer had to bag four to win a game.

Zonal, though, came under fire when City conceded goals, especially at the start of 2012-13. It always looks worse when a goal goes in from a set piece when the opposition players are allowed to roam free, as it appears to have been a disaster – when, in truth, it might have been one player not doing his job.

The theory was that by marking areas of the penalty box instead of the runs, there was no need to worry about the opposition's movement. Forwards couldn't block defenders' tracking runs (as there were none) nor could they get free from their marker -- since their marker was covering the space instead. It was then up to the individual defenders to win the ball when it came to their zone.

The biggest advantage was that all areas of the box were covered, without players getting into wrestling matches. There was no risk of conceding a penalty through grappling -- a worry Mancini had when he claimed City weren't "strong enough" to man mark for this very reason, last year.

On the flip side of the coin, though, the man with the running jump can climb higher than the man with the static jump. So while the defender might have been in a prime position to win the header, he's got to work harder to do it.

Now it appears Pellegrini isn't a fan of the zones. Having spent so long using that system, the old, traditional, man-to-man design is difficult to adapt back to. It's much more of an individual battle, too -- whoever the corner is aimed at is in a one-to-one duel with their defender.

It will take time for the Blues to adapt back -- this week, Pablo Zabaleta has said that "sometimes it's hard" when making the switch, but there is no reason for fans to be alarmed by one bad game. Mistakes were made, but Pellegrini will be continuously working on improving the set-up -- alarm bells will only start to ring when the marking becomes Mark Hughes-esque.

When done properly, both systems work fine. It's just down to the manager and players to get it right.