How untouchable are the untouchables?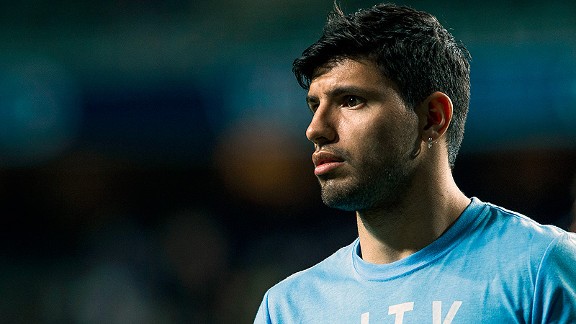 Victor Fraile/Getty ImagesForward Sergio Aguero leads Manchester City against Chelsea in the marquee game of the weekend.
Here's a question (and one I'm fully expecting to be tarred and feathered for -- but please go with it before grabbing that pitchfork and those flaming torches): When was the last time Sergio Aguero had a good game for Manchester City? I'm talking a proper 90-minute performance (or until he was substituted). When did the Argentine last run an opposition defence ragged all game, whether he scored or not?

Nope, I'm struggling, too. Manchester United away last season, maybe?

Now, I don't mean this to be a slight on Aguero, because it's not. I'm not suggesting that Manuel Pellegrini cashes in on the forward before the transfer window closes. There is, however, a point to this. It seems that the striker can be anonymous for an hour, before popping up with a goal in the 61st minute, and finishing the game without another touch of the ball. He might never control the play or even seem to get much of a kick, but he's usually good for a goal or two.

- Curtis: Into the Valley
- Morris: Citizens Kaned in Cardiff

Sometimes, though, whatever he tries just doesn't work -- such as at Cardiff on Sunday. And this must make him a nightmare to manage. How on earth can the gaffer tell if it's a game where he's not getting a kick but will bag two, or if it's a game where he's not getting a kick and won't get a kick for the duration?

And here is the dilemma facing Pellegrini. How untouchable are the untouchables? The Chilean said when he took over that his teams will be picked on form and not reputation -- so how far is he willing to go with that line of thought?

Take Joe Hart, for instance. If reports are to be believed, former Blues boss Roberto Mancini was on the brink of going all guns blazing for Stoke's Asmir Begovic to replace the England No. 1. According to former assistant David Platt, had they still been the management team this season, there could well have been a Bosnian starting in City's goal this season, with an Englishman on the bench.

Following Hart's high-profile mistake against Scotland and his flailing around as if his arms were attached to a windmill for Cardiff's second goal, will Pellegrini reconsider his opinion on his No. 1? Starting Costel Pantilimon against Hull City would be a bold move, as dropping a goalkeeper could make him want to fight for that place, but equally, it could destroy him completely when his confidence is already low.

It's a big call.

As is what to do about Yaya Toure. Again, having controlled a lot of the play in the first half against Cardiff, the Ivorian went missing for the second. Mancini rarely substituted the central midfielder, and when Toure was available, he always started. But there appeared to be complacency issues last season, and they appeared to have crept in during the second half in Wales.

The poor performance at Cardiff was catching. Pablo Zabaleta, the man who barely put a foot wrong last season, put three wrong in one half, being involved as he was in losing Fraizer Campbell thrice. Perhaps it was the switch back to man-to-man marking that had thrown his rhythm. Perhaps it was a bad day at the office. Perhaps he was just having a good ol' daydream. Either way, it was sloppy and totally out of character of the reputation he's built the past 18 months.

Even something as simple as that switch from a zone-marking to a man-marking system can cause disruption. Newcastle barely threatened it, but Cardiff put it under constant strain. There are pros and cons of each, and I don't really care which the Blues use, providing it works. Alan Shearer prophesied last season that he preferred a man-marking system so he knew where to point the finger when it failed. Call me old-fashioned, but I'd prefer the one that stops goals.

All that being said, however, it should be remembered that this was only the second match of the season. The goals conceded from set pieces are worrying and the performances of the goalkeeper in particular haven't been top notch in recent months, but Pellegrini is still settling in to the job and the team are still getting used to his methods.

And after all, if there is a good time to lose a match, it's early on, when there's plenty of time to catch up the deficit. There are still 36 games to play, 108 more points available and nine more months of football remaining.

There's time yet to allow the new manager to put his practices in place.