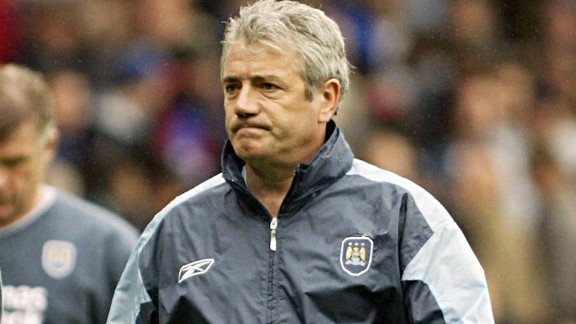 GettyImagesKevin Keegan was in charge the last time Man City won in Wales.
Manchester City and Wales don't really mix too well; although the duo have hardly mixed at all in recent years. Since City have become title challengers in the past few seasons, they've been to Wales twice and drawn and lost, without scoring a single goal.

Well, Micah Richards did score one, but it was ruled offside in the tightest of tight decisions.

The last time City won in Wales, they weren't playing in the Premier League. In 2003-04 Kevin Keegan's team, which had been very sporting in the final season at Maine Road, was given the chance for a European campaign thanks to the Fair Play League. The UEFA Cup was the competition and, in the final qualifying round, City faced TNS -- now The New Saints, but then Total Network Solutions.

- City's Kompany ruled out for a month

Following a comfortable 5-0 home-leg win, City set off en route to Wales. With the opponent's Park Hall stadium in Oswestry deemed too small for the number of City fans that would travel with their team, the tie was played at the Millennium Stadium in Cardiff and finished 2-0, thanks to goals from Christian Negouai and Darren Huckerby.

For City's last league win in Wales, you'll have to roll the clock back to Boxing Day 1999 and drop down to Nationwide League Division Two. The Blues travelled to the Racecourse Ground and left having beaten Wrexham 1-0, thanks to a second-half goal from Kevin Horlock.

When it comes to matches with Cardiff City, however, there's not a lot of recent form to go on. The last time the two clubs met was 19 years ago, in an FA Cup tie that the Bluebirds won 1-0. The last league meeting was just under three decades ago in March 1985 -- a 2-2 draw at Maine Road. The last meeting in the top division was over half a century ago, with a 0-0 draw in Wales in February 1962.

The last City player to score against Cardiff was Paul Simpson (in a game that was played two and a half years before I was born).

As you can imagine, however, with both clubs having changed so much since their last meetings, there's little point in analysing their head-to-head form. And without rehashing clichés about newly promoted teams looking to make a good start and the game being tough because it's Cardiff's first Premier League game at home, there's little that can be read ahead of the fixture.

It's Manuel Pellegrini's first away game for the Blues, so there are question marks about how he will set up. Craig Bellamy will be playing against another of his former clubs and he likes scoring against them -- although given the number of former clubs he has it would be difficult not to.

The positive for City is that they are still very much an unknown quantity under the new manager. Cardiff's defensive plan to combat the visitors' style of play will be based on preseason and last week's Newcastle match -- but nobody yet knows whether Pellegrini has different tactical plans up his sleeves.

With the Bluebirds expected to struggle against relegation this season and having lost on the opening weekend, the pressure will be more on the visitors to go and win the game. Cardiff will be expected to get nothing, but will be hoping to put on a good display, which could make it a tricky tie.

A City win might well be in the cards, given that the Blues have only lost eight times against the hosts in their 47 meetings (though seven have come away from home). But it might be a scrappier and nervier game than a lot of the travelling fans would be hoping for.