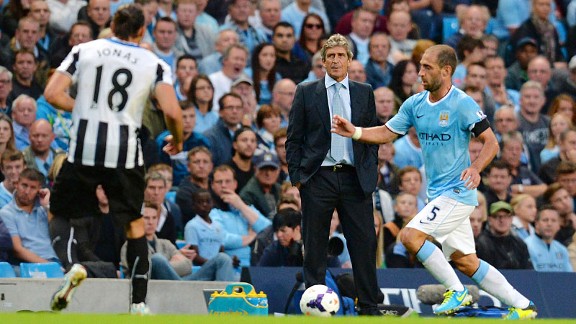 Andrew Yates/Getty ImagesManuel Pellegrini has taken Roberto Mancini's Man City philosophy and tweaked it to fit his aggressive tactics.
City fans have now had their first look at the Blues in a competitive game under Manuel Pellegrini, and it wasn't half bad, was it? One 4-0 win (that should, in all honesty, have been more) and a dominating performance later, the supporters were purring with excitement. And, for the 90 minutes, the world got a glimpse of the reasons the board swapped Roberto Mancini for the Chilean.

- Curtis: Defending from the front
- Report: Toure predicts stronger City

Free flowing football, high pressing and width were the key to the victory -- with two aspects of the game completely different from how the Blues had set up last season. Under Mancini, too many times did the team try to stick to their ''perfect'' football mantra; keeping the ball and trying to work the opening is fine, but when it's not worked for 87 minutes and the opposition have packed the defence, there needs to be a Plan B from time to time.

Fans spent large spells of last season -- as the Blues slipped to many of their 0-0 or 1-1 draws -- crying out for Mancini to add width to the team. His 3-5-2 formation (while not a problem in itself) was his answer to that. The theory was simple: the attacking build-up still came from his forward players, but an extra centre-back allowed the full backs to get into crossing positions.

The execution, however, left a lot to be desired.

It always felt like Mancini never liked crosses. They're percentage balls and, when it's played into the air there is no longer a guarantee that a Blue shirt will be the one to win it. A pass to feet is easier to control and, with enough of them at the right time, an opening can be formed. A ball in from one of the flanks needs winning, and good defenders pick off most in their sleep.

Pellegrini, on the other hand, seems to be comfortable with using that method to create chances. Last Monday evening, Jesus Navas must have put in more crosses in one 90-minute period than any player did in the whole of Mancini's three and a half years at the club. None resulted in a goal, but that's not really the point.

It adds another dimension to the attack. As was clear, the Blues' passing game was still top notch. One- and two-touch stuff, at times. It dragged Newcastle all over the place and, especially after Steven Taylor was dismissed, caused plenty of problems for the visitors -- who needed Tim Krul to avoid complete humiliation.

Under Mancini, when the opposition defence had held firm against the interchangeable movement of Samir Nasri, David Silva, Sergio Aguero and Carlos Tevez, City had nothing. There was no answer but to try it again. And probably fail at it again.

Clearly, this season, teams can do that -- but they'll now have to be aware of a quick ball out to the flank and set-up to make sure a cross doesn't arrive at the head of Edin Dzeko or Alvaro Negrado. And that's not so much a Plan B from Pellegrini, but more a combined Plan A and B, where both tactics can be used at the same time and can be switched to seamlessly.

Then comes the pressure. On losing possession last season, City dropped in deep to protect their back line. Mancini never wanted the opposition to have the chance of a breakaway, and it did work for the most part; City's defence was better than any other. As soon as the other team won the ball back, with the exception of maybe one of the strikers, every member of City's squad dropped behind it to make themselves difficult to break through.

Not anymore.

The new manager doesn't like the opposition having the ball. Instead, he prefers it to be won back as soon as is possible and, to his mind, the best way to do that is to go hunting it high up the pitch. The philosophy makes sense, but it's not without its risks: don't let the other side's defenders rest on the ball and they'll make a mistake, which could lead to another goal-scoring chance for City.

However, it does mean that if they don't make an error and they are able to play past the Blues' pressure, City could be caught short in their own half -- as was demonstrated in pre-season against Arsenal.

Where Mancini preferred to avoid the percentages to minimise the risk entirely, Pellegrini appears to be the total opposite. He plays them. With enough high pressing and with enough balls into the box, City should be able to exploit chances they weren't getting last season.

After only one game, there is good reason why the City fans should be excited.