August 2011. Sergio Aguero sinks a memorable debut strike as City begin their season with a convincing 4-0 drubbing of newcomers Swansea City. The Blues would go on to lift their first Premier League title for 44 years at the end of that season.

Fast-forward exactly two years and it will not have escaped the casuals viewer's attention that City have once again opened their account with an identical scoreline and an equally impressive display. Aguero, too, to add symmetry to the occasion, scored another fantastic goal in first-half stoppage time.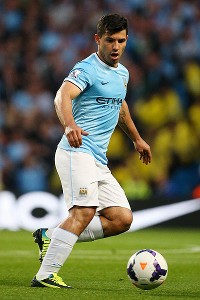 Clive Brunskill/Getty ImagesIf players such as Sergio Aguero can maintain their level on defense, Manchester City should resemble the side from two seasons ago.
For those doubting City's position as title favourites, this will perhaps have persuaded one or two more to sit up and take notice. This side, injuries notwithstanding, will take some serious shifting during the months to come. Injuries, however, are a serious topic just now, as City's defensive line begins to look like the last skittles left standing after Buster Bloodvessel has just taken aim with an inswinger.

To the skillful, adept Matija Nastasic we must now add the name of Vincent Kompany to City's walking wounded. This leaves Manuel Pellegrini with something of an early-season headache. Does he wait for his men to regain fitness and hope a patched-up back four, which might reasonably be expected to include either Micah Richards or Javi Garcia deputising in the middle alongside Joleon Lescott, does the kob asked of it? Or does he plunge back into a transfer market already awash with City's wisely spent cash and buy himself a new centre half? Already Pepe and Demichelis have been touted, one good enough but difficult to shift owing to Real's own defensive injuries, the other less of a promising fit in the most measley defence the Premier League has seen in the past 24 months.

As was seen last season to no great avail, there is little point throwing cash at last-minute panic buys. Happily, it looks like City have left that sort of brinkmanship to United, Arsenal and Spurs this year, all of whom are busy descending their wish list until something finally nibbles the ever-more desperate bait. If what we are led to believe is true, that both injured parties should not be too many days away from regaining full fitness, then the temptation is to say wait and be patient.

City's squad is deep enough and wide enough to cover these kinds of happenings. New signings at this stage of the season are more difficult to bed in, as they have to integrate and learn about their new environment "on the hoof," whilst the likes of Fernandinho and Jesus Navas have had weeks of preseason games to hone their togetherness and match fitness. This was amply demonstrated in Monday's dismantling of Newcastle, where Fernandinho linked energetically and consistently with Yaya Toure to provide City with a much more mobile defensive two in midfield than had been the case last season with the largely dependable but slow-moving Gareth Barry. The wiry Brazilian was a ball of energy, tackling sharply, moving forward constantly and providing a deftness of touch in the attacking third that Barry would not have been able to match.

On the flank Navas also displayed his lightning pace and quick-footed changes of direction with a degree of conviction that was a delight to see and, whilst Negredo's playing time was restricted to a late cameo, he, too, revealed plenty of the class already on display during preseason with a goal wrongly ruled out in the dying minutes.

This then is the benefit of bedding players in good and early, a simple tactic spectacularly shunned by City a year ago. The Newcastle game also let us in on a clutch of Pellegrini's less well-kept secrets. City will not only be attractive to watch this season, they will move the ball around in a flurry of high-tempo short and long passes, they will attack down the flanks and they will defend from the front, the high line maintained Monday by the tireless Dzeko and Aguero proving to be one of the keys to flattening an already limp Newcastle side completely. What the game also revealed is that the defence will have more to do to hold onto that mean reputation so proudly gained over two seasons of sparse goals-against. Joleon Lescott, in particular, was haried into unnecessary mistakes as the gap between the City back four and the racing pair of Fernandinho and Toure opened up more and more with the Blues flooding forward.

This brings us back to the question mark hanging over the defence. As a unit and as individuals, they will have their work cut out attempting to maintain the goals-against column at the now-expected paltry level of recent times. But one thing does appear to be certain: If the likes of Dzeko, Aguero and Silva can maintain their level of harrying and chasing so far into the opponent's half, the City defence will be able to count on many more bodies lending a hand to the defensive cause. As Newcastle's overworked players will testify, that kind of togetherness may well eventually produce a tellingly similar look to the league table as two years ago.