Kompany's injury and Pellegrini's options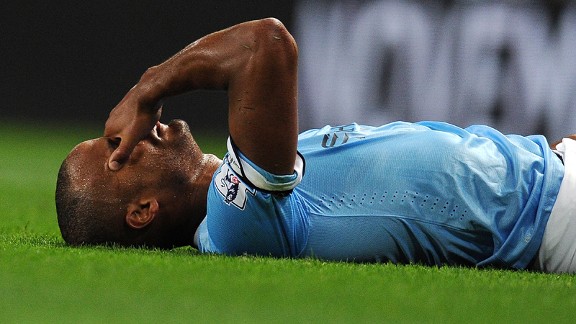 GettyImagesMan City skipper Vincent Kompany lies injured against Newcastle
"Oh, not again," I muttered to myself after a mere 71 minutes of the new 2013-14 campaign. It's a sight that everybody fears and even more so when it's one of your best ... no, one of the world's best players. Toward the end of Monday night's game with Newcastle United, Manchester City captain Vincent Kompany left the pitch with the physio. Injured. Clutching his groin. Hand over his face.

The incident that led to it might have some cause for concern for both the new manager and the fans, though, as it was completely innocuous. Sammy Ameobi tried to power his way past City's center back and, despite the scoreline being a healthy 3-0 at the time, the defender was sure as hell not going to let him. And rightly so -- a man behind me claimed the challenge was "unnecessary" and "stupid" because the game was comfortable, clearly forgetting that goal difference can be very vital come May (that's an argument filed under the 2011-12 campaign).

- Curtis: Dazzling Dzeko-Silva combination
- Jolly: City new boys off to a flyer

Kompany slammed straight into the challenge, whacked the ball out of play and made sure that Ameobi didn't get any ideas about trying that trick again. Except, he wouldn't get the chance to do that again, because the skipper didn't get up. He lay, motionless. Kompany never stays down unless there's a problem. He sometimes doesn't even go down when there's a problem.

It's not worth going over the value of the Belgian to Manchester City because anybody who has watched the team since he signed in 2008 knows just how good he is. However, he's even more valuable to the Blues right now, given injuries to Matija Nastasic and Micah Richards. Another center back on the sidelines is hardly welcome in any circumstances, least of all when the club is facing a problem in that position.

Kompany has been known to play on when injured before. In his first season, he played the final few months with regular cortisone injections for a broken toe -- which led him to missing the start of the 2009-10 campaign. And I'm fairly sure the reason Armand Traore got past him in that now-famous final game of the season against QPR was because the Belgian was struggling with an injury.

Javi Garcia (introduced, bizarrely, as James Milner by the City PA chap) dropped in to center back for the final 20 minutes. This was probably the ideal time for him to join the action, especially as he's one of the men with a point to prove for this season. Newcastle were tiring, three goals down and already in damage-limitation mode, having had a man dismissed on the stroke of halftime. Garcia wasn't going to be facing an onslaught, but there would be enough for him to do in order to settle.

Last season, when asked to partner Joleon Lescott -- who, on Monday evening, seemed uncomfortable at first and like a man playing for his future, but grew into the game and got ever more solid throughout -- Garcia looked out of his depth at times. Perhaps it's because the pair of them aren't especially the quickest of defenders.

That said, it did appear to be his best position, save for the one good performance in midfield against Chelsea.

Pellegrini still has options for cover and there's no need to panic buy a center defender just yet (though I'd get the chequebook on standby). Let's not forget that Dedryck Boyata put in a great performance against Bayern Munich in the Audi Cup in preseason (at a time when the German side were more advanced with their preparations than the Blues) and has impressed in big games in the past. He might have featured more for Roberto Mancini's City, but for that red card against Arsenal when his inexperience showed, however, Pellegrini may benefit from a more grown-up Boyata.

Yaya Toure has played center back in the past, albeit only once for City as I can recall and, if memory serves, it was an unmitigated disaster. Though that was probably because the Blues were down to 10 men and playing Arsenal; Hull City (Tigers) at home might be a different matter. After all, it worked for the Ivorian in the 2009 Champions League final.

Most of all, though, the news on Kompany's injury can't come quickly enough. While all of the above are options to fill in, none would be like having the No. 4 in the starting lineup.