Here we stand, poised on the very brink of season 2013-2014, appetite whetted by the sumptuous array of pre-season friendlies we have been treated to, the glittering talent that has already placed its slippers delicately by the bed and the expectation levels that traditionally hits the red-hot-to-volcanic point around this time of the year.

The heady cocktail of summer sun, weeks of barren football-less days spent pouring over fixture lists in the almost certain knowledge that "this will be our year", makes August a month of glittering optimism for us all, whether we tie our colours to the mast of Hull City, Northampton Town or Aberdeen (with the obvious exception of Coventry City supporters, for whom optimism must surely have been put quietly to one side this summer).

Following the sky blues of Manchester City used to mean this bubble of good feeling drifted north within weeks. The wan summer sun would fade as quickly as City's early bolt out of the blocks. That early sprint with the September pace setters that got all our hearts racing would soon enough turn into an Autumn full of aimless drifting, a winter of discontent and a spring of eagerly and disastrously missed opportunities.

The rays of light that had been making Steve Kinsey look like the new Kevin Keegan in the early weeks of grassy splendour, turned suddenly and irrevocably to squally rain, which produced mud, which stopped young Steve dead somewhere halfway down the right wing. Even being the new Steve Kinsey ended up being too much for the lad and he was blown away down Claremont Road by one of those heaving November storms that so often flush Manchester clean at that time of the year.

But this is no time to dwell on Steve Kinsey and his somewhat moribund talents. It is August and the season is hoving into view. We all have serious business to attend to down Etihad way. Far from the Derek Parlane-sahped frowns and the Adrian Heath-sized shrugs, we now stare at bone fide superstars wandering through the main entrance. Manchester City, long transformed from everyone's pet variety act, have serious designs on the title of Champions of all England once again.

Can they do it? Can they beat an increasingly healthy-looking list of contenders? And, if so, how will this fine prospect be brought to swift and acceptable reality?

Firstly, there are clearly a number of factors playing into City's hands this time round:

- The pressure of defending the title has gone. After 44 years, to win it twice in a row would have finished most of us off. To follow what happened against Queens Park Rangers on that giddy sun-drenched day that brought the climax of all climaxes to the 2011-12 season was a nigh-on impossible task. We knew it, the players knew it and, quite probably, the powers-that-be in Abu Dhabi knew it. One wonders in hindsight if Roberto Mancini didn't just know it too. That pressure has been removed and placed squarely and firmly back on Manchester United.

- City's squad is not only deep but packed with talent. Manuel Pellegrini insists this is the best squad in the Premier league and it is hard to disagree. This brings with it a special kind of pressure, but -viewing the players that will line up in sky blue this season - it is tempting to say that they are all the kind who can withstand the pressures at the very top. These are internationally honed talents, who have been around a few blocks in the pursuit of excellence, the kind of players who will relish being expected to win and win well each time they appear on the green fields of England.

- Summer buying has been achieved quickly and early. This is a point that has been repeated by many football watchers this summer, but - unlike last summer's impasse that led to a last ditch stretch of panic buying by Mancini, when the targets he had made were already out of reach - the new manager's wishlist appears to have been swiftly and professionally dealt with. Barring the possible recruitment of an extra central defender to cover Nastasic's injury, the squad has a complete and competent look about it, unlike those belonging to City's principle challengers.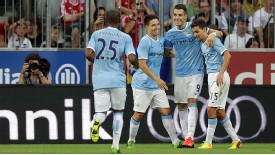 APManchester City's recruitment has been one of the best in the Premier League this summer.
- In a season of managerial change for the three major title favourites, City's alteration may well be the best fit of all. Whilst Manchester United step into the unknown with David Moyes and Chelsea revert to a more modern form of Mourinhoism, City have recruited a canny team builder with an eye for the aesthetically pleasing, a man of rare calm and wisdom, renowned for his ability to construct wonderful attacking teams that manage to tick boxes marked effective and attractive.

With Moyes carrying a reputation for the less than fashionable, the dour and the energetic, can United adapt to a new man's ways and vice versa? Can Chelsea fans, brimming with hope that Jose Mourinho can and will replicate the glory years instantly, hold their breath if it doesn't quite pan out like that the second time round? We will shortly know.

Naturally, there are doubts too, points that appear to be less in City's favour and more a weight around the neck of expectation. But even here, tempting positives can be found, if you look hard enough:

- Pellegrini's remarkable work in the Champions League, taking first timers Villareal and Malaga to within a hair's breadth of a final and semi-final appearance respectively, will bring the burden of expectation down heavily on his shoulders. For this is the season when City must finally break out of their Champions League group, whoever they nestle against come the draw at the end of the month. Two years occupying the season's group of death will carry little sympathy third time round and, whilst it is likely that the draw will once again pit the Blues against strong opposition, Pellegrini's task will be to move them to a level in this competition that they have hitherto failed to occupy. Will the exertions here put an extra strain on the domestic campaign and where will the emphasis lie?

- The uncertainty surrounding the look of the final squads for the season at Old Trafford (where the Rooney story has turned into a saga and a succession of incoming targets have headed elsewhere), White Hart Lane (where they stand to lose the one player who could shunt them into the top 4), Stamford Bridge (where Mourinho has put all his Rooney-shaped apples into one basket) and The Emirates (where Arsene Wenger again appears reluctant to do anything more serious in the transfer market than posture), means City probably start the season as favourites. There is uncertainty at every corner and the season could turn out to be a five (or even six, if Liverpool hang on to Suarez) horse race for the title. What will count most, the pressure of favouritism or the removal of the pressure of being defending champions?

The pondering and the posturing will soon give way to real action. Pumping legs and heaving lungs will take precedence over those of us exerting ourselves using a mere pen and paper. Suffice to say, everything connected to Manchester City seems set to positive in time for the season's beginning. Players, staff, supporters and onlookers alike feel the new positivity surrounding the club. Now is the time to grasp the moment and move.