Manchester City's Room 101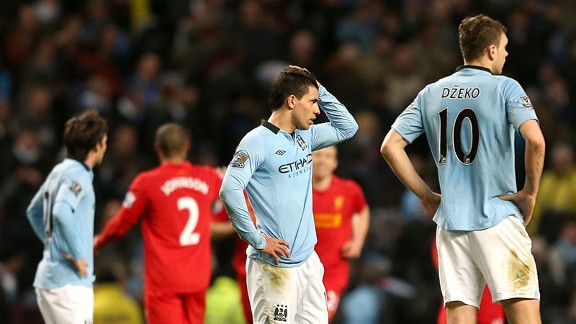 APManchester City has endured a topsy-turvy existence.
You sit and fidget in the chair. It's not the most comfortable, but it'll do. The music fades out gradually and the studio audience begins to applaud. It's warm under the studio lights. The host gives your introduction and the audience starts to applaud again. You acknowledge them with a warm smile.

The category on the board behind you displays two words -- Manchester City. Suddenly, you are in your element. You have the chance to remove something you hate about the club you love. You can choose something that gets on your nerves and make sure you can enjoy the match every week without it being an issue. You can banish it forever into Room 101.

Given the chance, what City-related items would you put in? Here's my list:

The calendar year 1995
The 1995-96 season was the year that the Blues were first relegated from the Premier League. However, in terms of team performance, the 1996 portion only contained six defeats -- the damage was done in the 1995 bit. From 19 August 1995 to 28 October 1995 (the opening 11 games of the season), City picked up just two points, drawing with Tottenham and Leeds (scoring just three goals over that time).

The decision to swap Brian Horton for Alan Ball was a controversial one. Despite Horton's City not performing as well in the league as Peter Reid's, supporters felt the former Oxford boss had done little wrong and wasn't deserving of the sack. Ball began dismantling that exciting team and brought in inadequate replacements both for and on too much money. It wasn't long before the Blues had far too many players on the books and had gone through manager after manager.

The orange third strip from 2008-09
Cards on the table, here, I'm a fan of lurid colours. My headphones, for example, are bright green. I own several bright yellow t-shirts. I have one pair of boxer shorts that contain the colours pink, yellow, green and bright blue (I'm so not sorry for the mental image you now have). But that abomination that City occasionally played in during Mark Hughes's first season in charge was off the ghastly scale and into the criminally insane.

It was the type of kit where it felt like one of the designers proposed it as a joke, then ended up being off sick for a few days and, in their absence and before they could explain, it went into production. City have had some monstrosities down the years, but that vomit-coloured tripe was easily the worst.

Games against Everton
There are some topics that divide fans -- be it whether it's right to sack a manager, for example, or whether the team should play one or two up top. But ask any Manchester City fan what they think about games against Everton and you're likely to get the same response. The second word's most likely to be 'off'.

I don't understand how one team can be so difficult to play against for ten years. A decade. Since 2002-03 (when City finished the season by beating the Toffees 5-1), the Blues have played Everton 18 times and lost 12, winning just four. City have changed managers, players, chairmen... Yet none of it has helped to secure more points from this fixture.

Instead of suffering through it every season, can we just give them the points and agree to have the weekend off?

ViaGoGo
Ticket touting has been illegal for some time. The idea of buying tickets second hand from somebody selling them for more money than were originally being sold at the box office doesn't sit well with most (if any) people. Rightly, it's not allowed that individuals can profit like this.

However, when City announced a partnership with ViaGoGo, it seemed clear that it's fine for businesses to profit from selling tickets on above face value. The concept is simple: season ticket holders who are forced to miss a game can sell their seat to another fan that wants to go. However, because the club sanctions it, fans can (according to ViaGoGo's website) sell their seats at up to 150% of the price on the front of the ticket.

Or, in other words, more than face value. And ViaGoGo then profits from the fees they charge from both the buyer and the seller.

You're worse than Clattenburg!
City fans have been known for years as having a good sense of humour. Of course, if there's one group of fans that have needed it, it's us Blues. But the chant of 'You're worse than Clattenburg!' that's aimed at referees who are perceived to have made a bad call -- and some decisions are poor, but, on the whole, a good number are correct -- is some way wide of the mark.

It stems back from a game where Mark Clattenburg sent off Dedryck Boyata for denying a clear goalscoring opportunity (correctly, I might add) against Arsenal after just three minutes, before later (again correctly) awarding the Gunners a penalty. It ties in with the conspiracy theory that referees and the Football Association are out to stop City from being the best -- which also isn't true.

It won't go down as one of the classic City songs, let's be honest.