Eternal sun fails to set on Arsenal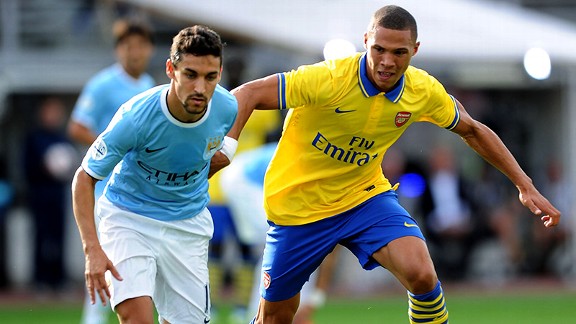 Stuart MacFarlane/Arsenal FC/Getty ImagesJesus Navas and Manchester City failed to impress in their pre-season finale vs. Arsenal.
With literally thousands of Arsenal supporters clambering onto the good ship Twitter to mention in quiet, understated terms how their club had claimed the moral high ground yet again in their side's sunny 3-1 victory over a disjointed-looking Manchester City ("the lords of darkness"), this was a good place to avoid Saturday night, unless you were the type who enjoys sticking pins in your own thighs, that is.

Arsenal, apparently, on this showing are heading for a serious tilt at the league title. Football has certainly changed in the last decade or two, but never has there been such a giant flow of almost immediate hyperbole as here. Let us take a deep breath, then, and look at the facts from a game played in the Olympic Stadium in Helsinki, in front of what looked like the Finnish section of the Arsenal supporters club. So numerous were the red shirts in a large crowd, it was tempting to remind Arsenal followers that their marketing department has been doing a fine job despite the huge shadow of the recent trophy drought. Finns are not known for their optimism but, this sharp and never-ending summer sunshine could easily have been mistaken for the light at the end of a very long tunnel.

From a sky blue point of view, there were few positives to take from this match. As a fitness exercise, it will have done no harm, but this stage of pre-season is about more than mere fitness. It is sharpness of movement, reaction to the ball and accuracy of pass that is the order of the day now. It is how new players are bedding in and how old and new are managing to gel and understand each other's movement and meet each other's expectations. This was the final warm-up match before things take on a serious note later this month.

Sharpness of movement first: City were confident in possession and had much of the ball in the midfield zone, but looked clumsy delivering and attempting to receive the final pass forward with a first half front pairing of Alvaro Negredo and Edin Dzeko looking heavy of thigh but light on understanding. David Silva's fine touch was to the fore and there were plenty of willing runners, but Arsenal seemed a pace ahead, their slick passing often allowing them to break out at a speed City never quite matched. Up front, too, their players displayed a sureness of touch and an understanding of where each other was that seemed too sharp for the Blues.

Signs of new players gelling: Negredo seems a willing runner, albeit without the pace of an Sergio Aguero or Carlos Tevez, but was found wanting in front of goal where his control let him down or his runs were not found. Jesus Navas made second half progress down the right and managed to centre on various occasions, but was well-tracked by the Arsenal left back Kieran Gibbs. Stevan Jovetic entered late on and livened things up with a couple of quick fouls, but will need longer than the few minutes offered here to find his niche. Fernandinho was once again a mixture of neat quick passing and needless loss of possession.

City were left chasing this game from early on. Walcott's clever finish after nine minutes was quickly added onto in the opening stages of the second half, putting the Blues very much on the back foot. Oliver Giroud's marginally off-side position saved City from going 4-0 with half the half yet to be played out.

The early possession and confidence of Silva and Fernandinho seemed to ebb away and City looked a little slow and predictable alongside their opponents' fleet of foot. Negredo's touch let him down when through on goal and a raft of substitutions further dismantled rhythm. A late goal from the ex-Sevilla striker could not provoke anything more than a ragged and untidy end to a game that Arsenal had won relatively easily without ever being totally in control.

It left City's pre-season under Manuel Pellegrini in the red, with four defeats and three victories, but more importantly gave viewers an insight into which players may be expected to start against Newcastle United in just over a weeks' time. The starting line-up featured many who will be expected to be out on the pitch on August 19th with a strong back-four of Zabaleta-Kompany-Lescott-Clichy and a defensive midfield pairing of Yaya Toure-Fernandinho. Silva and James Milner started as the wide attacking threat from midfield, with Samir Nasri replacing Milner for the second half, while a slightly inert front pairing of Dzeko and Negredo may well have given the coach the most to think about. It is difficult to envisage Pellegrini starting with these two on the 19th.

As the sun struggled to set on the Finnish capital, one was left to think about the old days of MCFC thud and blunder. An image of Thierry Henry running great big rings around a ruffled and rosy-cheeked Richard Dunne on his way to a four-goal half time lead in the Maine Road sunshine played through one or two troubled minds. Those Arsenal fans reminded of that and other complete roastings handed out a decade or so ago were moved to excited internet hyperbole. The rest of us will gather our strength for the season proper and see what the Engineer can construct out of the rich resources at his disposal.