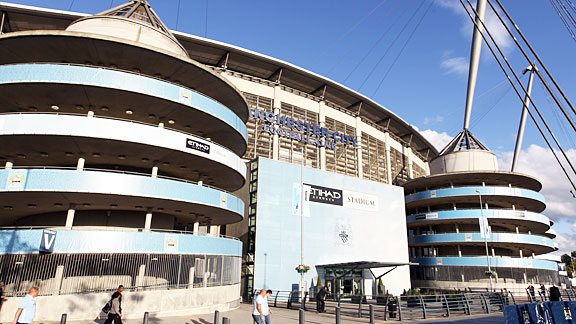 GettyImagesThe City of Manchester Stadium - home for a decade
I have a confession to make.

On this very evening, exactly a decade ago, I was walking away from the Eastlands fully expecting Manchester City to be putting together an assault on the Champions League places in England. Sunday, Aug. 10, 2003, had been eventful, and it fully reinforced my opinion that City were the business and were going from strength to strength.

The reason was simple: Exactly 10 years ago today, a Barcelona side that had just acquired the services of Ronaldinho became the first team in history to lose at the City of Manchester Stadium. City were the first winners.

Before the inaugural game, there was a fitting tribute to Marc-Vivien Foe, who had passed away that summer. There was an introduction for Shaun Goater, who had left the Blues at the end of the previous season. There was a final appearance in a City shirt for Ali Benarbia, whose career would take him to Qatar at the final whistle. There was a pitiful fireworks display that could have been bested by having some people run around the pitch with cigarette lighters held in the air.

City's team contained several new signings from that summer: David Seaman was between the sticks, Paul Bosvelt took up a starting berth in midfield and Trevor Sinclair was getting chalk on his boots wide right.

Meanwhile, a clearly very bemused Ronaldinho was cheered every time he touched the ball by the home crowd, thanks to his decision to pick Barcelona ahead of City's rivals Manchester United.

The first person to ever hit the back of the net at that stadium was City's very own Nicolas Anelka. Eyal Berkovic tried to slip the ball through for Robbie Fowler, but it broke for the Frenchman to tuck it past goalkeeper Rustu Recber just 10 minutes before halftime. If you want to mark the exact minute of that 10-year anniversary, it was about 3:34 p.m.

An equaliser came early in the second half from Javier Saviola, before Sinclair headed the winner in the 67th minute.

Having watched City not only beat one of the best teams in Europe but play it off the pitch in the process, I was utterly convinced that Kevin Keegan would build on his performance in the final year at City's old home, Maine Road. That prediction was a little wide of the mark, as the Blues won just seven more matches (in all competitions) at that stadium for the rest of the season. That's seven from a possible 24.

If you're interested, those defeated sides were (in order): TNS, Aston Villa, Sporting Lokeren, Bolton Wanderers, Manchester United, Newcastle United and Everton.

After Anelka became the ever scorer at the stadium, Sinclair went on to become the first player to score a competitive goal there (as he opened the scoring against TNS in the qualifying rounds of the UEFA Cup). The first Premier League goal went to Yakubu Aiyegbeni (then of Portsmouth), with David Sommeil scoring City's first as he equalised in the final minutes of that match.

Typically, the first player to have scored a Premier League goal at both Maine Road and the City of Manchester Stadium was also a member of the opposition in Sylvain Wiltord, though Shaun Wright-Phillips has that honour when it comes to doing it for the Blues competitively.

My memories of going to watch City in 2003-04 are all in black and white. That's partly because that the club went 14 consecutive Premier League games without winning and the football on show was of little quality, but it's mainly because the new stadium, while impressive, was very bland. It was all gray, but with blue seats.

It's something City have spent years trying to change -- be it encouraging fans to hang banners around the second tiers to decorating the spiral walkways outside and to even making the exterior panels depict the club's recent history.

Ten years ago today, Manchester City moved into their new home with that preseason friendly. In all that time, there have been five (soon to be six) managers, three chairmen, two takeovers, four Europa League/UEFA Cup exits, two Champions League qualifications, one domestic cup and one top division title -- and there's surely more to come.

How time flies when you're having fun.