Manchester City season preview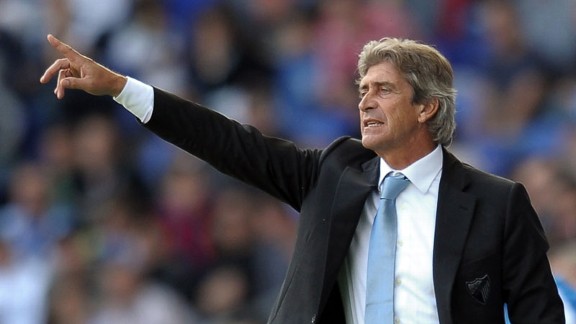 AllsportManuel Pellegrini: The new manager is expected to deliver the title.
What's changed since last season?
Simon Curtis: A hill of changes, from personnel on and off the pitch, through attitude of playing staff to shape and the way the team will play. City will have some width and some pace down the flanks at last. They will attack from all angles and look to have some real potency in front of goal with the addition of Alvaro Negredo and Stevan Jovetic. In fact, so much has changed, it will take a little getting used to. The atmosphere of anticipation is growing with every day, as Manuel Pellegrini's methods begin to reveal a setup which looks like delivering some scintillating attacking play. We can also expect to see the results of the holistic approach so giggled at in the press. If everyone is pulling in the same direction in an environment of mutual empowerment, this squad will take some beating.


Key to this campaign
SC: As for all realistic title challengers, a good, swift start is essential. City look very well placed to deliver this, as their new signings have had time to bed in, whilst Chelsea and United do not appear to have finished their shopping yet. Elsewhere, Liverpool and Spurs see their plans in disarray because of the vultures circling over Luis Suarez and Gareth Bale. An electric push off the blocks in the opening fixtures and the chasing pack might well have to do just that all season: chase. How City cope with the challenge of the Champions League, where they must finally escape the opening groups, will also have a decisive knock-on effect on the league push. Make good headway and the league campaign will receive a confidence boost. Get mired in a struggle to qualify and it may have a negative effect on legs and minds. No doubt about it, this is a big season for City.

Predicted finish/realistic goal
Premier League champions, of course.

Make-or-break season for ...
David Mooney: For the last two seasons Samir Nasri has shown that he's capable of being a star in Manchester City colours. The problem is that, over that time, he's also shown that he can go missing and shirk responsibility. The games where he was anonymous far outweigh those where he wasn't. He needs a more consistent 2013-14 if he's to prove to Manuel Pellegrini he has a long-term future at the club.

Also, injuries blighted Jack Rodwell's first season at City, but in the few games he was able to get under his belt towards the end of the campaign, he looked like he could have a big part to play in a light-blue shirt. However, a change of manager probably came at the wrong time for him, as he'll now need to prove himself to the new boss. It may be cruel to say 2013-14 is make or break for him, but his biggest battle will be one to stay fit.

Nobody expected Matija Nastasic to come into the City side and perform quite as well as he did. Joleon Lescott hadn't done much wrong for the previous two seasons, but Nastasic's performances made it impossible for Mancini to drop him. With the Serbian being the younger of the two left-sided centre backs, 2013-14 could prove crucial in Lescott's role at the club for the future.

One to watch
DM: It's difficult to pick a "one to watch" for a squad as star-studded as City's, but it makes sense to choose one of the newcomers who Pellegrini's been teasing the fans with, by giving him just a few minor appearances in recent friendlies. Having battled homesickness, Jesus Navas has made the move out of his home country. From the glimpses City fans have been treated to in preseason and in the Confederations Cup, he looks like an exciting prospect, offering width and pace -- something that City's attacks lacked hugely last season. With some good service for the likes of Edin Dzeko, Negredo, Sergio Aguero and Jovetic, Navas could prove to be an entertaining part of City's play.