A 'fond' look at when table was turned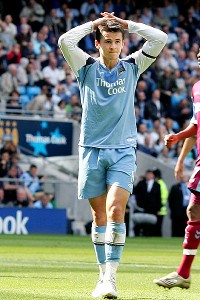 Mark Thompson/Getty ImagesThe pain of Manchester City's 2006-07 season is summed up by the look on Joey Barton's face after he missed a penalty late in the campaign.
Sometimes, there are things you would like to erase from your memory: The ex-partner who broke your heart; that they ever did a 10th series of Red Dwarf. For Manchester City fans, one of the most-often erased memories is the 2006-07 season.

For those of you who have successfully done that, let me fill in some blanks. City didn't win a Manchester derby. City barely reached double figures in Premier League goals at Eastlands. Joey Barton was the club's top scorer in all competitions (seven). Toy horse Beanie was Stuart Pearce's good luck charm. Striker Bernardo Corradi managed just three goals but did earn two red cards. Only three teams failed to take a point from the club over the course of the season.

Oh -- and the action often went something like this: Nicky Weaver plays it long towards Georgios Samaras or Corradi. Possession lost. Richard Dunne or Sylvain Distin plays it long toward Samaras or Corradi. Possession lost. Repeat. Goal conceded. Repeat.

It's easy to see why so many people hated it and why a large chunk of the stadium didn't renew their season tickets. Some didn't even bother turning up to games they'd paid for. Yes, City's football was that bad that people were actively paying to do something else on a Saturday afternoon.

Round about that season, a banner appeared on Level Two of the then-City of Manchester Stadium, simply quoting an Oasis lyric: Some might say we will find a brighter day. In the bleakness of the 2006-07 season, it seemed unlikely that anything would get brighter. Bizarrely, after that campaign, nothing was ever the same again.

Nevertheless, I have some very fond memories of that season. You can put the straitjackets away, and you can also quit calling for the nurse. I know it was bad, but that's part of the reason I enjoyed it. Don't get me wrong, I much prefer actually winning things -- given the choice, I definitely wouldn't say "sod the Premier League title. Give me that feeling of an impending 0-4 home defeat when we've conceded after 10 minutes."

Gallows humour has served City fans well. Clearly, some of the things that have happened to the club down the years needed quite a sick sense of humour to deal with. Otherwise, there would have been murderous rampages through Manchester every Saturday evening.

But that need has since gone away -- nobody can feel down about challenging for the title every season. Cries of "keep it down, some of us are trying to sleep!" are a thing of the past with the football now on show.

Then there were no home league goals after New Year's Day. That's nothing to be ashamed of. We should be proud of the confidence we held that this would be the week when that changed. We knew we were about as effective in front of goal as a jam sandwich in a swordfight, but that didn't stop the belief.

The shining beacon of Emile Mpenza couldn't do it all by himself. City even missed two penalties in the final two home games -- Barton threatening the International Space Station with his kick, while Darius Vassell couldn't have done more to hit the keeper if he'd tried.

I also loved that one of my all-time City heroes was back in goal. Weaver had the nod, thanks to an injury to new signing Andreas Isaksson. And despite the fact that I knew and he knew and everybody knew that, the minute he was beaten, the best we could hope for was a point, I loved his enthusiasm, even when others on the pitch lacked it.

But, most of all, I love the 2006-07 season because it reminds me how lucky I am to support Manchester City. So many fans are stuck with football of that ilk -- the bleakness that they will be battling relegation or unable to climb the ladder any further without a good hand from Lady Luck.

City got that, and every now and then I look back to how it once was and smile a knowing smile. The 18-year-old me who watched that tripe dreamed of going into a season and placing a serious wager that City would win the title. A £5 bet in August 2006 on a City title win would have returned £10,005. This season, it will return £16.25.

The biggest smile of the day, though, is reserved for the knowledge that City will never see the likes of Hatem Trabelsi again.

Pinch me.