Audi Cup final reveals more positives than negatives
Every year I tell myself that I'm not going to be bothered by preseason. I'm not going to watch any of Manchester City's friendlies because they don't matter. It's all about fitness, not the result - meaning the Asia Trophy wasn't the first of Manuel Pellegrini's five targeted cups. However, once again, I've been deprived of the Blues for two months and here I am, desperately clinging to any live friendly I can find.

Blog: Five things Milan learned from the Audi Cup

I think it's about being able to see some of the new signings in action for the first time - which might also be why I managed to avoid most of the last preseason, given Roberto Mancini's first new name came on the morning of the Community Shield.

The Audi Cup, however, has given the fans a few reasons to be cheerful going into the new season.

Costel Pantilimon is the best second goalkeeper in England

After a few shaky moments with his dead ball kicks early in the Audi Cup final, Pantilimon settled down and produced some good saves. He's confident when coming off his line and seems to direct his defence well. In a game against a great, attacking Bayern Munich side, he was comfortable and didn't once look out of place. He won't be challenging Joe Hart for his jersey, but that's no slight on the Romanian's quality - he's probably a better option than a fair few first-choice Premier League keepers.

Dedryck Boyata isn't a spent force at City

With the injury to Matija Nastasic in Hong Kong, there were question marks about whether Pellegrini would dip into the transfer market (or at least ask his football directors to) for another centre back. Rumours suggested Pepe was in the club's sights. But there's no need for that; Dedryck Boyata proved that he's got the ability to avoid being another academy graduate who faded away. A cracking tackle - one of the best I've ever seen - against Franck Ribery was unfairly penalised and the only blot on his copybook was that he showed a touch of inexperience for Bayern's second goal. One error in a game where he was under a lot of pressure against a strong side from the European champions is not to be sniffed at.

City won't need to control possession to create chances under Pellegrini

During Roberto Mancini's tenure at City, the Blues often struggled to create chances when they were pressed high up the pitch. How many times did the club go to Everton or Liverpool or Arsenal and fail to create any good chances when the home side pressured City in their own half? Defensively, they didn't do too badly - especially at Arsenal - but they just couldn't create a decent opportunity for love or money. That's exactly what Bayern's game plan was and, on the break, the English side looked much more lethal than in the past and, despite having the lesser share of possession, created the better chances.

Pellegrini likes his football offensive

Moving on from that last point, City's new boss clearly isn't afraid to allow his creative players some freedom. Under Mancini, the Blues sometimes ran out of ideas - often with a lack of width. However, over both games City showed attacking flair in two very different scenarios - one where they were in control of the ball and one where they were having to play on the break. Either way, the Blues were dangerous, especially with the pace of Jesus Navas out wide.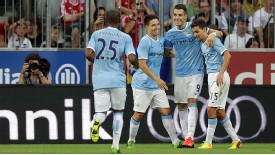 APManchester City players celebrate Alvaro Negredo's goal against Bayern Munich.
Alvaro Negredo is fast - faster than you think

As an avid Doctor Who fan, you've no idea how hard it was for me to avoid comparing Negredo to a Weeping Angel (apart from the fact I just did). Either way, he's deceptive. He doesn't look like he's got the pace, but to open the scoring in the Audi Cup final, the way he blistered away from Javi Martinez, will have been encouraging for City fans. Blink and he's gone. Less encouraging will be his three missed headers, but we'll let him off as it's still preseason.

Overall, despite the defeat in the final, there were far more positives than negatives to be taken from the Audi Cup. Bayern Munich's season begins in a week's time, while it's almost another fortnight before City kick a ball against Newcastle. Despite being two weeks behind the German side, City's fringe players gave Bayern's near first-string side a right good game.

Last season, City's strikers were the main problem as, with the best defensive record in the league, the Blues failed to mount a decent title challenge. There were too many missed chances. This preseason, though, Edin Dzeko looks a man reborn (I'm so sorry for advising City to accept a Spurs bid!) and, while Negredo missed three sitters, he's consistently getting on the ends of crosses and being in the right place.

Give it two more weeks and this team could be a frightening prospect in the league.

Roll on Aug. 19.