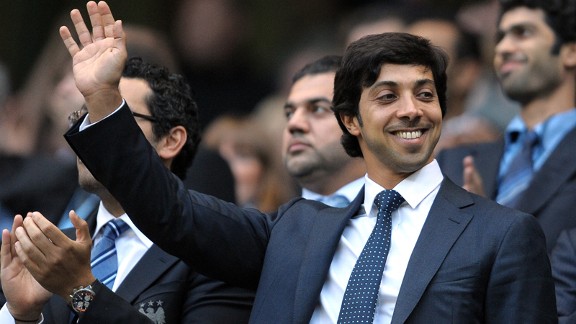 GettyImagesSheikh Mansour said his purchase of Manchester City showed the world what Abu Dhabi is about.
Not so long ago the thought that anybody in reasonable control of their mental faculties should entertain the idea of using Manchester City Football Club to cast a positive light across its own reputation would have seemed like Winona Ryder pilfering a good-behaviour certificate to prove she had stopped pinching pairs of wide-bottomed slacks. What sort of state must a place be in to require Manchester City's presence to make it look better?

These days, however, football - with Manchester City prominent among its leading lights - has filtered through the crevice-like gaps in our society to fill every pore of the subconscious. It is the vehicle for advertising behemoths, multinationals peddling anything from airlines to non-existent cash, from casinos to supermarkets. Football is the chosen mule to carry one and all to the top of the mountain, from where they can call out their message to the world.

- Man City owners 'using club as vehicle'

As a result of this massive overexposure, we find football everywhere, from the covers on our teapots to the covers on our headrests as we fly to Dubai. The Premier League -- for so long at the forefront of this marketing miracle, a rebranding face wash that has swept all the old chairmen, the butchers, the bakers, the candlestick-makers away, swept all the hooligans out to sea, swept all the empty crumbling stadiums into onto the local rubbish tip -- is the driving force of this groundbreaking change. Lip gloss and mascara have been applied from an industrial bucket until even the ugliest of football league ducklings is ready for cute international exposure.

Having been part of the biggest facelift in sporting history, our clubs have even become branding vehicles themselves, we are told.

An extravagantly long and wordy article produced by David Conn in the Guardian on Monday claims just that, stating that the Abu Dhabi powers-that-be bought Manchester City to take the world's ever-inquisitive gaze away from alleged misdeeds in their own back yard. Accusations that are said to amount to nothing less than serious breaches of human rights, subjugation of ethnic minorities in their workforce and even the systematic torture of detainees. It made a number of extremely serious allegations, backed by evidence and quotes from prominent Amnesty International figures.

City have - as is usual - previous in such matters. There was the Altrincham-based TV rentals baron Peter Swales and the former Thai prime minister Thaksin Shinawatra, whose home nation seized almost £1 billion from the exiled leader after finding him guilty of abusing his power.

Now, with the season hoving gently into view, Conn has trained his double barrels back on Eastlands. While looking through any viewfinder, however, the casual spectator will find the site around the stadium being transformed from industrial desert into a brand-new leisure area that will rival anything seen before in the world of football. He will see that the Abu Dhabi media machine has been extremely busy doing the expensive but low-profile public relations, which often go unmentioned in these situations. As ever, there are a variety of subtle shades of grey before you get anywhere near the black and white.

Contrast this with the "black hole for basic human rights" the author treats us to. The tiny emirate where people are "disappeared," where idle talk is unwelcome and everything is geared towards increasing growth and positive exposure in its immediate area.

For those of us here for the beer, as it were, little will have changed since Shinawatra departed Manchester. Gary Cooke's famous line about the Thai dictator being an excellent golf partner sounded more than a little lame at the time. Today it still sounds mildly ridiculous, but the salient point is that these allegations of misdeeds cannot merely be ignored, nor can they be brushed under the carpet for somebody to re-find next year.

In a global community where small Gulf states can become high-profile English Premier League football sponsors, and mid-to-low-range English clubs can bask in the massive popularity of an audience spread from Bangkok to Anchorage, there are fewer and fewer things that go unnoticed, fewer and fewer things that do not have a link back to the simple joy we find in supporting our local football team.

Having said that, it goes almost without saying that the vast majority of fans on the opening day of the season will spend the half-time break discussing the armadillo-like movements of the new defensive pairing rather than the recent human rights record of the club's owners. This does not make the current discussion less relevant. It must and will be discussed at length by all who possess the time and knowledge to put it into context properly.

The world has become a different place. Transparent, open, negotiable at the press of a button. In the days of Peter Swales and his ilk, when City were backed by the likes of Saab and Philips (European industrial giants that seem as big as a bluebottle these days), we could never have dreamed it possible to have instant access to information as widely as we do today.

There is a whole world out there and it is getting closer and more familiar to us by the day. However, maybe we should take a moment or two to attempt to understand the wider implications, put into proper context and the historical and cultural backdrop first, before we rush to pass judgement on it.