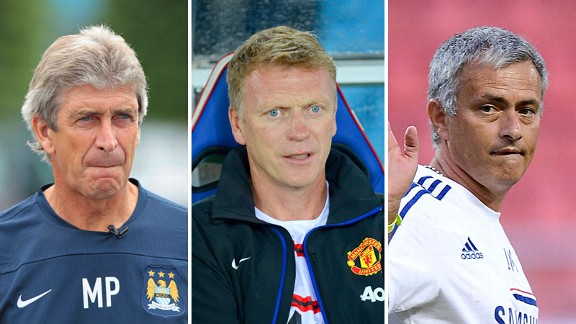 Getty ImagesManuel Pellegrini, David Moyes and Jose Mourinho each have varying degrees of expectations to meet in their first seasons in charge.
Originally, it was said that they arrived on the backs of heavily laden camels, bearing a plethora of gifts that glittered and shined in an uncanny way. They almost certainly had sand between their toes and worn, ruddy, wind-blasted complexions after their long trek across difficult desert terrain.

The Three Wise Men, who have arrived on the shores of Albion to direct the fates of the three major title challengers in the coming Premier League season, may also have a little sand between their toes, but only if they came to Manchester and London via swanky Barbadian holiday hotels set down alongside pristine white beaches. However, the terrain they have covered to get here undoubtedly has been tricky. Through rain-lashed Scottish glens, unpredictable Andean slopes and sun-baked Portuguese cork plantations, they have traveled to be with us, to shower us with gold and frankincense and myrrh and to allow us to bask in their glorious football expertise and cunning know-how.

The aroma is indeed intoxicating and not just because of the smouldering tree resin coming off the pile of myrrh in the corner.

Manchesters City and United, along with the excitable Mr. Roman Abramovich's Chelsea, are set to embark on a new season where glory and prestige stand to be reclaimed. At their helms are the wily yet untested David Moyes, the experienced and canny Manuel Pellegrini and the self-assured but abrasive Jose Mourinho. Their presence will prove to be a fascinating backdrop to the coming 2013-14 season; how they react to their new environment, grasp it and tame it will go a long way to telling us who will eventually climb to the top of Mount Ararat and claim the title of King of All They Survey.

Even before the return of the arch-manipulator of the press, Mourinho, is taken into consideration, the situation in Manchester alone provides fans with storylines that could imbue this season with vivid colours. Both Moyes, a man of sparse charisma and few trophies, and Pellegrini, a virtual unknown on these shores -- despite his decades of football experience on both sides of the Atlantic -- are attempting to fill shoes that look impossibly big. In Moyes's case, the shoes must appear like large canal barges emerging from mist. How does one follow that? Pellegrini has the advantage of knowing that the shoes parked under his desk at the Etihad were previously worn by a soiled messiah, one that left the building with his reputation tarnished because of his inability to hold relationships with his staff and players. Whether this makes Pellegrini's task any easier is open to debate. Both will already feel the extraordinary weight of pressure to succeed as they prepare their personnel for the off. Both will wonder whether they have bitten off slightly more than they can chew.

Moyes has opened his account by coming out on the attack. It is his club now, but, even in uttering these confident words, they must rattle around his head, like tombstones falling over in a strong wind. Already experts are lining up to tell us that his training methods are primitive. I am beginning to feel the pressure for him, and the season hasn't even started yet. Mourinho, too, has assured us that City are under the great pressure in trying to recapture the magic of 2010-11. It is a hollow statement, though, a desperate bid to place expectations on someone else, rather than on himself.

Like all new Chelsea managers, Mourinho faces the usual pressure of having no room for error and facing expectations that he will be more successful than previous "failures," who were actually pretty triumphant. Moyes's task will also keep him awake at night. Those famously protruding eyes will not carry the look of a relaxed, well-rested host this season. The pressure to succeed is manageable, but the pressure of history is overwhelming.

Pellegrini cannot claim to be stress-free either, of course, but he will play to a different, more tolerant public and to a different, more patient board of directors. His demons will be the unknown culture and the pressure that bears down on a pair of older shoulders in a challenging new environment. He will have to deal with language barriers, the scattergun press and the skeptics.

All of these nuances and shadows will form an unique soundtrack to the season. We are on the brink of a brand new era, the like of which we have not seen before. Could it even transpire that, with the three new managers tackling their personal battles and facing up to each other, that a properly manned and organised Tottenham, or Arsenal, or even Liverpool, could come through and provide a challenge? Now that really would put the cat among the desert pigeons.