Newbies give Pellegrini something to chew over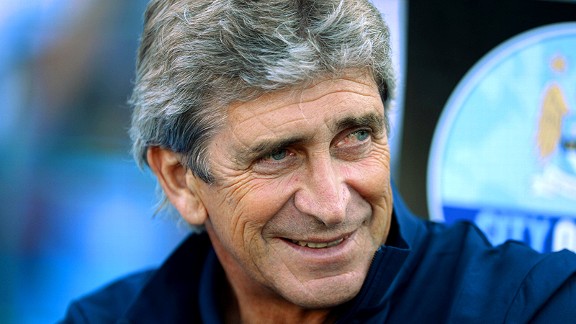 Lefty Shivambu/Gallo Images/Getty ImagesEarly in the preseason, Manuel Pellegrini's side stumbled a little, but the Manchester City manager must get it right soon.
Earlier this week, staff at Manchester Piccadilly railway station were handing out Fruit Pastilles, and lighthearted speculation was rife among Manchester City fans that it was all an elaborate ruse to lure back Roberto Mancini into the managerial role at the club. Others considered that it was simply the stores getting rid of excess stock, since the pastille-loving Italian had departed for climes new.

Though the axed manager had his faults -- including a penchant for munching sweets -- there was one element of management that Mancini nailed. He could get his Manchester City side to take maximum points from the three promoted sides. In fact, out of a possible 60 points across 20 matches against the Premier League newbies, the Italian secured 52 -- winning 17 and drawing one, with two defeats (Swansea and Southampton, both away from home).

- Zabaleta: Pellegrini can reignite us

With two of the promoted sides in the opening three games for new boss Manuel Pellegrini, City's recent record will make pleasant reading for Blues fans. Only eight out of a possible 54 points have been dropped against the newcomers in the past three seasons, and at home City have won their past 10 games. The last promoted side to leave Eastlands with a point was Burnley, following a 3-3 draw in 2009.

The last home defeat? Reading. In 2007. Back when Stuart Pearce was City manager -- four bosses, two takeovers, three transfer-record deals (Sergio Aguero's 35 million pounds bettered Robinho's 32.5 million pounds, which had overtaken Jo's 19 million pounds and surpassed Anelka's 13 million pounds), one domestic knockout cup win, and one title ago. And since that defeat, City have won 17 and drawn one of their home games against new Premier League teams -- and that spans a time when the Blues were, frankly, rubbish.

Seriously. City lost 8-1 to Middlesbrough in that time.

Looking at the wider picture against those who have come up from the division below, since City moved to the Etihad they've earned a possible 112 points from a total 180 (67 of 90 at home) -- an average that is dragged down by dreadful form during the 2003-04 season (3 of 18 points, with draws against Leicester, Portsmouth and Wolves) and the 2006-07 season (6 of 18 points, with a win and draw over Sheffield United, and two draws against Watford).

However, over those 10 years, City have only three defeats to promoted sides at home -- even in the times when the club struggled for form. And goals. In that decade, too, City managed one perfect season and won two out of two against Blackpool, Newcastle and West Brom in 2010-11.

So the summer might have been turbulent -- with the rebuilding of a tired-looking squad and a new manager being thrown into the mix -- and the fixture list has brought a kind(ish) start to the campaign, as City should take maximum points from their opening three games, though both Cardiff and Hull will still be riding the crest of that wave of last season.

Either way, City's recent record should make comfortable reading and give Pellegrini something to chew on.