A responsibility to the aesthetic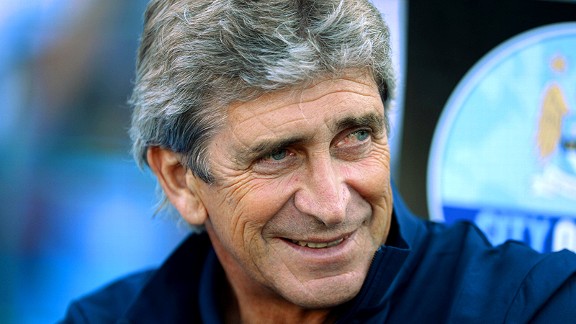 Lefty Shivambu/Gallo Images/Getty ImagesManuel Pellegrini's Manchester City fell to South African side AmaZulu in a preseason friendly on Thursday.
"A responsibility to the aesthetic."

These are the words of Manuel Pellegrini, the man gifted with the unenviable task of carrying Manchester City up to new and previously unvisited heights in the coming season. Whether aesthetics, given City's somewhat tumbledown start to life under the Chilean in South Africa, is the watchword on everyone's lips or not is open to question.

A new-look City is rising from the ashes of Robert Mancini's reign. Four new faces have been gathered in a feverish spell that dispels the worries raised by the late, unaccomplished team-building that took place in this window 12 short months ago. In place of the hurried, late August faces that failed to fit, City supporters have been rewarded with men of substance who will presumably slide smoothly into a "grand plan" taking shape in the minds and notepads of the great and good at the club. A shaky start in the Southern Hemisphere will not derail the work in progress. Brick by brick, Manchester City are building a brand-new structure, more resistant to storms, more beautiful than before.

- Jolly: Intrigue remains over new-look City
- Horncastle: Jovetic's smarts will improve City
- City complete Negredo signing

Mancini was a fan of aesthetics too, with his sharp suits and knotted scarves, his casual coats and jackets, his marvelously clean racing bike. Senor Pellegrini does not bother with all of that. His hair, his clothes speak of a man with a one-track mind. He doesn't have time for smart slacks and well-ironed shirts, but, when it comes to the football team of which he is in charge, he cares deeply what it looks like.

After a second successive defeat in South Africa to the willing and tireless runners of AmaZulu FC 2-1, City's leaning towards a new aesthetic that has looked a little bit slapdash in its brushstrokes and hasty in its artistic impression. The beginnings of preseason are often a little shambolic in sky blue, with incoming and outgoing players passing in hotel corridors, new shapes and methods being introduced to minds set on old ones and the desperate sound of clocks ticking wherever you go. Make no mistake, the clocks are ticking for Mr. Pellegrini and his staff, and they will only tick less loudly and less feverishly when the transfer activity cools, the side settles into a chosen 11 and a win or two are registered in the early season formbook.

The world is yet to see the likes of Jesus Navas, Stevan Jovetic and Alvaro Negredo in sky blue, yet to see the new shape and form, yet to appreciate what Pellegrini and his staff will bring to this side. So far, Fernandinho's impersonation of the little-boy-who-got-lost in City's midfield will not have raised the temperature greatly. Aleksandar Kolarov's balloon crossing will not have wiped out any memories of similar inaccuracies last season or the season before. Yaya Toure's midfield spinning will not have cleared the minds for the fight ahead. But these are early days. No titles and pots were ever secured in the last weeks of July. No points for aesthetic beauty were ever awarded in meaningless fitness run-outs in the early August sun. This is the time for planning, for constructing, for getting to know each other and for establishing targets and possibilities. What City's swift work in the transfer market will allow is time to bed players in and work on the shapes and moves, which will form the artistic backdrop to Manchester City's 2013-14 season.

In constructing brave and beautiful teams at Villarreal and Malaga, Pellegrini has proven more than capable of producing exceptional results under little pressure. In driving Real Madrid to a record points haul in his sole season at the Bernabeu, he revealed an ability to live with the giants of world football, too. Now Pellegrini must prove himself again, in a pressure cooker to succeed that he will not have experienced before. For this is different to Real, where he entered a palace where kings and queens already traversed the great marble corridors, where trophies lined the passageways and nothing got in the way of the chase for first place. In Manchester, Pellegrini will face a challenge of varied intensity; his new players will find a citadel where they can feel treasured and supported, but also under huge pressure to deliver. Ferran Sorriano's five trophies in five years is no idle talk. Mancini's exit on the back of a cup final and a league runners-up place is testament to that. Negredo and Jovetic, the latest recruits, will find out quickly enough that this is a club in a considerable hurry. Deliver and they will be rewarded with the treasures of the victor. Fail and they will be on their way down the road already traversed by Mancini's fifteen speed bicycle.

What we have seen so far will no doubt bear little resemblance to the City team trotting out against Newcastle for the opening fixture. By then, one hopes, that we will all be watching the movements of a beast of true and lasting beauty.