Man City left to pick from the best of the rest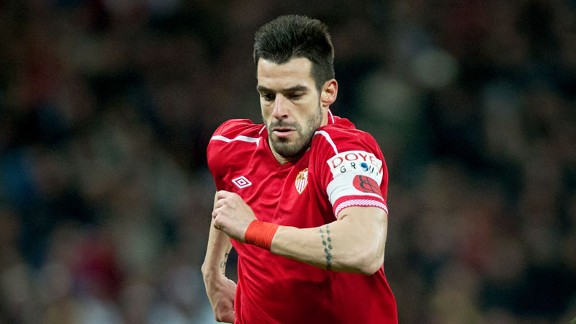 Jasper Juinen/Getty ImagesSevilla striker Alvaro Negredo: Best of the rest?
It may be the severe heat and it may be the agitated state that continental Europe's plethora of agents get themselves in during the hazy summer months, when everybody they need for their money-making schemes seems to be baking on a beach somewhere, but the last five days have seen a rash of new Manchester City rumours, none of which are likely to set the heart rate of the faithful soaring beyond moderately interested.

PSG, we are told, have outbid City for Edinson Cavani. Good for them. Although Michel Platini will no doubt be totting up their numbers carefully with one finger at a time on his pocket calculator. I'm sure the fragrant partnership of Zlatan Ibrahimovic and Cavani would suit PSG like a pricey frock coat from Fortnum and Masons.

- Mancini backs Dzeko for Napoli
- McMath: Time is right for Negredo to step up with City
- Sevilla and City 'in talks over Negredo'

Those people bewildered and disgusted by City's "purchase" of the league title two seasons ago, must be turning somersaults now. Just who are they supposed to despise most? Do they turn their frothy derision on Chelsea as usual or those obnoxious nouveau riche upstarts at City? For ruining football, naturally. Or is that all a bit old hat these days and PSG and Monaco deserve their hot stares? Heaven forbid if this whole shebang turns full circle and we start blaming parsimonious types like Manchester United and Real Madrid for price inflation. That would be quite something.

Wisely or not, City appear unwilling to be taken to the cleaners by Napoli's camera-shy president Aurelio Di Laurentiis over Cavani. This should neither surprise us, nor should it unduly worry us. Football, busy eating itself for a decade or more now, is pushing its boundaries. It is seeing how much we can all take.

There is perhaps nothing so daringly simple in this world of daily lessons learned than that of supply and demand. It is one of the most fundamental concepts of economics and it is the backbone of a market economy, even apparently the ego-showered football one. While De Laurentiis, with the laconic smile of a cat that got the cream, makes up his very own market rules, those who want the giant Uruguayan must dance on the table while holding up their frocks until it pleases him to do business. This is supply and demand plus.

In City's case there is economics, then there is football reality. The demand in supply and demand refers to how much (quantity) of a product or service is desired by buyers. The quantity demanded is the amount of a product people are willing to buy at a certain price; the relationship between price and quantity demanded is known -- as I am sure readers are all fully aware -- as the demand relationship.

Supply represents how much the market can offer. And City, in their smart new kit with their pinstriped suits, represent everyone's best bet for an extremely happy Christmas. Thus the correlation between price and how much of a good or service is supplied to the market is known as the supply relationship. Price, therefore, is a reflection of supply and demand. Normally speaking, that is, and beyond the limpid waters of the Amalfi Coast.

City need absolute top-drawer players to boost an already stellar squad. These are players already being hunted down by that elite group of spanner throwers, who are either a bigger draw than City (Real, United, Bayern and Barcelona) or are not going to get a bee in their bonnet about outbidding them (Chelsea, PSG, Monaco). This is why we have a transfer market where the two best strikers on offer this summer can happily end up in the much vaunted French league and City can now seemingly start checking out the names halfway down page two of Manuel Pellegrini's little black book, marked "big-name signings".

We are left, then, holding the sheet with the names "Negredo" and "Fred" and "Pepe" and "Osvaldo." These are good players, perhaps even great with a following wind, but last summer's spending spree under duress, which brought in little improvement but several new pairs of well-tanned legs, must act as a serious lesson for Pellegrini and his staff; a group of men, incidentally, who made a silk purse out of a sow's ear at Villarreal and will be very welcome to re-enact their magic in North West England this 2013-14 season. In his summer shopping, we wish him prudence and luck.

Just don't hold your skirt up too high to please those who are seldom sufficiently pleased. Even in this heat, it is unbecoming.