New serious City will take some getting used to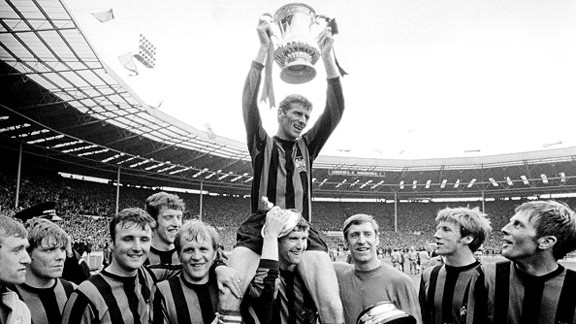 Getty ImagesManchester City's long history of rogues included the 1969 FA Cup champions, captained by Tony Book (with trophy). Tony Coleman is second from left.
"Right," I said, "I've got two tickets for the Cup Final for you, if you can take a couple of tattoos off Tony Coleman's hands. He's embarrassed about shaking hands with royalty with these tattoos." He simply said, "Send him round to the surgery."

They kept Tony in overnight, and he turned up for training the next morning with his hands all bandaged up. I asked him if everything was all right and he said it was but his hands were a bit sore. After the operation, psychologically he was like a new man, as if a great weight had been lifted from him.

On the day of the match, Tony Book went along the line introducing the players to Princess Anne. All along the line it was "Pleased to meet you, Ma'am," until they got to the end and Tony Coleman. He'd been thinking "I can't just say that. I've got to think of something else.". In the end he said, "Pleased to meet you Ma'am. Give my regards to your mam and dad...". I also remember Mike Summerbee tried to arrange a date with the Princess but nothing came of it..."

-- Malcolm Allison in "Manchester City, The Mercer-Allison Years" by Ian Penney

Ever since Billy Meredith attempted a bit of 1920s-style match fixing, Manchester City has been the home to more mavericks than would fit in a medium-sized Christmas circus. From the cheeky chappy antics of Coleman and Summerbee, managed by the extrovert champagne and bunny girl aficionado Malcolm Allison, through the party boys of the 1980s (Bobby McDonald and Peter Bodak dismissed for going on a bender down Blackpool promenade hours before a preseason game), the City keeper (Harry Dowd) who turned up for games unaware of who he was to face ("Don't forget, it's Arsenal we're playing today, Harry"), the public marital eruptions in the Trevor Morley household, the comb-over chairman in the Cuban heels and the centre half on anger management courses to the modern-day heroes of Joey Barton and his cigar-extinguishing tricks, Danny Tiatto's high-wired six-water-bottle attack and Craig Bellamy's golf-club diplomacy, the sky-blue shirts have often been filled by individuals who could kick up a medium-sized storm even better than they could kick a football.

-Cavani to wait on talks

Can it be, then, that after the departure of City's last odd couple -- bathroom pyrotechnics expert Mario Balotelli and the incredible striking golf amateur Carlos Tevez (see here for a full appreciation of his time at the Etihad) -- that City are at last shedding themselves of this long-held title? Gone too is the Giorgio Armani, hat-wearing, tanning salon-visiting Roberto Mancini, replaced by an eminently sensible old fellow from Chile, with tidy grey hair, a respectable pullover and a full set of Engelbert Humperdinck albums.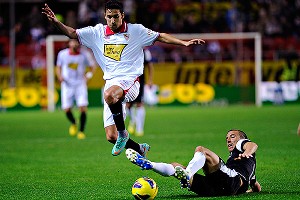 Cristina Quicler/AFP/Getty Images Midfielder Jesus Navas (jumping) is bringing a clean-cut reputation to Manchester City.
Jesus Navas, a clean-cut young Spaniard, who doesn't like to be far from his mum. A player who runs exceptionally fast in straight lines, then crosses it accurately and on time for others to score. This all sounds fine and mechanical, but what about the back-heels wide of the post when through on goal and certain to score? What about the red cards? What about showing the ref how George Best cheated in a heated derby match by throwing your arms out like you're about to take to the pool and hurling yourself into the mud?

What about starting a fight outside McDonald's at 2 in the morning and ending up in a police cell instead of at morning training? What about the Andy Dibble goalkeeping technique of looking the other way while Gary Crosby heads it out of his unsuspecting hands and scores for Forest? What about the interim manager who said watching City was the best laxative known to man? What about the Brazilian superstar who turned up in Manchester thinking he was beginning a career with Chelsea, or the other who became a cult hero for doing absolutely nothing, or yet another who became a hero despite playing for Salzburg against City? Or the Polish World Cup captain brought in via a swap deal for a consignment of refrigerators?

City's history is littered with lunatics, lotharios and legends in their own (or somebody else's) bathwater, so asking the faithful to put up with a chap called Jesus and a manager named Manuel is tantamount to ripping out the club's character and starting from scratch. We feel short-changed and not a little disoriented.

Already, we seem to have had to bid farewell to last-minute own goals, players injuring themselves trying to clear a shot that was going wide anyway, and reserves dodging darts being thrown from the toilet-block window. We no longer have a chief executive who calls us United by mistake and no longer have a chairman who, despite making some of his fellow countrymen disappear, was a grand chap to play golf with.

It all feels a little bit Mel Machin to me.

So, until Stephan El Shaarawy shows up at Manchester Airport asking for directions to the Etihad with his cockrell headpiece and manicured eyebrows, followed swiftly by manager-shoving Oscar Cardozo, I will continue to rue the distinct loss of identity this great club is going through. The summer of 2013 is already leaving some of us feeling naked and lonely, lost and queasy without any of our traditionally ragged trousered heroes.

* With respect to maverick City legends Billy Meredith; Bert Trautmann; John Burridge; Harry Dowd; Andy Morrison; Danny Tiatto; Franny Lee; Mike Summerbee; Stan Bowles; Barry Silkman; Bobby McDonald; Gerry Gow; Mario Balotelli; Andy Dibble; Trevor Morley; Mark Ward; Paul Hince; Phil Neal, Peter Swales; Joey Barton; Malcolm Allison; John Bond; Peter Bodak; Craig Bellamy; Emmanuel Adebayor; Robinho; Thaksin Shinawatra; Gary Cook; Eyal Berkovic; Rodney Marsh; Tony Coleman; Tony Coton