Man City - failure, transition and reignition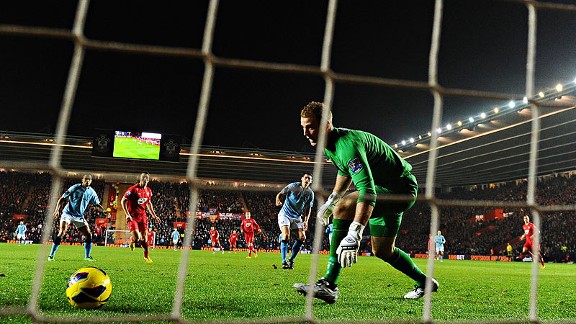 Mike Hewitt/Getty ImagesAny hopes of a Manchester City title repeat vanished in the away loss to Southampton.
If City's early activity in the 2013 summer transfer market has any direct roots, they can perhaps be traced straight back to two troubling episodes: firstly, the failure to land any of the club's principle targets the summer before and, secondly, the deeply unsatisfactory end to FA Cup Final weekend, and therefore, also to the 2012-13 season, which carried with it a bitter sting in the tail for all Blues followers.

With the FA Cup always looking City's most likely route to silverwear in what was turning out to be a difficult season as reigning Premier League champions, the run to Wembley had started promisingly, with three thumping home wins against Championship opposition and a narrow but comfortable defeat of Stoke on their own Britannia pitch. Three of the first four rounds of the FA Cup saw City at home against opposition from lower levels in Watford, Leeds and Barnsley, a sure sign that the footballing Gods were smiling on the blue half of Manchester. When Marcus Lopes became City's youngest ever first team scorer against Watford, one might have been forgiven for thinking that something special was awaiting us all.

- Story of Season: Pt I - Early pointers disregarded
- Story of Season: Pt II - Priority Change

City took full advantage of this favourable wind, knocking in three, four and five consecutively. If the Cup run was picking up significant pace without taxing the players too much, the Premier League title defence was proving beyond many of those who had performed miracles the season before. A 2-0 win at Arsenal suggested there was life in the title race yet, but, by the time the Blues stuttered to a deeply unconvincing 0-0 draw at Loftus Road in the last days of January, it was clear that this year's title was now United's to lose. An imperious run of consecutive wins, many when not playing particularly convincingly, suggested Sir Alex Ferguson's troops had gained the upper hand once again after losing what many of their fans saw as "their" title in such humiliating circumstances the previous May.

City's league campaign reached its season's nadir on Saturday 9th February, on live television, on the South coast of England. Playing a game but limited Southampton side with a new manager freshly parachuted in during a bizarre divorce from Nigel Adkins, the Saints ran rings around a dishevelled and confused-looking City, with Joe Hart guilty of poor handling and Gareth Barry scoring one of the lamest own goals in City's recent history. It was a performance complete in its abjectness and encouraging only to those both chasing and interested in staying in front of City. Not only did Manchester United have it confirmed that they would more than likely win the title, but Chelsea, Arsenal and Tottenhan, embroiled in a thickening soup of activity behind second placed City, saw distinct possibilities concerning that runners-up spot. The gap at the top had opened to nine points, while the one from second to third was now down to five.

That City were able to stamp out these hopes almost immediately with a commanding defeat of Chesea at the Etihad only served to underline how far the standards had slipped over the season. With such a powerful victory only maintaining the gap to twelve points, after United had won their game in hand, it felt almost meaningless. Yes, City had come from the dead to win the league the season before, but that was aided by two things that were obvious by their absence this time around: United's stuttering form and City's all-conquering finish.

Three more big games revealed the club's schizophrenia: a loss at Goodison to a limited but enthusiastic Everton (yet again), a gutsy deserved win at Old Trafford and a mauling of Chelsea at Wembley in the semifinal of the Cup. While the United win revealed nerves of steel and great depths of quality, it was perhaps the Chelsea game that summed up City's season better. Two up just after halftime and playing magnificently, the match ended with City hanging on for their lives and edging through to the final on a shaky, thread-thin one goal advantage. As Wigan would see in the final, the killer instnct was gone, lapses of concentration were rife and, worst of all, some of the players were exhibiting the body language of men who did not want to go that extra mile for their manager.

So it was, on the eve of the Cup Final that news leaked of Roberto Mancini's apparently imminent departure from Manchester. Only someone not at all at home with human nature would need to assess the impact this would have on a team's performance in a Cup Final. Thirty thousand City fans watched the team go through the motions then collpase to defeat with the last flick of the game. All had been lost. Not in those final seconds, not in the final games, but in the entire reaction to being champions, in the reaction to their manager's tactics and instructions. Within days Mancini was on his bike and City were scoring their last goal of the season at Reading, a blinding piece of intricate one touch interplay that would have been welcome earlier in the season, but just seemed obtuse now.

With the season ending in utter turmoil, it was left to the press to begin speculation as to who or what might come next. A season that had started with the sun-drenched demolition of Chelsea had ended in a shambolic rain storm at Wembley. Once upon a time we might not even have blinked had City delievered this kind of soap opera to our doorsteps, but it is a different beast we watch these days and the shock was palpable. It was left to Manchester United to scoop up the crown City had so carelessly laid down, and to Chelsea to prove that interminable switching of coaches does not necessarily forestall trophy winning. Diametrically opposed philosophies had both borne trophies, while City's chances had fallen between their fumbling fingers.

All three clubs would soon be managerless, leaving the delicious prospect for 2013-14 of the three major challengers all beginning a new cycle at the same time.

May the fresh transfusion bring new impetus to those wearing sky blue next season.