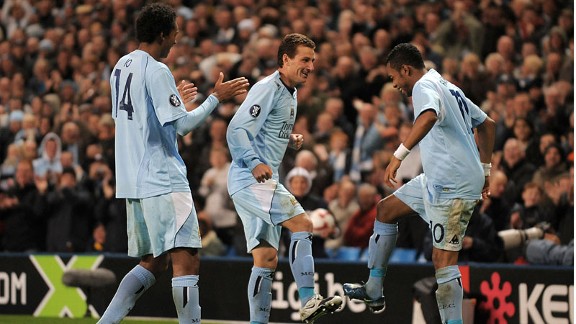 PA PhotosBrazilian trio Jo, Elano and Robinho celebrate a goal for Man City in 2008
The arrival of Fernandinho to the Etihad this week brings another native of this planet's favourite footballing nation to Manchester City supporters' close attention. Once upon a time this would have been an unfeasibly exotic development for us all to come to terms with, but in 2013, one senses that the excitement is all about the player's quality and not his nationality. In fact, in a curious sort of way, given that some of us find it hard to forget what has happened before, Fernandinho's nationality might just be the only thing that leads City followers to harbour the very slightest of misgivings.

This is why.

On July 17, 2007, Geovanni Deiberson Maurício became the first Brazilian national to sign on the dotted line for Manchester City. A talented and energetic midfielder, he had already strode the boards with some aplomb at Benfica, where he gained a reputation for entertaining the public with long-range shooting and entertaining his manager with important goals. One such occasion came when he managed in one fell swoop to eliminate Manchester United from the Champions League and -- almost automatically as a result of this action -- win a place in the hearts of the blue half of the city at the same time. As an early piece in Sven Goran Eriksson's international jigsaw puzzle, Geovanni was an instant hit, scoring in his debut at West Ham and, in the third match of the season, hitting a trademark howitzer which won the derby with United. It mattered little that his City career petered out after this and he ended up cracking some memorable goals for Hull City as they begun life in the Premier League with a bang. He had done his work in those early days. He would not easily be forgotten.

Perhaps with a nod to the distinct possibilities of a culture clash (compare Daniela Mercury warbling feverishly about making love on the beach with Morrissey's downbeat recollections of his girlfriend in a coma) the powers that be at City at that time decided to bring in some warm-blooded company for Geovanni. This came in the dramatic shape of Elano, pulled from the same Ukrainian stable as Fernandinho was this week, who arrived at Eastlands with only a small flicker of recognition from football cognoscenti. Before his debut at Upton Park was over, however, it was clear for all to see what the club had purchased from Shakhtar Donetsk: a midfield operator so smooth you could have cut him up and made bedsheets from his passes. Elano oozed class in a very Brazilian way, meaning that when the exhausted office of Eriksson placed him at right back for the end-of-season game at Middlesbrough, the drifting, ephemeral figure of Elano did not exactly take to it and 'Boro ran out 8-1 winners. Just to emphasise the stupidity of the tactic, Elano scored a beautiful goal for what must go down as the most minute consolation in City's modern history.

A year after the first Brazilian landings, three more were washed ashore within a couple of weeks of each other in the summer of 2008. That they were sandwiched by the most cataclysmic takeover in the history of the British game was deliciously illustrated by the very nature of the arrivals themselves. First came the wispy, hair-heavy figure of Jô, a lanky supposed goal scorer from CSKA Moscow, who managed the glorious total of six goals in 41 appearances, before all ran out of patience with him. Alongside him, the even more glorious Gláuber Berti, a man so anonymous he became a fully fledged City cult icon and only made his debut in the last game of that season, owing to pressure from the crowd for final proof that he wasn't just an advertising gimmick. Needless to say, his City career comprises six gloriously raucous minutes, and then nothing. Boy, did the Eastlands crowd enjoy his truncated debut, though.

A week later, City were flush with Middle Eastern promise and had added the slightly more upmarket Robinho to the Brazilian stable. One could see immediately that this was a box office move and that the little man was a star given his penchant for running away from his teammates and toward the cameras every time he scored. And he did score. Although many see his time in Manchester as a flop, the little man was a graceful delight when in full flow and, apart from believing it was Chelsea he was playing for, will be remembered for some classically carved goals in the true Brazilian style. His stay in the North West of England also proved that City had arrived at the party marked "Big Hitters Only" and were ready to knock at the door and join the pretty people throwing weird shapes inside. That the historically skeptical people of these parts are still getting used to all of this grace and glitz on their doorsteps in Manchester only goes to show how deep the culture of Mike Doyle and Tony Book and Glyn Pardoe goes. There is a significant part of us all that grasps grimly onto the pale pink shadows of the past as some sort of sepia-tinted succour, but the future is with us now, and it's colour is yellow.