A Spanish welcoming party awaits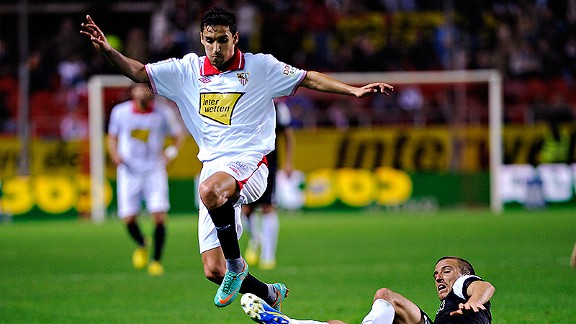 Cristina Quicler/AFP/Getty Images Speedy Sevilla winger Jesus Navas looks to be on his way to the Premier League.
A new wave of Spanish-speaking members of staff are set to start arriving in Manchester this coming week, with coach Manuel Pellegrini now free from the shackles of the late-finishing Spanish Primera and one or two of his touted buys also ready to make public their intentions to move.

- Pellegrini confirms Man City talks

Pellegrini's arrival should by all accounts herald the signing of Sevilla right winger Jesus Navas as his first purchase. Not since the departure of Adam Johnson twelve months ago have City had a touchline hugging wing-man. The failure of Scot Sinclair to gain sufficient playing time to boost his confidence in a notoriously difficult position means the ex-Swansea wide-man is almost certain to be offloaded in a big summer turnaround at the Etihad. If Navas is to be his replacement, he will bring a brand of dynamic, speedy wing play that will give City a whole new dimension after two years of notorious narrowness ended in last season's failure to gain a trophy of any significance. It may also free the likes of David Silva and Samir Nasri to float inside more frequently into the areas where their particular brand of football wreaks greater havoc.

If Navas does make it to the North West of England, it will be a significant personal step for the 27-year-old, who has only ever played for his local team. Born to a gypsy family in the nearby town of Los Palacios y Villafranca, Navas endured self-confidence problems in the early parts of his career. These developed to such a level that he was at first unable to take up invitations to play for his national team, as nervousness and homesickness would prove debilitating for him. On a number of occasions he had to return from training camps, as simply leaving Seville brought on anxiety attacks. This condition has been worked on in recent years and, although he has not played for any other Spanish side bar Sevilla, he has travelled with Spain to big tournaments, including the last FIFA World Cup in South Africa in 2010. Beginning a club career away from Andalucia and outside Spain will therefore be a big step and an enormous test for the little winger in a number of ways.

What City will get for their probable £20 million plus outlay is an absolute speed merchant down the right flank; small, close to the ground, Navas has bewitchingly quick feet and a turn of speed that will leave many fullbacks grasping at thin air. His ball control, ability to dribble at an opponent at speed and smarts to choose the right pass option in a swift attacking move is unquestioned. There is talent by the bucket-load. Where the question marks might lie for a player who will be taking his first career steps outside his home country, is how quickly he can adapt to a new environment and how well he will be able to handle the pressures that such a switch inevitably brings. One thing he will be able to bank on if and when he arrives in Manchester is that he will be able to hear his native Spanish spoken with a variety of accents on a daily basis at training and on match-days.

The likes of Silva, Javi Garcia, the three Argentinians Pablo Zabaleta, Sergio Aguero and Carlos Tevez, plus youth prospect Denis Suarez and new boss Pellegrini will all no doubt strive to make him feel at home. In the multi-cultural world of the Premier League, these days this need not be such a huge stumbling block.