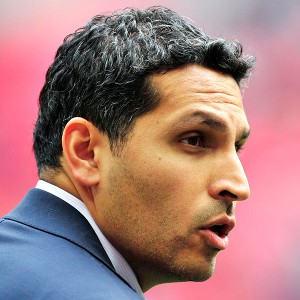 GLYN KIRK/AFP/Getty ImagesKhaldoon Al Mubarak's soothing words should give City supporters confidence going into next season.
The history of English football is littered with club chairmen, from local butchers to questionable chaps ball-juggling on the pitch before they had even signed the title deeds, who encouraged infinitesimally small amounts of trust.

There have been men who looked under toilet doors and others who grew rich selling arms to various dictators of dubious origin. Yet others have burned down their own stadiums, while some have simply chosen to asset-strip before the very eyes of the people they were supposed to be serving. Truly, there have been -- and continue to be -- some eye-wateringly inappropriate people running English football.

Then there are men like Khaldoon Al Mubarak.

If any Manchester City supporters were in doubt after the dismissal of Roberto Mancini and the limp end to the 2012-13 season, whether their team would be able to take the fight to Manchester United and Chelsea with the required energy and focus, all misgivings will surely have been sent flying out of the window by an interview given to the club's Nicola McCarthy by Chairman Khaldoon Al Mubarak in New York last week.

-Zabaleta, Richards to begin contract talks
-Jolly: High bar set for Pellegrini

The chairman spent 22 minutes talking in the most dignified and positive tones about the club's future, its infrastructure, its employees and its fans. He concluded by saying that the one most important message he had was simply to say "thank you". Well, for those of us old enough to remember Peter Swales, a television and radio "mogul" from Altrincham with a penchant for Cuban heels, beige suits, cigars, new managers every two weeks and a haircut that looked like he had threaded a deceased raccoon around his ears, here is a man City fans can be proud to call "Mr Chairman".

In less than half an hour, Sheikh Mansour's vision for Manchester City was laid bare by his man in situ: the need for a change in direction; sustained success; alignment of goals for long-term aims; getting the best out of the talent City nurture; a management structure second to none; core players tied to long-term contracts; a systematic approach; development of profile in the U.S.; homegrown talent to the fore; maintaining high standards and high ambitions; having the confidence to win at difficult venues and to possess a winner's mentality.

As a smile played across the chairman's face when questioned about investment in players, the heart fairly leaped -- for here is where the club collapsed in a hole of its own making last season. In attempting to fall in line with UEFA FFP guidelines, City supporters ended up watching Scot Sinclair instead of Robin van Persie.

One gets the distinct impression this will not be allowed to happen again. Here is a team of people who leave nothing to chance, no stone unturned, in their pursuit of excellence. Right down to the small details of mentioning fan favourites Pablo Zabaleta and Micah Richards as core components for the future, Kaldhoon did not put a foot wrong.

Even in explaining the difficult departure of Mancini -- traditionally a bit of a sticking point for chairmen who have just completed wiping their boots clean after launching the old incumbent out the front doors -- he spoke with dignity and warmth of Mancini's efforts as a man and a manager of the team, as someone who will remain a personal friend and a friend of Manchester City.

For those who delight in the throw-away barbs of "wait 'til the Sheikh gets bored with his plaything", the future looks particularly bleak. On the other hand, you get the distinct impression Manchester City's future involves an increasing presence at the game's grand occasions, particularly those continental ones that have thus far slipped through the fingers.

If football watchers did not already know it, this is a club in very sound hands.