Story of a season - Part one: Early pointers disregarded
Now the dust has settled on City's hectic end of season break to St Louis and New York, it is perhaps a good time to reflect on a season that did not deliver on any of the levels expected, one that ended in a disastrous 24 hours surrounding the FA Cup Final when the side's only hope of a trophy and the manager that had brought three years of unprecedented success both went west at more or less the same time.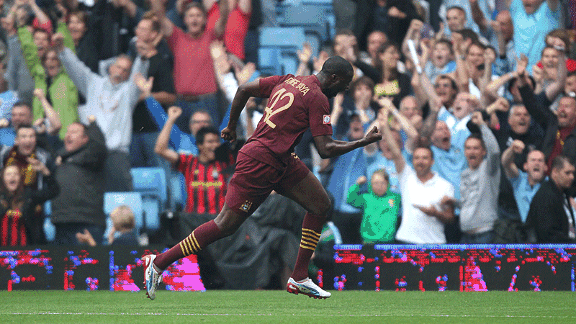 PA PhotosVictory in the Community Shield raised high hopes as City's Premier League defence begun
City started the season with perhaps the best squad in the Premier League. Certainly, as far as strength in depth was concerned, hardly anybody could hold a candle to the Blues. It was expected that the major threat would come from Manchester United, surely rejuvenated under a revenge-seeking Alex Ferguson, and a Chelsea side that just had to be stronger than in 2011-12. Both had recruited wisely, with Van Persie and Hazard, both said to be City targets, crucially heading to the club's main rivals. City's own late summer spending spree had certainly added numbers to an already large squad but had clearly failed to increase quality. Eyebrows were raised at the arrival of an ageing Maicon, so recently given the run-around by Gareth Bale, the underwhelming Scott Sinclair and the tugboat Javi Garcia from Benfica. Those decrying the early departures of Adam Johnson and Nigel de Jong, in particular, wondered out loud whether either had actually been replaced by a player of superior quality.

It dd not take long to find an answer. By the end of the second game of the season, the die was cast. Few knew it at the time but those opening games would resonate for months to follow. In the Community Shield at Villa Park, City looked lumpen and out of sorts in the first half and went in at the break deservedly behind. In 15 astonishing minutes at the beginning of the second half, the lead was cancelled out, turned into an advantage and increased, in a whirlwind of rapid-fire pinball football that fair made the eyes water. From one-down to three-one up in the blink of an eye. Hazard attempted a pirouette and fell over. Everything seemed set fair. We didn't know it, but City had just played perhaps their most impressive spell of football of the entire season and the league campaign had not even started yet. Chelsea were blown away, yet the game finished 3-2 with a welter of chances falling to the Londoners for a late equaliser. Again the penny failed to drop that we were watching a very different beast to the juggernaut that flattened so many opponents in the dying seconds of games in 2011-12. This time it was City hanging on for dear life.

The first game of the league campaign dawned in bright Manchester sunshine, always a reason to be wary and, sure enough, newly promoted Southampton gave City a real run for their money in a topsy turvy game. Back in the title winning season City had not gone behind in a single league game before the roller-coaster 3-2 win at Loftus Road in November. This time it took the Blues 67 minutes of the inaugural match of the season, at home to what might impolitely by some have been called promoted cannon fodder, to find themselves 2-1 down. That City won the game, somewhat undeservedly, 3-2 in the end, seemed to be less important than the fact that the side looked ill at ease, unbalanced and, for long periods, outplayed by a team that had jumped two divisions in consecutive seasons. A scary, dishevelled and haphazard draw at Anfield in the next game reinforced the point: City had reverted to type. The bulldozer had been traded in for a wheelbarrow with a misshapen front axel. We were on the old switchback again. David Silva's missed penalty and Sergio Aguero's serious injury also provided early tasters of recurring themes for the coming months.

There was more. Roberto Mancini, not content with a wholesale restocking of the first band of reserve players, seemed to be tinkering with tactics too. He had taken a pick axe to the concrete partnership of Lescott and Kompany, replacing the former with the young Serb Matija Nastasic. Rodwell was also straight into the side and immediately guilty of losing possession for Southampton's winner and for Borussia Dortmund's goal at the Etihad in the opening home Champions League tie. By the time this latter game took place, City were plainly not at the races.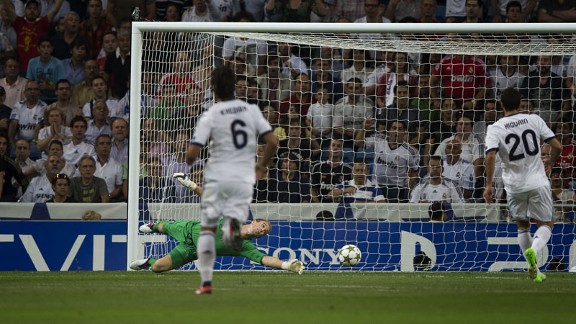 PA PhotosMan City's Champions League campaign began with defeat to Real Madrid
Beaten at the Bernabeu, knocked out of the League Cup by Aston Villa at the Etihad and about to be humbled in Amsterdam by a youthful Ajax side, City's league form was also stuttering like an engine on a frosty morning. Although once again dumped in a tricky Champions league group and having started the campaign in Europe with an unlucky if not entirely unexpected defeat in Madrid, the first home game in the competition, bringing City face to face with the German title holders from Dortmund, left the gathered masses gasping for breath. City were pulverised from start to finish by a brand of high energy passing that made them look strictly pedestrian. That it would make the rest of Europe, including Real Madrid, look strictly pedestrian too in the months to follow, we were not to know at the time, but the shock of seeing City's imperious home form of the year before sneered at by these upstarts in yellow was more than tangible. Joe Hart, destined for a mediocre season spent over-estimating his own talent, was forced into one world class save after another in what was by far his best performance of the season.

The names of Schmelzer, Gundogan, Subotic, Reus and company would be writ large on this season 12-13 and City fans would not forget any of them after this night of fizzing, blurring domination. It was the first week of October. Autumnal hues still coloured our streets, but City's season was already taking on an altogether darker form.