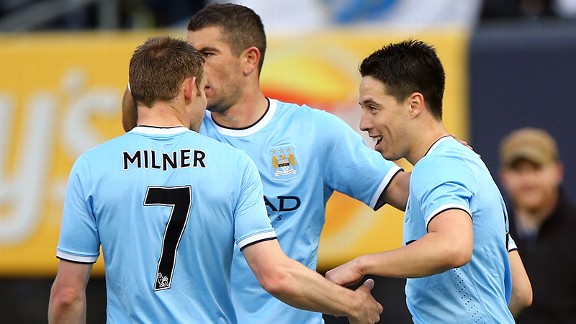 GettyImagesSamir Nasri bagged a brace for City in the victory over Chelsea
If any of us had been party to City CEO Ferran Soriano's pre-US Tour blue thinking speech to trusted Manchester City insiders, it probably would have gone something along the lines of this: "Let's try and woo the American public. Let's be pro-active, engaging, bright and attractive. Let's visit all our favourite charities, make plenty of public appearances, turn up completely unannounced in a few schools with some stars in tow, generally engage with the public at the drop of a hat. Let's revisit old haunts to make sure people remember us; let's announce a massive kit deal with Nike and pose in the gear in iconic waterfront locations in Manhattan for good measure; let's have the players say just how comfortable those shirts are and how proud they are going to be to turn out in them next season.

- City beat Blues in NYC thriller

"Let's take it even further; then let's announce a new MLS franchise, in New York and call it New York City FC. Let's announce that Sergio Aguero has resigned for the Blues. Let's have the captain break his silence about his future too. Let's take this thing to the heavens. Then let's play the double European Champions, twice! Let's play them in St Louis and then again in New York. Let's beat them twice, with action-packed, goal-a-minute football from the dreams of men and children, let's beat them 4-3...."

You can imagine some curmudgeon piping up, one of those steady lackeys, who enjoys pouring cold water on the pipe dreams of the slightly obsessed. "Yeah, boss, but we have to play them twice. If we knock them 4-3 in the first game, what on earth do we do in New York?"

"We beat them 5-3! Come on, let's get packed. We've got business to attend to."

And so it came to pass.

For the last few days, the Manchester City PR machine has been doing its level best to behave like that of a global giant in the sport, doing its utmost to appear at once statesmanlike and glorious and at the same time, approachable and ordinary, in the best sense of the word. For many down-to-earth Mancunians, this is another glimpse into the future of this grand old club, as it is transported into the bright glare of the flashbulbs for everyone to gawp at and reach out to.

City are hardly an unknown quantity these days, the millions rolling in from Abu Dhabi over the last three years have seen to that. From Lagos to Lima, those sky blue shirts have taken on a new and important meaning to a football-loving public. Despite this, the journey is far from complete. The vigorous few days since the last ball of the football season was kicked in anger against Norwich City on May 19 have proved this quite conclusively.

First, without fear nor hesitation, Roberto Mancini was removed from office to a general theme of "he has taken us so far, but is incapable of taking us to the next destination". If this was a fait accompli in the minds of ADUG, then they moved with speed and without trepidation. Suddenly, the thoughts of CEO Ferran Soriano began to filter through to the rank and file. Here, to put it mildly, was a man with a plan. It was difficult not to be taken by the meticulous nature of everything that was presented, hard not to feel sympathy for Mancini, but at the same time, easy to understand the motivation behind his removal.

Yes, a new manager had been sounded out, yes the plan is full steam ahead. So much so, in fact, with so much steam and going forward with such purpose, Soriano let slip that he expects five trophies in five years, specifically Champions League, FA Cup or Premier League. If the new man's first pot happens to turn out to be the League Cup, we are left wondering if that will count towards the ambitious target or will it be dismissed in the same way last summer's Community Shield has been?

The real character of the men, who took over Manchester City football club is beginning to become clear. What we have seen so far, these fine and sunny days that have catapulted thousands of bleary-eyed supporters straight into the giant tissues boxes, appears to have been just the first tentative steps of a new football force. For those blinking at the ferocity and dazzle of an aggregate 9-6 mauling of Chelsea, the operation off the pitch has been every bit as accomplished, if not more.