The curtain comes down - with railing attached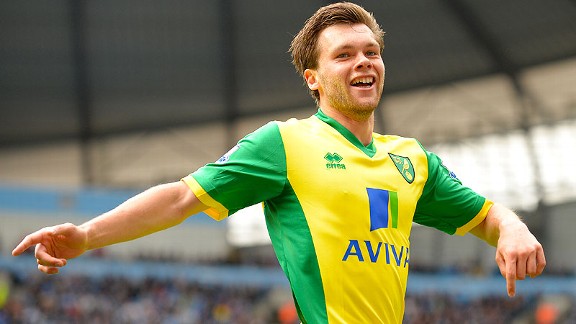 Andrew Yates/AFP/Getty ImagesJonny Howson's late goal clinched it for Norwich City.
The rich tradition of slapstick last-day-of-the-season performances that the supporters of Manchester City have been brought up on over the years was held in high respect again on Sunday as Norwich City, a side that has won at City only twice in its league history and never at the Etihad, waltzed to an eye-watering 3-2 win over a City side that seemed already to be on its summer holidays. If Aleksander Kolarov had appeared on the turf wearing Bermuda shorts and holding a piña colada, it would not have looked out of place. Rum, it certainly was.

- Davitt: Norwich relish proving doubters wrong
- Jolly: Man City stuck in the past
- Kidd pleased with fans' response
- Tevez talks up French move

A stream of last-day memories came into mind as yellow shirts performed sprightly manoeuvres and scored unlikely goals in front of a subdued post-Mancini Etihad crowd. A 2-5 reverse against salmon-and-ochre striped Everton, a 2-3 loss to QPR, a 0-1 defeat to Southampton, a 5-0 win over Cambridge United (in the league!) all spring a little too readily to mind for comfort.

Add to those all of the last-gasp promotion and relegation cliffhangers that have littered the last 30 or so years of Manchester City final-day shows and you have enough material to have us all certified once and for all. Included amongst these with top of the bill ranking comes the playoff thriller with Gillingham in 1999, refereed then as now by Mark Halsey, signing off from refereeing duties in rude health and with one solitary, unwilling yellow card. The reader will notice no mention in this respect has been made of the mother of all last-day mind-benders, that tumultuous win over an obdurate Queen's Park Rangers 12 short months ago, when we exited a simple game of football, charred, singed, sliced and folded.

If truth be told, a lazy, haphazard 3-2 defeat to Norwich City fits the bill quite nicely. No veins bulged, no blood vessels exploded, no need to look for a complete change of clothes at full-time, no need to find ill-fitting excuses for the loved ones when you get home with your hair standing on end and shoes on the wrong feet. Somebody else's shoes.

Except for the 2013 version of Manchester City, these sorts of things are plainly not really acceptable anymore. The expectation, and with it the pressure to succeed, has been ratcheted up a notch or two since dear old Trevor Morley glided through at Valley Parade and Preki went nap at Maine Road. Those slapstick days of burn-and-bust are long gone, replaced by corporate responsibility and global reach, holistic dreams and 10-year plans. Ten-year plans!

We said goodbye to the daft old music hall Manchester City and its 10-minute slots of calm a few years ago, so praise is due to those players attempting to resuscitate old memories on the pitch against Norwich. The Keystone Cops defending, the acres of midfield space occupied by a grazing Yaya Toure, the air shots in front of goal, the back headers "into space." All that was missing was a man with a handheld foghorn wearing exceedingly large red-and-white striped shoes running in from the right flank to link with Edin Dzeko.

The summer is now upon us, but there are only question marks to accompany us into the barren, parched football desert ahead. Will Manuel Pellegrini indeed be ushered in to enact a new and lively revolution? Who will come with him if he does choose to swap the swaying Costa del Sol palm trees of Marbella and Estepona for the myriad dirty things floating in the plain brown River Irwell? What of City's existing staff? Is Brian Kidd's time with the club coming to an end? Which players will survive the oncoming purge? And, most crucially of all, who are the faithful to welcome to the fold as the next heroes to don the famous sky blue shirts?

As would be expected after 10 days of carnage, there are far more questions than answers at this stage, but this game gave us one or two timely pointers for the future.

An awkward-looking defence of Pablo Zabaleta, Joleon Lescott, Micah Richards and Kolarov is plainly not good enough. Not good enough to stop the onrushing Robert Snodgrass and Jonny Howson, thus not good enough to be asked to shackle the many higher talents that will rush through the gates next season. It is always a strangely poignant moment to gaze down at the exiting team on Last Day and wonder whether some of the players leaving the pitch have just played their last ever game for the club, but it would not be a great surprise if only Zabaleta of the starting four remains come next August.

While Kolarov has been playing in neutral for longer than anyone can remember, Lescott's lazy attempts at tackling in this game did him no favours at all, whilst the ever-resourceful Richards, still rusty after a long layoff, attempted to have his credentials boosted by a thrusting headfirst horizontal challenge on Howson. As Richards flew past like a man fired from a cannon, Howson let rip and the ball was past Joe Hart before you could say "incredible airborne defender going the wrong way."

In fact, Howson's goal highlighted a number of players not doing their job properly and the new manager will need to take some time refocusing a host of pretty fuzzy minds. Farther up the field, the buzzing legs of Carlos Tevez were never still. If his strike partner Dzeko was watching the energy and work rate going into his performance, he can only have made the mental note to google "commitment" when he gets home. In contrast, when Tevez gets home, one wonders will his legs keep moving in the direction of Boca Juniors?

So, after the slapstick years, City fans now head for the beaches miserable at coming second in the league and losing the FA Cup Final. In the good name of Jamie Pollock and Trevor Morley, of Jim Tolmie and Richard Edghill, of Kevin Horlock and David Phillips and of all other last day of the season City pillars, who have burned a plethora of images both good and bad into our collective subconscious, may we all learn to keep both the faith and a little perspective as the temperatures rise.