The rain falls down on a humdrum town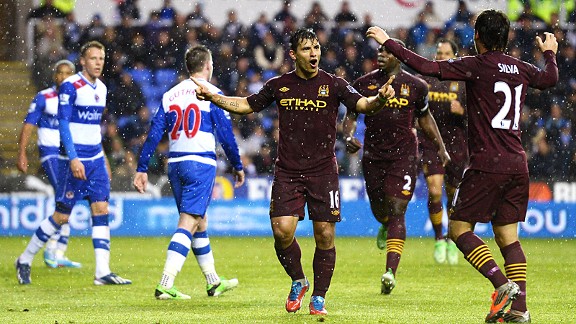 GettyImagesManchester City celebrate after Sergio Aguero put the managerless side in front at Reading
As the rains came tumbling down Tuesday on this neat little patch of green in Berkshire, it was difficult not to think the Football Gods had sent at least some of the downpour to wash away the grief of another Manchester City managerial tragi-theatre piece. Others might have seen it as a chance to swill away any signs of the Roberto Mancini regime, already disintegrating at pace, as David Platt declined an offer to come to the show and instead headed for the dry hills to find his friend. Yet others might have linked the gushing water everywhere to metaphorical tears for yet another self-made implosion in the grand old custard-pie littered history of Manchester City football club.

Whatever your leanings, it all seemed pretty apt.

-Aguero, Dzeko score to lead City
-Pellegrini favourite to replace Mancini
-Mancini sacking starts staff overhaul

Brian Kidd, his hair plastered to his head, sat wringing his hands with nobody to talk to. With Platt gone, Mancini long gone (in football terms at least), there were plenty of spare seats in the dugout, as there were in the City section at the Madejski, as supporters voted with their feet and with their empty wallets. The average Premier League manager lifespan is down to 16 months, we are told.

With The Guardian already posting pieces on "What Pellegrini Needs to Do First" on its website, the 59-year-old Chilean's clock appears to have been set running even before the wild speculation can finish. This is modern football and its impatient, all-consuming character. One thinks back to Joe Mercer, to Malcolm Allison, to Johnny Hart and to Tony Book, to an era of thick coats and strange hats, of board members with pipes permanently angled from the corners of their mouths.

City's history has meandered gently around all of these characters to now stand on the brink of a Chilean tactical wizard, recently of Real Madrid and Malaga and Villareal, backed by the suited ranks from Abu Dhabi. What Ron Saunders and Peter Swales would have made of that is anybody's guess.

While off-field shapes and colours mutate and shimmer, on the green grass, things are more easily recognisable. At times like this it is vaguely therapeutic to concentrate on the ball pinging about and forget the rest. However, the Forza Mancini banners and the loud backing from City's followers for the departed Italian made even this a difficult task at times.

Reading's fans also appeared to want to wallow in the loss of the less hursuit Brian McDermott. It felt a little like a tribute show to those who have fallen.

City's comfortable victory, with slide rule goals from Sergio Aguero and Edin Dzeko, means second spot has been secured. Runners-up in the Premier League, runners-up in the FA Cup. If you had told me as recently as the late 1990s that Manchester City would finish a season thus and see the orchestrator of this "failure" dismissed, I would have questioned your sanity and tried to see around the back of you to find out if you were plugged into the wall.

Incredibly, though, this seemingly majestic achievement for a club which has been barren for decades, represents a retrograde step. The list of great displays by Mancini's charges this term is not an extensive one. Tuesday's scorers, Aguero and Dzeko, appear less potent than before. Aguero's 30 goals last term dwarf his total of 12 this season, while Dzeko has spent the season looking like a very tall animal on the pasture on a particularly bald piece of tundra.

Football, in one of its unruly phases, if you follow either of last weekend's Cup finalists, on Tuesday chose to allow City to craft attacking moves conspicuous by their absence at Wembley. The goals were of such magnificent simplicity and efficiency, it fairly stung the eyes to look at them. The first ricocheted from one player to another like a pinball, before the ball entered the net. A truly breathtaking piece of nimble accuracy.

The second saw David Silva thread an outrageously clever ball to Dzeko, who looked up from his grazing, and finished with aplomb. Football also chose to vanquish last weekend's surprise FA Cup victors to the second tier, as some miles south of Reading, Arsenal dispatched Wigan Athletic through the relegation trap door. What truly unnecessary irony to drape all over us at this point of the season.

Irony, tragi-comedy, depression, disorientation, loneliness and a fear of Scottish accents; City fans are ending the season with a full set of ailments that only the most holistic of remedies will heal before the new season is upon us all again.