Jamie Carragher: Living the Liverpudlian dream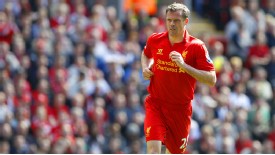 PA PhotosCarragher is second on Liverpool's all-time appearance list
What more can be said of Jamie Carragher? What words, candid or clichéd, can do justice of his 16-year Liverpool career? Like many strikers who have faced him over the past decade-and-a-half, futility abounds.

Alas. Plenty of words have been tossed about during his final week as a professional footballer. There is reminiscence of Istanbul, of the sweat-stained, cramp-infused grimace which became a cramp-stained, sweat-infused smile; there are memories of other trophies too, of the treble winning season, his 2006 FA Cup win and recent Carling Cup success.

If his medal count is not enough, numbers will surely suffice: 16 years, 737 appearances, the second highest appearance maker in the club's history. Within those figures are stories, anecdotes and memories; an abacus storybook never-ending. Never-ending until this weekend, that is.

But to recite statistics and accolades seems an unworthy celebration of what he has truly achieved - to limit such a career to numbers contrasts his visceral defending style. It would also be pointless to merely document his career chronologically, for it is hard to follow such expansiveness.

For each supporter who holds aloft the special Kop mosaic for him on Sunday, there will be a different memory. His conquering of many European cities - Istanbul, Dortmund, Cardiff - are obvious list-toppers, but there are moments away from the scrutiny of television cameras. There is far more to Carragher than the blocks and lunges so readily replayed in slow motion.

There is the time he berated Arsenal's Mathieu Flamini in-front of the Kop for a mistimed tackle, his words eloquent but foul-mouthed, heard by only a handful; a select few thousand will recall when he stood with the Liverpool supporters at Middlesbrough in 2003 as he recovered from a broken leg - a goalless draw denied the opportunity to see his crutches airborne.

It is this intimacy that defines him as much as his on-field achievements. From his debut in 1997 to his last game on Sunday, Carragher will have been himself every second on the football pitch. He played as if he was a paying member of the public; he performed how he would expect the heroes of his childhood - all blue, incidentally - to perform. For all the gold and silver in his top drawer, his true legacy is that he played as he would if he was on a school playground.

Carragher is privileged to have done this, of course. The American Dream was written about widely in the literature of the 1920s and 1930s - here stands the Liverpudlian dream, completed by an elite few. There is no toiling in the Dust Bowl of Oklahoma, but scuffed shoes and grazed knees on the streets of Bootle and beyond Their California, their endgame, is to play professional football for Liverpool or Everton. That will sort the mice from the men.

So many children grow up in Liverpool with this dream, watching these footballing supernovas and thinking how that life, that occupation, is the brightest of all. Every brick wall hit by a mangled, battered ball is not the neighbour's back door but Anfield or Goodison Park. So many dream it, so few achieve it.

Carragher did, and he never forgot that. He is conclusive proof it can be done. Carragher was part of a select group of young Scouse boys who wanted to become men of the game: a look at his FA Youth Cup winning team-mates of 1996 reveals he was the only one, Chester-born Michael Owen and the unfulfilled promise of David Thompson notwithstanding. Steven Gerrard would follow a year or so later and the door to the club's academy inexplicably slammed shut.

But the era of Carragher - and Gerrard, of course - has revived that. They are genuine heroes of the city who children want to emulate. The worshipper has become the worshipped, not that he would agree with such an assessment.

There are the examples of his humility off the pitch, like when he sold his wedding photographs for £1 to independent newspaper The Kop in an era most footballers said Hello and OK to big-money deals. There are also countless words from himself, spoken effusively; the story of how he was mocked for taking a wallet to his local pub because it was a sign of opulence and never used it again. Even in his last press conference with the media, he replied drolly when asked how a team of Carraghers would perform - a nod to his song sung by the Kop. "There would be a lot of nil-nils," he said with a smile.

All that comes from the fact he is the first in a generation to achieve the Liverpudlian dream, a boyhood Evertonian who came to love Liverpool because it was the latter who helped him realise it.

He showed that on the pitch too, for nothing was ever done without full commitment. He did not give instructions, but barked them shrilly in his dog-whistle voice; he did not wipe his brow with his sleeve, but assaulted sleeve with face. His claps of encouragement were frantic, his nose-blowing was venomous. He did everything as if it might the last time - on Sunday, it will be

Do not erect his statue just yet, however. His 16 years have not been without naysaying. This is Liverpool, where the halls of Anfield have seen more politicking than Parliament in recent times. The past few years have seen resentment bubbling towards him, subsided slightly with his recent run in the side.

Some who once sang his name heartily feel he has changed from the teenager who made his full debut 16 years ago, running towards the Kop with limbs swinging unbridled after scoring against Aston Villa. Some feel he is not even the man who battled the trio of Hernan Crespo, Kaka and cramp to help his side lift the European Cup in Istanbul. There has been a legend forming around the legend for years.

Some believe he is an example of how power corrupts, self-serving and interested in his own well-being alone, a Machiavellian manifestation. A man supposedly complicit in the sacking of Rafael Benitez in 2010, a key player in bringing Roy Hodgson to the club and engineering his own bumper contract extension with Liverpool just a day from administration. He also walks around as a hunchback, locked the two princes in the Tower and goes camping on grassy knolls.

The truth is not widely known, but that does not stop the belligerence.

If Carragher was the type to care what others think, he could take solace in the fact that it probably isn't personal. The city of Liverpool's refusal to enjoy the success of their people becomes apparent once more. Even Gerrard at his peak had his doubters. Build them up, knock them down: even the Liverpudlian dream has its downsides. Only the Liver Birds can stand upon their perch without rocks being thrown.

But Carragher doesn't care. If he was the kind who cared what others thought, he would have left in 2000, when his career looked set for left-back purgatory. That he has stayed at Liverpool throughout demonstrates his robust, resilient mentality; playing ability alone is never enough, not at a club like Liverpool. It is no surprise there have been so few players who have spent their entire career at Anfield - Carragher becomes the first since Gerry Byrne in 1969 to become a true one-club man for Liverpool.

He would be forgiven a few tears on Sunday, but he denies that will happen. That is not male bravado or chest-beating, but somebody with perspective. He will start next season as a television pundit with his health intact and loving family by his side. That's Carragher, though: always tinkering with expectations: he did score on his full debut, after all.

What more can be said of Carragher? What words, candid or clichéd, can do justice of his 16-year Liverpool career? There are none - nothing new, at least. The respect he receives on Sunday will be enough. It will tell the story of the Bootle boy who lived the Liverpudlian dream and wakes up a Liverpool legend.