Anfield: home of disconnect between club and community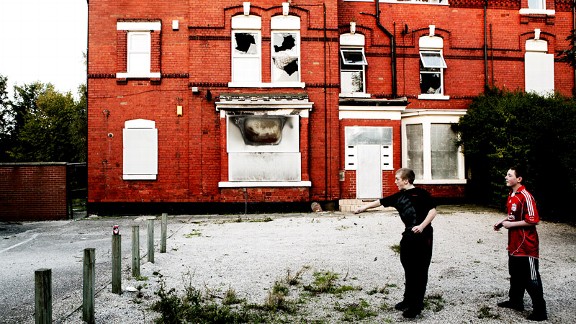 Thomas Vilhelm/Cover/Getty ImagesIt's been seven years since this picture was taken in the Anfield neighborhood. But little has changed in the blighted area around Liverpool's stadium.
The secret, it appears, is out. The treatment by Liverpool Football Club to the residents of Anfield has been brutally -- and expertly -- mapped out by The Guardian's David Conn.

If words could kill, this is the smoking gun; nearly 3,000 words which expose how the club have bought houses near the stadium for two decades, allowing them to remain empty and promote stagnation, dereliction and decline in the area.

Except the secret is not really a secret. Not for those who have seen the daily deterioration of the area; not for those who have walked up Walton Breck Road on days when no football is played, snaking up and down the side streets paved with tin. The area surrounding Anfield has been long forgotten, if it was ever thought of at all in the first place.

Conn's findings -- the bitterness, upset and anger of the residents -- is simply more confirmation of something explicitly obvious: there is a disconnect between the club and all those who serve it, and for as long as money can be drawn from the latter, there is little desire of reconciliation.

Forget the floodlights of the stadium, so effervescent and alluring on Champions League nights; disregard the red-tinted vibrancy that the television focuses on before a sunny summer kick-off in August. That paints a picture, granted, but not a very true one.

On the days the cameras switch off, the Anfield area is dilapidated, barren. Pubs that are brimful of a weekend are inhibited by only a handful; there are no supermarkets, few eateries and little reason to visit, little for the local children to do.

As one of those children, what Conn penned came as no surprise. I grew up just 15 minutes from the stadium and occasionally played football in the streets which housed the shadows of the famous ground. Everything grew over time: the Centenary stand had already done so and the Anfield Road both became higher and held a bigger capacity in front of my agog, youthful gaze; the number of tinned-up houses -- a symbol of Liverpool's aimless purchases -- rose too. Even my little legs started to grow, if not their ability to kick a ball hard into the increasing number of vacant terraced houses.

I did not realise at the time, but this all correlated with the growth of one particular thing: Liverpool's necessity to increase revenue.

The formation of the Premier League saw the club left in a shadow of their own, one created 30 miles away in Salford. As Manchester United embraced the new-found wealth of English football, Liverpool floundered. They could either mimic their Manchester rivals or retain a sense of community and socialism which Bill Shankly promoted when manager. They chose a half-hearted compromise; disconnect and disinterest began.

And so the bottom line became the bottom dollar, with no thought to the supporters or its area. Ticket prices rose and have done steadily over the past decade -- a Champions League semi-final ticket against Chelsea in 2005 was less than £30, but next season will see the same fixture in the league cost over £20 more in some sections of the stadium.

It's a checklist of woe: McDonald's was built upon the Kop before being removed to make way for an even bigger club shop; the opportunity for local support to purchase tickets at the ticket office diminished, replaced by premium-rate phone lines barely able to withstand a few calls at a time; children still cannot attend games at Anfield without an adult accompanying them. An entire generation of supporters possibly lost unless their parents have deep pockets and an affinity for football.

How the club has acted with the residents of Anfield is shocking, upsetting, maddening -- but the most maddening thing is that it does not come as a shock. It highlights the lack of direction in the hierarchy, a level of doubt and insecurity at boardroom level on how to move forward - to borrow a middle-management phrase of choice -- with Liverpool.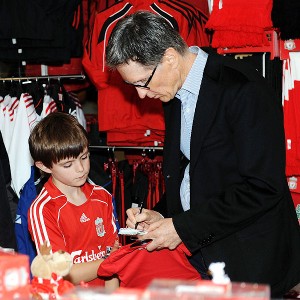 John Powell/Liverpool FC via Getty ImagesJohn Henry and Fenway Sports Group need to make a difference outside Anfield and not just inside, especially when it comes to children.
This is not to lambast current owners Fenway Sports Group. The first house was bought and left to ruin in 1996, after all. They are simply inheriting a problem nearly two decades old, a mind-set that has been prevalent within the club for far too long. It is brash and brazen, a mammoth shrug of the shoulders to any dissenting voice.

They are not monsters, of course; they have not come to Liverpool with destruction on the agenda. They are successful businessmen, ones who knew that by taking charge of Liverpool, it was not just a football club they controlled -- it was a community and city, too.

But they need to realise -- and reverse -- the contempt the club has held for those who it supposedly serves. They need to ruminate upon the relationship between the club, its supporters and city.

Introducing Mighty Red -- a child-friendly mascot to entertain the newly-built family park -- is a good idea in isolation, but a real gesture would be to ensure young children are inside the ground, with their friends, at cheaper ticket prices. The club's reticence to do so has forced supporter union Spirit of Shankly to offer free children's tickets, given up by members. It is those values, that unselfishness, which should be adopted.

Likewise, an increase of social media channels across the world is important to the global fan base, but its local support should never be dismissed either because they bring less money into the stadium on match day.

All is not lost, but much of it hinges upon the new stadium. It must be built and it must take the community into consideration. Conn's article was powerful, but it did not highlight what happens beyond those tinned-up streets in the wider Anfield area. A community still exists, albeit one betrayed by those who should have protected it more; Anfield is not simply a home of violence and arson -- it is debatable whether that is because of the club's house-buying policies, anyway -- but a place where people can flourish.

The club have forgotten its community far too much over in recent decades -- there must be an effort to halt that. More than any player signing or trophy, that is a legacy FSG should strive to be remembered for.