Merseyside derby whimper reflects season of transition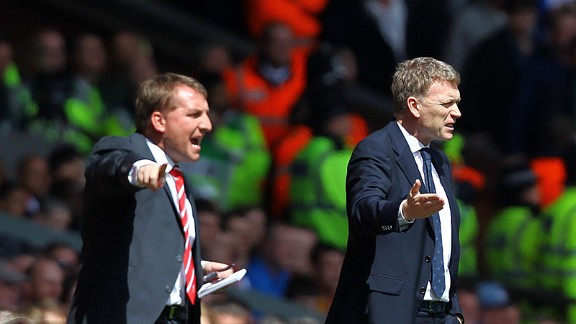 PA PhotosLiverpool manager Brendan Rodgers and Everton boss David Moyes attempt to cajole their teams during the Merseyside derby at Anfield.
On the short, sharp blast of the referee's whistle, bedlam broke out amongst the Everton fans. Hugs, high-fives, clenched fists raised in the air. It was a celebration worthy of a title-winning performance; of a 90 minutes which finally ended the Blues' 14-year itch since beating Liverpool at Anfield.

The reality was far, far different. No titles were won, no long-standing records broken. This was a 0-0 draw, a whimper which surmises the seasons of both. Despite the raucous celebrations from the away end, there is nothing to celebrate. Everton moved a point closer to sixth, a league position above Liverpool. Liverpool moved a game closer towards the end of a season of transition -- a strange, weird campaign which has been a constant turning of the kaleidoscope, each twist another emotion.

- O'Farrell: Draw turns thoughts to next season
- Whalley: Everton aggrieved in derby stalemate
- Gerrard: Liverpool lack cutting edge

This was a celebration of mediocrity. Everton may well finish above their neighbours yet again -- the first time since 1937 -- but this was a season in which Champions League qualification looked a possibility, particularly after their impressive start.

Liverpool have little to celebrate either. The spotlight should be more intense upon them.

Heads rested in hands on the Kop, a clear dichotomy of what transpired opposite them; but this was simply disappointment in not beating Everton. Disappointment that there was no final flourish to end a season which brings no trophies. The biggest problem, arguably, was that Liverpool expected any different.

There were more fireworks off the pitch than on it. Remove the pizzazz and the hyperbole: this was a game between two teams in seventh and sixth with little other than pride to play for. Do not let red and blue distort a black and white situation.

But irrespective of the bigger picture, there was still a derby to win. Neither looked capable.

Stop, start; stop, start. This was a stop-start game with far more of the former than the latter. Liverpool were disjointed in the first half, Everton hardly better. This is no surprise in a Merseyside derby - technique and finesse is often defenestrated, replaced by blood, thunder and two-footed tackles. But there was little of that either. The balance between the both was lacking.

What was good against Newcastle was suddenly absent. Only Philippe Coutinho looked capable of unlocking a regimented Everton defence, but there would be no link-up with Daniel Sturridge until the second half. The first 45 saw them too far apart.

They were not alone, and yet, were alone far too often. Jordan Henderson, stationed on the left-hand side, would glance up and see the nearest red shirt a distance too far away; Stewart Downing would do similar on the right. Every pass seemed to be a long, drilled ball, thumping against chest and limbs. Everton exploited it, the space the sort they have thrived upon all season.

A derby against local rivals should be a match where reason departs. The clichéd form book, laminated and pristine, is tossed away. No such luck for Liverpool. As it has all season, strength was an opponent most fearsome to Liverpool; so too a team that presses high up the pitch and allows little time on the ball.

How they wished their issues with strong forwards did not develop true to form. With Marouane Fellaini and Victor Anichebe in advanced positions, an uncomfortable 45 minutes. Fellaini came closest, his finish not matched by his power, Daniel Agger stumped as to how he found such a position.

For Liverpool, the impressive performance against Newcastle was far removed from the panicked, stretched approach to this game; they faced players capable of bullying their back line and were often bullied, picking their battles at times most inopportune.

Disregard Liverpool's opponents and the extra importance a derby match should bring: the first half brought a performance far too similar for the home side. Here stood, in all likelihood, a top six side, eyeballing Liverpool. Liverpool were blinking first.

Credit to Brendan Rodgers, for the second half improved -- particularly early on, when they searched for a goal. David Moyes failed to do likewise.

This was a game Everton could grab by its neck and strangle, but instead, a sparring match began. Liverpool's intricacy threatened, but the threat from Everton's set-pieces lingered. The worry of a deadening counter-punch proved too much for Liverpool -- liberation was never fully found with the brutish power of Everton's front-line.

Sturridge came close, especially within a few minutes of the restart. Coutinho's ball was inexplicable -- Phil Jagielka is still trying to intercept it, scribes are still trying to describe it -- but Sturridge was stopped by Tim Howard.

And so the second half followed that pattern. Sturridge missed chances, Coutinho continued to delight. Sturridge is working hard to shake off his reputation a player who does anything but that. However, his tireless running from the front is another sign of how hard he is willing to work at Anfield.

It proved futile however, in a game that could be described as such. Steven Gerrard burst into the box frequently and tried to do what he has done so many times in these matches, but even his efforts went without reward. Even Superman, which he has been so many times against Everton, struggles to get changed in the phone booth.

There were few who stood out for either side; it is the poor performances that garnered attention more than others. Lucas Leiva looked off-pace, while Glen Johnson toiled. Henderson and Jose Enrique also struggled, the relationship from St James' Park long gone. Coutinho provided some balance, but his frustration was clear.

Everton still threatened, despite Liverpool getting better in the second half. Sylvain Distin had a goal disallowed. The Everton defender felt this was his redemption for his weak back-pass to Luis Suarez at Wembley last season, but for Liverpool it felt like redemption for the errant linesman's flag at Goodison Park this season.

Common ground. Some think it is rare, but it really shouldn't be because these are two teams remarkably similar. That will hurt both more than anything.

Rodgers tried to wrestle the initiative and force a victory but his substitutions failed to impact upon the game. Fabio Borini came on and looked busy but ultimately bereft of what was needed to change such a game. The introduction of Martin Skrtel also confused, especially as he replaced Downing; the strength of Everton had to be combated, granted, but to utilise a player with his bags already packed and passport stamped was unexpected. The change, arguably, came too late and by the time Liverpool adjusted to the three-man defence, the game had finished.

The game had finished, as had both their seasons. Moyes saluted his away support but this was his best chance of breaking his barren Anfield spell. For Liverpool, it is just another middling result in a season that was never going to be anything but.

The battle for sixth was not won or lost, neither was a game of football. Instead, the only thing misplaced was the sense of importance about this game. Pride remains intact for both, but this game showed what is needed -- especially from Liverpool -- to make it important once more.