Football is irrational - and the fans should be allowed to be too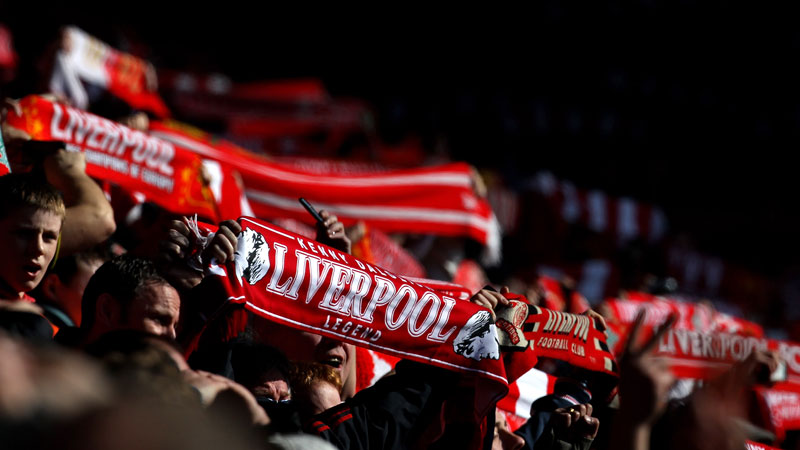 GettyImagesLiverpool fans will face-up to Everton in the derby this weekend
There will be plenty of baseless predictions ahead of the weekend's Merseyside derby, but in amongst them is one cast iron certainty: Both sides of the Stanley Park divide will look upon the 90 minutes with bias and irrationality.

The final result is immaterial. If Liverpool take three points, many Everton supporters will find a way to apportion blame to match officials and those in red. An Everton win brings similar ire from their city rivals. Rare common ground in a derby of dichotomy.

The Merseyside derby is a fixture traditionally brimful with incident, so opportunity aplenty to contort every twist and turn. A penalty award is either the best or worst decision in history; the flash of a card, red or yellow, walks the line of genius and insanity. Everybody is right, everybody is wrong.

There is nothing wrong with such unashamed partiality of course, because that is the essence of supporting a football club.

But there is a new phenomenon which has manifested before all, made more apparent now the recent hand-wringing and heart-clutching over Luis Suarez has subsided. Some observers now believe fans should not be so one-eyed, that glasses should not be rose-tinted towards their own team. Some demand for impartiality, for supporters to be shining beacons of neutrality, unwavering and unrelenting when nose-to-nose with the bias that permeates through the discourse of the football fan.

Last week, it was said Liverpool supporters cannot justify or condone the actions of Suarez. This week, they have to give their Mersey rivals credit and must concede that they are no longer the dominant side in the city. Last year, they had to assess the managerial performance of Kenny Dalglish unfettered by his status as the club's finest ever player.

They can justify, condone and assess what they want. Suarez is a player that brings them unbridled glee, while Dalglish brought them so much more both on and off the pitch. To disregard the centuries-old rivalry with Everton and expect compliments to be tossed over the divide is asinine - any compliment, in all its back-handedness, will come belligerently and begrudgingly.

It is not limited to Suarez, Dalglish and Liverpool alone, either.

Manchester United fans were told they had to sympathise with referee Cuneyt Cakir's decision to send off Nani against Real Madrid, even though it ultimately eliminated them from the Champions League. Arsenal supporters were instructed repeatedly to not disrespect Robin van Persie on his Emirates return, despite the Dutchman firing United to the title and leaving Arsenal to struggle for European qualification.

Football is illogical - a glimpse at the expenditure of Premier League clubs confirms as much. It should be expected its supporters follow that.

Football is a sport that can cost thousands of pounds to watch live. So many are willing to pay so much to deify players who earn more in a week than most do in a year. Grown adults wear ill-fitting shirts and emblazon names upon the back of those young enough to be their child. People skip weddings, christenings and family reunions to watch 0-0 draws in the bleak, barren winter.

Nobody is to tell them they should examine Suarez as if they were a lawyer, or to dissect Dalglish as if they were multi-millionaires across the Atlantic. In this era of technology, social media and joyriding down the infobahn, the line between supporters and journalists increasingly blurs. Supporters are now regarded as journalists because they can use WordPress; journalists are now football supporters because of Twitter.

But that does not apply to everybody. Not every football fan should uphold the supposed values of journalism. They are not paid to opine without bias and provide commentaries - social, moral, ethical - finely balanced, but rather pay themselves to watch the narrative unfold. Now there are so many avenues to share so many opinions, to expect football fans to withhold theirs is both unfair and ignorant.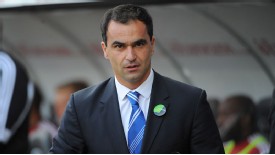 GettyImagesEven level-headed managers like Roberto Martinez can get caught up in the tribalism.
Behind the high definition cameras, pizzazz and wallop of television lies a game imbued with tribalism. Your club does no wrong, no other club can do right; all your side's players are underrated, the rest of the league is overrated. To try to remove that is yet another step towards optimum sanitisation, another dust-down of a sport that is fast becoming more spotless and blemish-free by the second. Without fans, football is nothing.

There is also hypocrisy in the outcry over football fans not approaching things level-headedly, for club officials and players engage in such bias often. Managers perpetually blame referees publically, while a bad challenge on the pitch is promptly followed by managers keen to indulge in the rhetoric that the protagonist is not that sort of player. Even the intelligent, affable Roberto Martinez fell foul of it after Callum McManaman's stud-first tackle of Massadio Haidara earlier this season.

There must be caution that lines are not crossed, that passion for football does not teeter away from human decency. It rarely does.

Still, it is a relationship far from ideal. The biggest problem with such tribalism is that it proves divisive on most subjects, including those most important. Abject football authorities, archaic and of no use to the people, are granted clemency when they fine or suspend the star strikers of a rival team; extortionate ticket prices will never change, for common ground cannot be found and the finger of blame points everywhere bar their own club.

As long as tribalism exists, proper reforms for the English game cannot occur. Prices will continue to rise. Football will continue to remain illogical. It is a vicious cycle and one that needs to be broken, if only slightly - but not because supporters should be relied on to bring logic and balance to the most illogical, imbalanced game of all. That isn't their job, nor should it ever be.

Even Frankenstein's monster mourned for his creator, after all.