One-man team myth dispelled dramatically
Of all the questions asked about Luis Suarez in the past week - both bite and ban - there was one posed with voices more hushed and worrisome than any other: How does the one-man team survive without the one man?

Trick question. Liverpool have not been a one-man team this season, despite Suarez's 30-goal haul and general wizardry with the ball. His distinction as Liverpool's best and most influential player is not in question, but he has not been alone in impact -- particularly since the arrival of Philippe Coutinho in January. For those who did not believe Liverpool could manage without the Uruguayan, seeing was believing at St James' Park Saturday.

Enough of Suarez; for once, this headline is not reserved for him. He has had the spotlight -- black, white, good, bad -- enough this season; time to shine it upon those who humiliated Newcastle, 6-0.

- Heneage: Coutinho pulls strings to torment Toon
- Analysis: Newcastle United 0-6 Liverpool
- Rodgers: "Sturridge can be one of the best"
- Duffy: Enough is enough at Newcastle

That is not fog on the Tyne upon the horizon, but the steam from the brows of nearly 50,000 Geordies. Rarely has a home support been so angry; rarely has that anger been matched by jubilance from the away side.

This was a performance that was foretold within the opening 200 seconds. Daniel Sturridge came close in the opening minute before Daniel Agger notched a rarity. This was only his third goal of the season, smartly presented to him by Stewart Downing. This was a game where leadership was required to end a difficult week -- the search did not last long.

What followed was not a rarity. If Brendan Rodgers has instilled anything into his squad in his first year at Anfield, it is the ability to eviscerate opponents with the benefit of an early lead. An early goal seems to act as some sort of aphrodisiac to the Reds, a musk that has their players salivating.

In the five games Liverpool scored in the first 10 minutes, they have won four and scored 18 goals.

Make that 24 goals. Even with Agger's early header, few would have expected such unabashed brutality from Liverpool.

The defence, rarely tested, stood high. Lucas Leiva played on the front foot with the surety he had before his two injuries. Downing hugged, embraced, caressed the touchline, stretching play and then moving into space. Steven Gerrard kept turning the cogs, understated -- his clipped ball for Jordan Henderson for Liverpool's fourth aside -- but undeniably important as the machine whirred into full-flow.

This was a machine, make no mistake. The first time, perhaps, Rodgers' Liverpool could be thought of as such. But this was not just a performance of clanging and banging, unrelenting in their vise-like grip over their hosts; there was also fluidity to their attacking play, movement both on and off the ball to titillate the gallery above.

Central to all this was Coutinho, the little Brazilian with hair and touch so velvet. He should prepare for life as Liverpool's focal point -- both on and off the pitch -- in the absence of his fellow South American.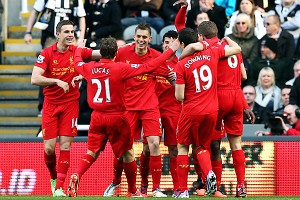 Ian MacNicol/AFP/Getty ImagesLiverpool had reason to celebrate early and often Saturday at St James' Park.
Operating more centrally than usual, Coutinho brought a different kind of creativity to the side. He is the final, neat brushstroke to Suarez's launched paint can; he is more conventional, but no less troublesome to defend against. His through-ball to Sturridge in the build-up to Liverpool's second defied definition -- it was millimetre-perfect and arrived at Sturridge's feet wrapped in a golden bow. Sturridge showed good awareness and great selflessness to play in the galavanting Henderson to make it 2-0.

It was a goal to surmise the 90 minutes: The artistry and industry in the space of seconds. Too many times this season Liverpool have failed to balance both, but this was just right. In an era of inverted wingers, false nines and flipping triangles, how refreshingly retro to see Coutinho as a number 10 playing in Sturridge, a number nine who looked to get beyond Newcastle's comical high line.

Newcastle's ineptitude will halt Liverpool's exuberance, if only for a little while. Alan Pardew's side were awful, a club that is not doomed to relegation but tried very hard to make it so. To push up high against the pace of Sturridge was asinine; they had no response to the energy of Henderson and Downing, no barricade big enough was mounted to repel the guile of Coutinho.

Rodgers won't care about that, nor should he. His side were excellent and, what's more, answered that nagging question -- if only for these 90 minutes.

This is not to proclaim Liverpool do not need Suarez, nor they are a better side without him. Only another nine 6-0 victories will convince otherwise. But this side possessed freshness not seen in a while, evidenced by the fact this was only Liverpool's second win in six games. There was also a welcome viridity regarding the sight of a fully-fit Fabio Borini scoring, particularly with just his third touch of the game.

His first was a neat pass, his second dug the ball out, his third a wonderful finish into the bottom corner. How his movement has been forgotten, and how it might thrive with Coutinho behind him.

The final score will not be what pleases Rodgers most, even in the absence of his star striker. It is a caveat barely worth mentioning given there will be nine more without him. Instead, he will look at a side who showed psychological strength; a genuine response of siege mentality when needed most.

Agger towered above all from the first minute while Henderson scored twice; Sturridge scored two but offered so much more; Coutinho, most impressively, bathed in the spotlight.

In the week leading up to Liverpool's trip to Newcastle, the club released a statement warning supporters of their use of smoke bombs and fireworks, traditionally set off when Liverpool score. If life without Suarez continues how it has started, the Merseyside fireworks shops will be doing a roaring trade over the weeks and months to come.