Back to the football - remember that?
So this was the week that was, the week that will be no more.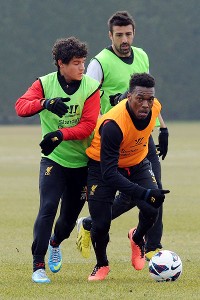 John Powell/Liverpool FC/Getty ImagesThe absence of Luis Suarez should give Philippe Coutinho, left, and Daniel Sturridge an opportunity to see if they can connect in a real match.
The week Paradise was lost and man took a firm, frustrated chunk from that forbidden apple so ripe; the week politicians commented on a sport they detest instead of engaging in discourse on matters far more important. This was the week where tribalism let out its visceral roar to back a failing institution, and would have done regardless of sanction.

The backing will not remain of course -- it never does -- for their disengagement and detachment stretches far further than the suspension of one player. Heroes and villains switching with one action: this is how it works and always will.

-Suarez accepts ban

The 10-game ban has been accepted. The Football Association have released their reasons. No stances have been altered, no venom retained and the goalposts remain unmoved. The FA's findings make no difference to that, despite the admission previous conduct was not a factor; their findings also fail to state why the ban was not four games or 14 instead of 10.

Few will question and perhaps few should -- at this stage, discussion is futile. What's more, the art of making shouting look like discussion -- and how artistic it can be -- is boring, tiring, the pasttime of dullards.

Back to the football. It still remains somehow despite the face-clawing and defenestrations. There was even a Premier League title won since Sunday, a timely reminder as to what really matters.

After the storm of Luis Suarez's niggles and nibbles comes the calm of Saturday's trip to Newcastle, a side desperate to avoid relegation, played in front of nearly 50,000 of their own. If Brendan Rodgers was unsure how it felt to be a Liverpool manager in years gone by, wonder no more. There is rarely such thing as calm.

Not that he does wonder, for this season has been an endless vat of cold water splashed across his face. Welcome to reality. This is Anfield, where vipers line the corridors and monsters lurk at every turn. Rodgers faced 20 questions about Suarez in his pre-match press conference, a player who won't play for Liverpool again until the autumn, if at all. He is still answering.

Though Rodgers will walk with the tangible worry of the Uruguayan's departure beside him, there is still a football match for which to plan. There is still a season to salvage, whatever the endgame may be. With four games remaining, the boat is sailing aimlessly along the lifeless, grey river. Reinvigoration is needed and necessary.

For those who have complained Rodgers has faced little of what Kenny Dalglish did last season, hold that tongue. Like Dalglish, Rodgers felt the beads of sweat trickle under the press spotlight; like Dalglish, he now faces a considerable period of time without his best player, the forward who could re-write the game's story with the swiftest flick of a boot.

Of all the questions surrounding Suarez, all but one should be pushed aside by Rodgers until the summer: How to get the best out of a Liverpool side with little to play for.

A harsh appraisal perhaps, but they sit five points behind Everton with four games to play. For many, the notion of finishing above Everton as the dangling of a consolation carrot is rightly dismissed. If first is first and second is nowhere, as once espoused by Bob Paisley, then battling for sixth with your neighbouring rivals is a firm tug-of-war for mediocrity.

For Liverpool, life without Suarez must not begin with heel-kicking and chins scraping along the North East turf, but with a desire to show what others in the squad have to offer. It would not be before time, either: there have been many below par in recent weeks and months. No better time to end the malaise. In a squad where the mentality is habitually questioned, these last four games will be a severe test of it.

It all went so wrong last season, a nightmare that could not be stopped. A worrying sense of deja vu for a side with only one win in five games and now without their best player. Rodgers would be forgiven for bolting upright in bed at four in the morning, turning over to his wife Susan and making sure Dalglish does not lay beside him. The ghost lingers in more than one way.

Rodgers' job is not in danger, but his favourable end-of-season appraisal may be. What looked to be an undulating season finishing with a peak is now careering the wrong way. How slippery the slope downward can be at Anfield.

In the only league game without Suarez this season, Rodgers chose Jonjo Shelvey up front. The midfielder put in a gallant effort in Liverpool's 3-2 win away at West Ham, but it is one he will not have to repeat now Philippe Coutinho and Daniel Sturridge are available.

Shelvey will remain as he did against Chelsea, the final card up the hollow sleeve; for January signings Coutinho and Sturridge, it is time to prove they can combine. It is a chance for Coutinho take on even more creative responsibility and an opportunity for Sturridge to grapple the spotlight and focus it on the one he thinks it should rest upon -- himself.

That Suarez the player is missing is an undeniable issue, but his character -- warts, teeth and all -- is what will be missed most. Without the relentless niggling, running and snapping, there are few others to make Liverpool fearsome. Steven Gerrard is too far back to have such an impact, while Lucas Leiva is simply too far off the pace.

Perhaps this is a chance for others to grow, to take responsibility and fill the void. Away at a relegation-threatened side with a vibrant crowd is not the easiest place to do that. But no more excuses, not about the opposition, nor about Suarez.

If there is little to be optimistic about for Liverpool until the season's end, the absence of Suarez might soon not be an excuse but a simple reality.