Suarez was wrong, but so is the FA's judgment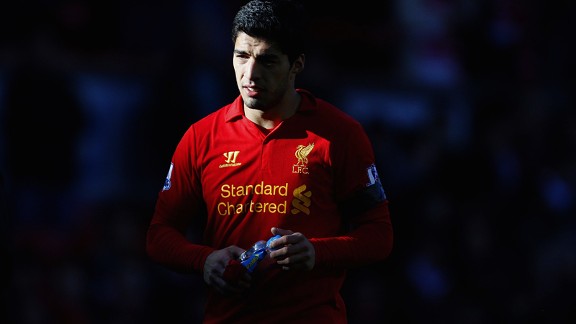 PA PhotosDark times for Luis Suarez and Liverpool
Before the scythe of denunciation slices through Luis Suarez and the agitation over his 10-game ban begins, a disclaimer to the dyspeptic: What the Uruguayan striker did was wrong and all the hysteria could have been avoided if he had chosen not to show his teeth, but the reaction has been disproportionate. So too is the ban handed to him by the FA.

He deserves censure and disapproval, not castration and deportation. Children do not bite other children because of Suarez but because they are naughty children. The fabric of society will not unravel by the act of one footballer, nor did it with the indiscretions of Eric Cantona, Ryan Giggs and John Terry.

- Brewin: Ban for Suarez harsh but fair
- Video: Was Suarez's 10-match ban deserved?
- Jolly: Reds left in a no-win situation

The length of the ban and the severity of punishment will always dichotomise opinion, even with such a grotesque length. Too short, too long; too harsh, too lenient. This is the life of Suarez. Loved and hated, he produces extreme reactions in a sport of extreme tribalism. Everything in football is distorted through a prism, and no player is monitored through it more than the Liverpool striker.

Perhaps the FA are as guilty as any other. They are not corrupt, as the cry will come, merely inept at making such judgments. Ben Thatcher received an eight-game ban in 2006 for a forearm to Pedro Mendes that left him unconscious. A year previous, David Prutton received a 10-match suspension for shoving a match official. In more recent times, both Suarez and Terry received less punishment for racial abuse, eight and four games respectively.

There is an inescapable feeling Suarez has been made an example of, albeit he should have never climbed upon the plinth in the first place. Nobody can deny Suarez deserved to be punished.

There appears to be a correlation between public indignation, newspaper column inches and ban length; there is little other guideline to how the FA totalise their punishments, after all. To give Suarez two games more than a misdemeanour far worse is arbitrary at best, cowardly and irresponsible at worst.

Enough of conjecture, here is fact: He is banned for 10 games, and Liverpool will miss him dearly. There will be no time to mourn his absence, for there are still four games of this season remaining. The summer will be the time for cloudy reflection. Any chance of a top-six finish this season has surely evaporated, as has the excitement his presence elicits from the Kop. With no Suarez for six games next season as well, there will be a worry any Champions League push is over already, though reliance upon one player would point to it being little more than a forlorn hope anyway.

There will be desperate attempts to find solace in the ban. That it will provide a timely rest for a player looking jaded after a long, arduous season is tempered by the fact he misses the Merseyside derby at the start of May. To say it allows Daniel Sturridge time up front with Philippe Coutinho ignores the necessity to get Suarez playing well with both, something that has yet to happen.

But there may be something positive, somewhere, to hold onto for Liverpool. Thoughts will turn to the future of Suarez, his happiness once again questioned. That he must serve his 10-game ban regardless of moving to another league may deter any potential suitors and depreciate his value and, consequently, potential as a sellable asset.

The club has released a statement to express its shock and disappointment at the length of the ban. It will wonder whether its hard work to reverse the damage of last season's conduct during Suarez's race row with Patrice Evra -- a comedy of errors in an issue that was no laughing matter -- was even worth it.

A droll statement perhaps, for the Liverpool boardroom and its inhabitants is in dire need of some positive PR. That may be the only positive to arise from the past week.

In the fallout of last season's handing of the Suarez-Evra case, scrutiny fell upon those near the hierarchy summit and the absence of anyone from the Fenway Sports Group ownership, with managing director Ian Ayre left to fight fires with nothing more than the wet cloth of inexperience and egotism.

Bad decision followed bad decision, most well-documented. The lack of initiative and professionalism when the incident first occurred, allowing players and club officials to muddy waters already opaque, began a litany of miscalculations and misjudgments, overseen by owners thousands of miles away.

In an open letter to the club website, penned in September, principal owner John W. Henry wrote of FSG's "mistakes in a difficult first two years of ownership." Propaganda to appease those annoyed by the farcical end to last summer's transfer window perhaps, but noteworthy as the first public admittance of accountability from Boston.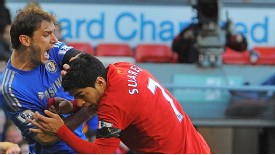 GettyImagesLuis Suarez has been fined by Liverpool and banned by FA for biting Branislav Ivanovic.
Mistakes, it would appear, are starting to be learned from. The chatterbox approach last season was replaced by no comment from manager Brendan Rodgers on Sunday. The macho, virile response to Suarez's charge regarding Evra -- constructed with grunts and without full knowledge of the FA's findings -- has transformed into swift, measured words by those involved.

There were no mixed messages, no suggestion of placing their own in the stocks as they did after Suarez and Evra's handshake hullabaloo, where the club accused its own of deceit. There has been a constant, clear message from all at Liverpool, one that few would find difficulty with.

Even Suarez's insistence that the act of biting Branislav Ivanovic is not worthy of more than three games differed from the catalogue of meek apologies from last season with the club eagerly embracing whatever shrapnel from the fallout flew into their faces. That it ultimately fell upon deaf ears does not change that.

Even Ayre, an easy target readily hit, canceled his scheduled trip to Australia. To leave Susan Black, the new director of communications, alone on her first week of work would have seen him pelted from angles once more.

Consider this a cease-fire but one only temporary, for to say the club has learned from last season's embarrassment is to damn with faint praise. Indeed, praise itself is perhaps misplaced. They do as most other clubs would, and Ayre remains alone in Liverpool with the general disinterest from America still palpable.

More importantly, to say the club has learned from last season's embarrassment signals this is a position it has been in one time too often with Suarez. It cannot happen again.

With the 10-game ban, there is inevitability to the claims Suarez has played his final game at Anfield, his final touch a last-minute equaliser in front of the Kop. Romanticism be damned. Liverpool have done well to dispel the notion. Any sale of Suarez will be with fiscal motivation, not moral obligation.

But with the severity of the FA's punishment, the sale of Suarez is now surely incomprehensible. It would legitimise the ruling and look as if their transfer policy is dictated by the draconian deeming of the FA. There is time yet for FSG to undo the repair of the past week, but there is suspicion they won't do that. Not by selling Suarez, at least.

Straw-clutching at its best for Liverpool, but there is little else to grasp with regards to the governing body and their judgment. Now let that scythe of denunciation rip through Suarez, but save some of the blade for the FA too.