Suarez bite 'saves' forgettable game
It would be easy to focus on Luis Suarez. It would be a simple task to roll eyes, shake heads and wag fingers with a fearsome thrust.

There is no excusing the inexcusable, after all. But there is also little point in adding a boot to the reputation of the Uruguayan; a reputation which already lies prone, open to the storm of heels, toes and shins which are about to befall him. The handwringing and apologies will no doubt come, so too the public castigation of a player far too used to it.

-Suarez both hero & villain in draw
-Jolly: Rodgers says no one irreplaceable
-Tyler: Food for thought

Liverpool have dealt with the mischief of strikers before -- Robbie Fowler sniffed the white goal-line in front of the Everton fans in retort to being labelled a 'smackhead'; Kevin Keegan landed a right hook upon the jaw of Billy Bremner. But never has the mischief and misdemeanour come so readily, infuriatingly.

Biting Branislav Ivanovic is not befitting behaviour, but Suarez should have fine company when being pelted with rotten fruit. Karate kicks, career-ending challenges and brazen infidelity have all been carried out by some of the league's most treasured players -- a pity there is no chart upon the wall to match his biting up against them.

Once the hysteria subsides and Suarez takes his punishment, whatever it may be, history will look upon his nibble as a talking point in a game that needed it. With Rafael Benitez returning to Anfield for the first time since his dismissal 2 1/2 years previous, it was a game that needed little to adorn it. No extra pizazz was required. How fortunate, for there was little else that made this game sparkle, despite the four goals.

Perhaps Brendan Rodgers, irrespective of his public reprimand, will take time to give his striker silent acknowledgement. Without him, there would be a more inquisitive eye upon him and his team, their lethargy in the first half and inability to build much pressure at 2-1 down in the second.

Indeed, without Suarez, there would be little at all -- this was a game with his impish, wondrous stamp all over it. Bloodsucking aside, he gave away a penalty, set up Daniel Sturridge's goal and scored an equaliser with one of the final touches.

But that aside, Suarez was quiet, a statement most remarkable given the imprint his four moments had. But they were moments that punctuated little else. It would prove to be a microcosm of the game itself: four goals, a penalty, a minute that would see the footballing world's head collectively explode and the return of a European Cup-winning manager. In between, swathes of mediocrity, an inexplicable non-event.

Rodgers' timing has not been the best this season; momentum has not been a familiar feeling. Before his side's 3-1 defeat to Aston Villa, he spoke of the possibility of achieving second place; after three victories and a cautious eye toward Champions League football next season, a lineup to furrow brows in a comprehensive defeat away to Southampton.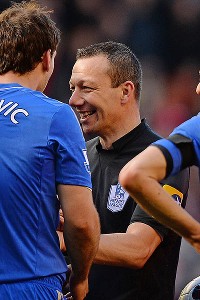 Andrew Yates/Getty ImagesIt's a pretty good bet referee Kevin Friend won't be smiling when the FA talks to him about the biting incident, which occured shortly before this photo was taken.
So it was against Chelsea. Two goalless draws against West Ham and Reading provided preparation less than ideal for Benitez's return; the Northern Irishman would have been forgiven for a vigorous rub of his hands and the muttering of out damned spot as the ghost of the Spaniard stalked him through the halls of Melwood.

This was a game to make a statement, but there was none, particularly in the first half. This is a season that has promised both so much and so little throughout the season but now looks set to end in mere insouciance. An early chance for Glen Johnson aside, Chelsea controlled the opening 45 minutes.

Sides are allowed to have poor halves, and Liverpool have had enough of them this season, but it will be worrisome for Rodgers that Liverpool do so with no sign of implementing the football he exalts so eagerly. Liverpool did not want the ball, habitually giving it to those in blue; there was no sterile domination, just simply a side that looked sterile as passes went sideways and backward tentatively before the inevitable relinquishing of possession.

The same issues remain for Rodgers' Liverpool. Yet again, a team that presses high up the pitch panicked them, causing even the most reliable players to find their passing erratic, their legs jelly-like. Once more, concentration was in short supply at the back, particularly when Oscar dived in front of Jamie Carragher to head in the opener at the near post.

There is now an acceptance, albeit a silent one, that these are afflictions not to be eased until next season. That they have not been improved upon throughout the season is a worry, but the real worry begins if the same remains next season.

A controlled performance from a side managed by Benitez -- the Kop would have been forgiven for thinking the Anfield turnstiles had become a time machine. Perhaps that is why they went through the songbook long shut. They sang of their old midfield of Xabi Alonso, Momo Sissoko, Javier Mascherano and Steven Gerrard, then swayed to the song of Luis Garcia. Then came Benitez, his name sang louder than Chelsea fans ever have. It was not in revolt of Rodgers, but simply appreciation.

There was not much to appreciate on the pitch, not much to appreciate from what Rodgers had asked of them. That changed at half-time, the arrival of Sturridge a brave but necessary decision. His directness is similar to Philippe Coutinho, who he replaced -- but pace and strength was something Ryan Bertrand could not contend with.

First, he set up Gerrard before wobbling the woodwork with a well-struck drive. His goal was deserved, crafted cerebrally all round -- Stewart Downing's touch inside was smart and Suarez's floated ball sumptuous. Sturridge's finish was both.

Sturridge's goal brought relief short-term, but long-term asks Rodgers another question about his attacking options. Coutinho and Suarez look excellent at times, so too Sturridge and Suarez. How he shapes all three in the same side will be another twist of the seemingly insolvable Rubik's Cube.

The Rubik's Cube becomes more multi-layered by the minute. Rodgers will hope his side's laboured efforts to grab an equaliser for a second time heralds fatigue more than anything else, though that is partly an issue self-created given his refusal to rest and rotate.

This was Liverpool's 50th game of the season -- both Gerrard and Suarez have played 44 and looked no better for it as they hobbled around the pitch, lungs bursting from chests, sweat saturating their shirts.

Any semblance of pressure was lacking from the home side, as it has so many times this season. There was no sustained retention of possession, no relentless movement on and off the ball, no hushed whispers of its coming in hope nor expectation as the opposition cling to the ropes. If a scarcely played Jonjo Shelvey is the final roll of the dice, look for another game.

Suarez's equaliser was the final, desperate lunge; few others would have made it, few others are Suarez. The narrative had been written already -- here he was to give it one final, wicked twist.

Suarez may have plenty of time to recover in the coming weeks with calls for a hefty ban. Some even think that his stoppage-time header will be his very last touch for the football club with a suspension ruling him out until his summer departure elsewhere.

Liverpool will not want that; any Suarez departure will be because of Liverpool's lack of bite rather than his own gnashing.

With just four games of this tiring season remaining, as all stumble toward the finish line with little reward ahead, they must prove to Suarez that they are a club moving forward. On a day when the man who won them the European Cup returned to the dugout, they have to prove that to themselves as well.