The Benitez shadow that follows Rodgers
He walks through the city centre of Liverpool like any Liverpool manager should.

On his way to a meeting in the city's Georgian Quarter, in the shadow of two cathedrals, he receives a smile from a passerby. As he strolls along the river, the barrier of off-colour water between city and neighbouring Wirral, he is approached by two people; one flashes an eagerly erected thumb of support, the other a sour, scornful expression. On the border of Chinatown, where the prosthetic Eastern world attaches to the West, he is stopped regularly to talk football, Steven Gerrard, Jamie Carragher and Luis Suarez.

This is not the life of Brendan Rodgers but that of Rafael Benitez during his six years in charge at Anfield. This was the life of a European Cup-winning manager, six-month excursion to Milan aside, until he moved down south in search of work.

He walked around Merseyside with a suit ever-crumpled, creased from the incessant handshakes and thank-yous for his time at Anfield. He walked around revered by many, disliked by some -- but never without acknowledgement.

So it was last summer. He walked, smiled and shook hands. He waited for a phone call that never came. In Fenway Sports Group's much-publicised search for Liverpool's fourth manager in two years, an obvious candidate remained ignored; the elephant was not in the room, but in his house on the Wirral, the other side of that river, where his family remains despite his current London engagement.

The rights and wrongs over FSG's refusal to consider Benitez for the Liverpool vacancy is a path well-trodden. That they chose Rodgers over the Spaniard, and many others, is another debate ground into dust.

- Video: Benitez expects emotional return
- Benitez: Anfield will be emotional
- Delaney: Benitez's complicated return to Anfield
- Lucas out to beat Benitez

Rodgers has his own walk to contend with, one away from the cathedrals and docks of Liverpool. He is not yet afforded the crumpled suit or eager chitter-chatter, nor does he have time. There is much to do.

His walk takes place daily at the Melwood training ground. When he strolls along the corridors, his handshakes are reserved for club officials. He is not met by supporters happy or sad, but neat reminders of the job expected of him mounted upon the walls. Trinkets of a history far from trivial adorn the complex -- paintings and photographs in black, white and living colour. It is a canvas tapestry of trophies and, far more importantly, the managers who brought them.

Rodgers has had to eyeball a lot since taking the Liverpool job, arguably more than any manager at Anfield since Bill Shankly arrived in December 1959. His biggest problem is that the comparison between the two should end there, but it doesn't. Liverpool have a strange, unique complex with managers, forever searching for the Messianic above all else.

History speaks for itself. The photograph of Shankly with arms outstretched to the six-figure crowd gathered at St George's Hall after their FA Cup final defeat of 1971 is famous. More pertinent are his words of how Chairman Mao, the founding father of the People's Republic of China, would not have found a more devoted congregation. When Liverpool beat Newcastle in the FA Cup final three years later, supporters ran onto the pitch to bow before him and kiss his feet.

Both were light-hearted moments and neither deserves a thorough psychoanalysis, but the relationship between the supporters, their city and their manager is clear. These are not fans wanting a manager to do well but people looking for a character to emotionally invest in. The disciples want somebody to worship.

And worship they have, most of the time. This is no bad thing, necessarily -- not for those who receive such glorification at least. That is why Benitez can walk around the city with his head high and courteous smile ever-present and why some still want to see him succeed at a club that has become the feud du jour for the past decade.

It is why Rodgers is not greeted in that way so often or so enthusiastically; there has been little to worship in his first season at the club. It is not necessarily his fault, nor does it matter too much. It merely illustrates the status he must fight against. Wickedly, it is also the status he so desperately desires, for status and success are favourable partners.

Liverpool's history is one told often, one detailed on those walls of Melwood. Benitez's six years there is no exception. His beaming smile reflects in the Champions League trophy, earned thanks to a miraculous, magnificent intervention at halftime in the Ataturk Stadium in Istanbul. A pity some have allowed that picture to become distorted and disfigured.

Rodgers is not without confidence, but he would have been forgiven for turning 180 degrees in his first day on the job and hailing a cab back to South Wales as he passed them all. He quickly discovered that not only was he meant to forge the future of the club but to manage its past as well. After taking the sceptre from the king Kenny Dalglish, there stood the spectre of Benitez.

And there will stand the Spaniard on Sunday, in the Anfield dugout for the first time since leaving in 2010. He is a character most divisive in a city of dichotomy. It is a city of two cathedrals, of two sides to the river, of two football clubs, red and blue, separated by a patch of parkland in the Liverpool 4 area. There is room, and mainly respect, for both.

No such honour for Benitez, not even at the club whose pride he restored so remarkably. There are those who deify him and frantically cling onto his return. Messiahs do not finish the narrative how he did, unfulfilled and without a Premier League title; they return to finish what they started. The same was said of Dalglish.

There are also those who hate him, who regard him as a politicking, scheming wrecking ball that leaves destruction in his trail, a lucky manager who could have -- and should have -- done more in his time at Anfield.

There is little effort to find the middle ground with Benitez, both at Liverpool and in the wider football world. He is either a genius or a charlatan. His detractors feel they must give balance to those who eulogise so keenly. His supporters must, in turn, defend him from the barracking. It is a vicious cycle, a whirlwind in which truth and fact are readily blown away.

Benitez will be cheered at Anfield on Sunday. Whether it was as loud as Paisley or Joe Fagan will never be known, for the Spaniard will be the first European Cup-winning manager at Liverpool -- and, indeed, in England -- to return to his club of triumph in different colours. That alone should bring unanimous rapture; that it won't should bring some context to the discordance he can cause.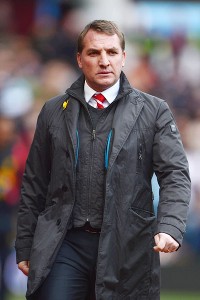 Laurence Griffiths/Getty ImagesBrendan Rodgers will be the subplot in Rafael Benitez's return to Anfield on Sunday.
The cheers will not be a rally against Rodgers. This is not a raucous revolt against the 40-year-old as it was against Roy Hodgson when Dalglish's name was chanted, each repetition thickening the ink of Hodgson's contract termination.

The sad truth is this game is not really about Rodgers. He has very much been forgotten, a subplot in Benitez's blockbuster return. Herein lies one of Rodgers' problems since taking over as Liverpool manager, since he first patrolled the corridors of Melwood flanked by the thick walls of burdening history. This is a young manager finding his own identity, let alone the identity of a global institution. He has not done enough, good or bad, to receive such opposing views in a city based on opposition.

Some of that is not his fault. He had no Champions League to win this year, and Liverpool is a club under a different ownership in a different football climate. But sometimes he hasn't helped himself, particularly with some of his summer signings doing little to ignite the new regime. There is also the feeling that he is conscious of the supporters' desire for that Messianic manager and engages in all the trite discourse that surrounds it.

Seeing Benitez at Anfield might provide closure for some and prompt anger for others. For Rodgers, he may stand in the background and wonder when, and how, he can invoke such fluctuating frenzy. He will wonder how, and when, he will walk around the city to such salutation, when he will be stopped to talk of Gerrard, Carragher and Suarez.

Perhaps being in the background is best for him and Liverpool as he attempts to do what Benitez, and all those others who look upon him on his daily walk, did. But for that to happen, there must be an acceptance that he is not the Messiah -- but nor is he a very naughty boy.