Getting better only viable 'Plan B' for Liverpool
It is a discussion you could set your watch to -- literally. As the electronic scoreboard at Anfield flashes ever-nearer to 90 minutes with no change to the goal tally, fingers are gnawed at. The fingernails have long gone.

Knees twitch, eyes pinball, faces are contorted and scratched. Murmurings start quietly, gather urgency and become louder. Eventually it is shouted by name and snowballs; it is repeated, mantra-like, well beyond the final whistle: Plan B.

-Anfield redevelopment update

In the absence of victory, there is inevitability about the dissection of Liverpool's Plan B and the supposed lack of it. It is borne from a desire to see Brendan Rodgers' side do something different, to conjure another method of breaking down resolute defences and concoct a different approach to win football matches. With just 13 wins this season -- following from 14 in the whole of last -- it is a track well-trodden.

There is no denying Liverpool have lacked an alternate approach to winning matches at times this season.

It is a season where they have mainly shown two gears: exhibitionism and exasperation. Never do the two merge; never does the former follow the latter. With a healthy lead, they swagger around the pitch, freely moving off the ball with smiles spread across their faces. Without that lead, the smiling stops; the swagger becomes a nervous, frantic sortie towards goal.

There is little else other than fireworks or frustration. Of the eight games Liverpool have won by three goals or more this season, all but two saw them at least two goals up at half-time. For all the dominating wins of threes, fours and fives against bottom-half sides, there are also showings far more tepid.

Rarely does Rodgers' side grind out a win, teeth gritted and fists clenched -- they have won just two games this season after failing to score in the first half. On both occasions, Wigan at home and Aston Villa away, they registered a goal within two minutes of the restart.

When early, scene-setting goals fail to materialise, so does a Liverpool side at their most impressive in full flow. It is during these struggles, the constant clambering up a wall never-ending, that the necessity for a Plan B is mooted.

An understandable yearning, but also one that has become cliché; Plan B is an answer to a question nobody asked, a nondescript solution to an obvious problem. With two consecutive failures in front of goal against bottom-half sides, more calls for the fabled contingency plan.

On a basic level, the notion of Plan B is ludicrous. Managers should have more than one plan for innumerable fortuities football throws up; never should they limit their preparation to one final roll of a dice, for the dice should always be tight in their palm. Football is an organic sport; it fluctuates every minute, every misplaced pass and erratic shot on goal shifts the narrative once more. It is not clinical and does not follow a formula simple to solve.

That is not to say things cannot be improved. Indeed, there is a lot of improvement required. Two gears so wildly different are not a stable platform for success; of the successful sides that have two ways of playing, they are simply set to stun and kill.

No such barbarism from Liverpool yet. The style of football proclaimed by Rodgers can, at times, be regarded as one-dimensional. In games where the breakthrough hasn't come early on, there has been little change in approach, a forlorn hope that what failed to work the previous hour might work in the remaining 30 minutes. It rarely does.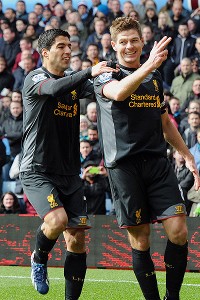 John Powell/Liverpool FC/Getty ImagesLiverpool is getting artistic football from Luis Suarez, left, and Steven Gerrard, but they need more support.
But that does not facilitate the introduction of a formalised Plan B -- it simply means Liverpool''s default style of play should look to be improved tirelessly. It means they require more players in the design of Luis Suarez and Philippe Coutinho, players who can shift a game's pendulum with a brisk swing of their boot. They need players who have the mentality to keep scrambling for a goal, regardless of how unlikely it seems. The prodding and poking of the opposition should be relentless, a building of pressure too strong to contain.

Of course, when Plan B is mentioned, some simply use it as a byword to introduce an entirely different style of play. If a defence cannot be run through, then look to go over its head. When Andy Carroll was loaned to West Ham last summer, tears gushed along the gutters of Anfield as the departure of Plan B was lamented. Liverpool would have had more success against West Ham and Reading, some say, with a big man up front to launch balls to.

By using Carroll, or any other beanpole brute up front, it negates the aforementioned South American duo's ability with ball at feet. It also negates any subtlety to Liverpool's play -- defending against a 0-0 with runners from deep is far more difficult than the same ball being pumped into the box. Hail Mary, hail predictability.

To look to bombard sides aerially is a mind-set far too simplistic: Liverpool have scored seven headed goals this season, one less than the entirety of last season. The absence of strikers with anvil foreheads is clearly not being felt too harshly, particularly given Liverpool have scored 59 goals this season. The issue is that a number of those 59 goals come early or not at all.

Alas, there is no sense in contemplating something so dichotomised to everything else being taught at the club. It is not yet time to make bonfires of playbooks, no matter how much or little progress has been made.

Liverpool do not need a Plan B - they simply need to be better. They need to learn how to keep their composure when a goal does not come early, how to keep the pressure mounting and leave the opposition sprawled on the turf. They need to discover the art of rolled sleeves, dirty knees and sweat-saturated brows. They must learn Plan A and all its intricacies long before they begin to implement another style.

To do that, they need a bigger squad. A few months ago, Liverpool's bench looked bountiful. How time changes so quickly. Raheem Sterling and Suso have both stagnated since signing new contracts; Jonjo Shelvey is lacking match fitness; injuries to Fabio Borini and Joe Allen - no matter how their first seasons have disappointed - reduce options even further. Rodgers has had to turn to Oussama Assaidi, left out in the cold for so long icicles have formed in his boots. Now back in the blistering heat of Premier League football, the Moroccan of ill manners looks out of his depth.

Football is not formulaic, but here is something that keeps the abacus upright: better teams have better players to call upon. It is not a change of style that might see Liverpool break rusty deadlocks, but a change of personnel. Plan B, Plan Z and everything in-between needs to be simply getting better at Plan A.