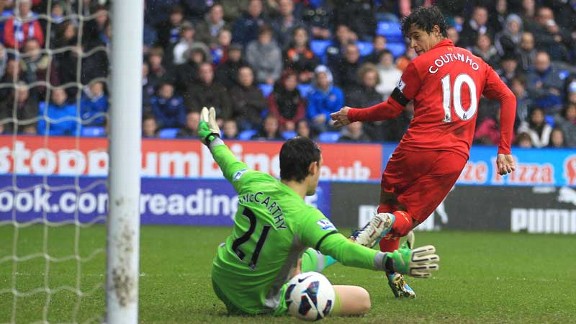 PA PhotosLiverpool's Philippe Coutinho backheels the ball past Reading goalkeeper Alex McCarthy only to see the effort ruled out for offside.
Some things in football simply can't be taught. No matter how many days are spent on the training pitch, irrespective of the time spent watching presentations and tactical briefs, there are attributes that either exist within a player or don't.

Ruthlessness is not something that can be worked on. There is no chapter in any coaching manual detailing what's required to make players revel in sadistic glee at beating a side in the most brutish manner. No words from Brendan Rodgers, or most other football managers, can trigger the desire to use the football pitch as a soft, green torture rack for the opposition, each passing minute a further twist of the taut rope, stretching them to the breaking point.

- Keen: McCarthy saves game but can't save season
- Rodgers tips McCarthy for England

That is why it is a rare commodity, one that usually correlates with success. It does not come from nurture, but nature. It is inherent -- an art, not a skill. There have been signs of Liverpool being ruthless with opposition this season, particularly away from home against sides battling against relegation. Both QPR and Wigan were down 2-0 within 20 minutes and 3-0 by halftime.

Yet here stood Reading, far more doomed than the previous two, still at 0-0 with 45 minutes played. Here stood Reading, still at 0-0 at the final whistle. The darkness at the end of the illuminated Premier League tunnel grows ever nearer, even with Nigel Adkins in charge, but Liverpool could not find the ruthlessness within them to darken it even further.

Ruthlessness is not to be confused with profligacy, that oft-used word at Anfield in recent years; profligacy, that byword for the woodwork being perpetually struck and supporters on the Kop diving for cover as another ball hurtled toward them. Luis Suarez is testament to how such wastefulness can be nurtured; he has scored twice as many league goals as last season already.

He was wasteful at times, granted. He had Liverpool's first chance, but his choice of a masterful caress of the ball instead of marmalising it with his laces proved the wrong one. His chip was cleared off the line by Chris Gunter. Still, the worry over how he, Philippe Coutinho and Daniel Sturridge would play together -- starting for the first time since the 3-1 defeat to Southampton -- subsided for a moment. Coutinho's ball was smart, so too Sturridge's little feint, but Suarez was perhaps a little too smart himself.

Then came the deluge. Coutinho curled one toward the bottom corner only to see the superhuman Alex McCarthy get down to tip it wide. Sturridge also went close, profiting from the space made by Suarez and Coutinho on the left side, but his low shot was smothered. If McCarthy did not feature in Liverpool's frustration, then those in front of him did: Adrian Mariappa rushed out to get a limb, any limb, onto Steven Gerrard's drive.

Some would say this was the profligacy of last season, a claim strengthened by this being the first time in 14 months that Liverpool have failed to score in two consecutive league games.

But these were chances that did not come from sustained pressure; they came from a combination of poor defending and niggling attacking play. There was no momentum built, no barricade erected by the home side. In the second half, Suarez would hit the woodwork from a free kick, so too Coutinho from open play. The Brazilian would also have a goal disallowed. Other chances flew by, as did any hope of playing European football -- though that may not upset Rodgers too much, given his comments this week.

It is easy to nod toward the performance of McCarthy, who, like Jussi Jaaskelainen, produced saves both routine and remarkable. These games happen, some will say. Some can even happen twice.

But forget the missed chances for a moment and simply acknowledge this is a side yet to possess enough players with ruthlessness. There are not enough players of Suarez's ilk; the Uruguayan may miss opportunities at times, but he never stops, never rests. From first minute until the final blast of the whistle, he is angling for a moment to upset those who are not with him and his team.

This appears a group of players still not capable of a 90-minute performance that requires doggedness. Flicks and tricks with goal cushions most comfortable may adorn football games already won, but they will not shape a season. Their teeth sparkle when they shine but blacken and disintegrate when they need to be gritted.

Becoming so barbaric is what the best teams do. It provides a platform of fear to climb upon, an aura that handicaps the opposition before a ball is kicked, a prompting of mental paralysis. It matters not whether a side needs points to survive relegation; there will be no mercy shown. Liverpool showed mercy to Reading, as they have too many sides for more than 20 years. As the game ticked on, Reading feared Liverpool less. As the game ticked on, Liverpool's main protagonists tired significantly, a long season of little rotation taking its toll.

The season's results cannot be argued either. The difference between their comprehensive wins of threes, fours and fives and the goalless draw with Reading was the absence of an early goal. A simplistic assessment in a season so complicated and complex, granted, but it is an affliction that should be bolded and underlined in Rodgers' mental scrapbook. If it isn't, get scribbling. Against Norwich in September, a goal within a minute and a 5-2 win; against Fulham at home, one goal after nine minutes finishes with four. The examples are plentiful, so too the gravity of the statistic: Liverpool have won just two games this season after failing to score in the first half. On both occasions, they registered a goal within two minutes of the restart.

Victory should not have to depend on an early goal, but that has been the narrative of the season. Ruthless teams are relentless, poking at the opposition defence from every angle, twisting and turning until there is nothing left to contort. Though Liverpool created chances against Reading, this was not a performance to leave the Royals sprawled on the turf, pleadingly awaiting the towel to be tossed.

It is why Manchester United have been so successful over the past two decades. A success founded on late goals and a self-fulfilling prophecy created by their opponents, which awaited and accepted their inevitable fate. For Liverpool, a litany of gifts and gimmes to teams that needed them. Against Bradford in 2000, they were the subplot to a dramatic last-day survival at the Valley; in 2007, Fulham stayed up with a 1-0 win; Wigan's revival last season began with a 2-1 win at Anfield.

With a lack of ruthlessness over such a long span, how Rodgers changes this is a question most significant. Whether he can is the one nobody will want to ask. Liverpool will need a few more players like Suarez in terms of mentality, if not necessarily physicality, ahead of next season.

The ruthless nature of a player is not something that can be taught, only acquired. But that goes for the manager as well. Time will tell whether he has it.