Summer plans are needed for the recovering Lucas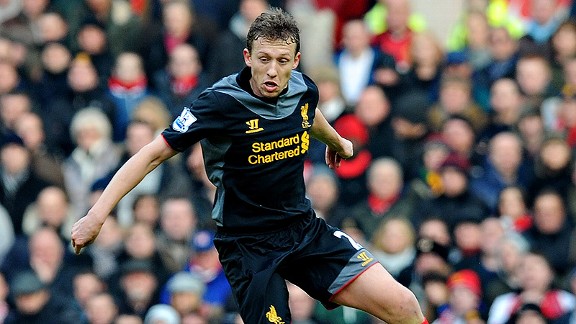 John Powell/Getty ImagesIt remains to be seen how much of a role Lucas Leiva will have in the future of the Liverpool midfield.
Football is a sport forever searching for perfection. But this is a beautiful game that is flawed, ugly and, above all, imperfect.

There can never be perfection in something so innately divisive, a game where the middle ground is a patch of grass no bigger than 120 yards by 75 yards. That pitch serves as the slimmest of partitions in-between the thousands and millions of opinions that engulf it. Whatever the thought, there will be a counter to it from somebody, somewhere, somehow. Foul, no foul; offside, onside; good, bad; wrong, right. The merry-go-round of football discourse continues.

- Lucas Leiva commits to Liverpool
- Benitez expects to manage Liverpool again

Players are not exempt from the eye of this whirlwind either. They are never merely deemed okay or adequate, but hideously underrated or gloriously overrated. They are not good, but great; they are never bad, but instead the world's worst.

Liverpool midfielder Lucas Leiva's relationship with such brutish hyperbole is one well-documented in recent years. His story is often recited, never forgotten: The fall and rise of the Brazilian boy who proved so many wrong, rewriting a narrative seemingly carved in stone.

Despite what was predicted of him, he became the archetypal underrated central midfielder, a player whose lack of ostentatiousness with the ball pointed to unwavering, consistent effectiveness without it. Yet still that was never enough; for some, acceptance of him and his ability was an embrace of the club's fall in stature, league position and everything else on top.

But eventually, even those who berated him throughout his early years at Anfield accepted belatedly, begrudgingly, that Lucas was a player of some importance. From boo-boy to beloved, Lucas stands tall upon a path rarely taken. No longer was he the straggly-haired, awkward-looking 20-year-old jeered off the pitch by his own supporters, but a Brazilian international regarded as an essential cog in Brendan Rodgers' side. A lesser player would have crumbled by then. Many have.

Now seems the opportune moment to finish this familiar tale. Lucas, and all those who backed him from the beginning, can triumphantly walk into the sunset as the credits roll. And they all lived happily ever after.

But football is no fairy-tale, particularly after two worrisome injuries in the past 18 months to the 26-year-old. There is no guarantee of a happy ending. Not yet.

Already the story might be changing, with the Brazilian finding it difficult to recapture what form he had. His time as the underappreciated youngster taught him fortune in football can be fugacious. Now he must fight that and maintain his reputation, as he quickly realises nothing is ever perfect in football.

Any discussion of Lucas' return this season and subsequent struggles must be heavily caveated both by his injuries and the transformation Liverpool have undergone in his absence. Any criticism comes in the knowledge of the anguish felt as he lay crumpled on the Stamford Bridge turf in November 2011, and all that has happened since. Bambi would find it harder to walk on ice if Thumper was 10 yards higher.

Alas. Fingers point and tongues wag towards obvious culprits to Liverpool's problems -- Martin Skrtel, Sebastian Coates, Joe Allen -- but Lucas remains exempt. From underrated to quite possibly overrated. How fickle football can be.

He has not yet become an issue needing to be solved, granted -- but there is not even acknowledgement it might be on the horizon. The unspoken untruth that Lucas will regain the ability he showed prior to his two injuries is repeated mantra-like, but full recovery is in no way guaranteed.

Lucas has visibly toiled since returning in December against Southampton at Anfield. He has not produced the same imperious showings that permeated his time in the Liverpool midfield under Kenny Dalglish; the quick, assured turn of foot has yet to return, so too his near-perfect timing of the tackle. Instead, he has regularly been flat-footed, slow to track opposition runners and slovenly in the tackle.

When Rodgers arrived at Liverpool, he rightfully salivated over the Brazilian glottal stop, a player who would be central to all he wanted from his new side. Hindsight says he salivated too much, for he brought Lucas back from his cruciate knee ligament injury too soon. No such mistake when nursing him through his thigh muscle tear, sustained against Manchester City in August: Lucas would return on the first day of December, play 88 minutes then but not play a full 90 minutes until the first game of the New Year.

It has been four months, 18 games and over 1,300 minutes on the pitch since his return, but Lucas is still grappling with consistency. The expected resurrection has not been as rapid as first thought. There have been brief glimpses of what once was and what could be again: that explosive lower-body power combined with upper-body strength; the instantaneous turn to transform defence into attack; the quick, accurate recycling of the ball.

But for all his ability with and without the ball, Lucas is a player whose dependability is an attribute more than anything. Yet few games have passed since his return without an uncharacteristic mistake, a moment to cause deep intakes of breath from the gallery above. Most recently, against West Ham, he was too slow in possession and lost the ball -- only a combination of Carlton Cole's profligacy and Daniel Agger's bravery prevented it from being an error more costly.

This was the same midfielder who once stared down Yaya Toure, matching the Ivorian with every stride; this was the same Brazilian who dominated a Chelsea midfield of Michael Essien and Frank Lampard.

His injuries provide ample excuse, of course. Problems with his thigh and knee will hinder his explosiveness and its retrieval will not be easy. But there are doubts about other things, too. At times he looks unsure of his role under Rodgers, his passing wayward as he deliberates between ball retention and quick counter-attacking football. He also appears to have too much in his remit stationed next to the majestic but less mobile Steven Gerrard, covering the gaps of both fullbacks as they gallop up the field. Even if he rediscovers everything he once had, there will be no promise of adapting to this newly-shaped, mish-mash midfield.

No promises indeed. Liverpool is a club with a future far from planned; no player would appear guarded from its possible scattergun scythe.

Some will point to the alluring statistic that Liverpool have won 33 of their 49 points this season with Lucas featuring, but there is a suggestion it is more what he is rather than who. Liverpool lacked a deep-lying midfielder built well physically with the knowledge and experience to provide a shield to the defence. He has done it to a degree; a half-fit Lucas is better at the role than a half-fit Allen, after all.

Lucas has not been abysmal or abominable, but certainly has been amiss. Perhaps too much pressure was placed upon his return, much like how the backroom staff did in the summer.

That was last summer and this one is likely to provide fresh questions. There might be a tough answer required, too. Though easy to blame players such as Skrtel, Coates and Allen for defensive issues throughout the season, there must also be a frank, honest discussion about Lucas and what happens if the inevitable never comes.

To plan a new season on the basis of something far from failsafe is folly; that attitude found the club perilously short up-front after last summer's transfer window. The midfield is something that needs addressing and Lucas' role in it cannot be immune from such scrutiny.

Yet Lucas is now the recipient of a new, long-term contract at Anfield. With his original deal expiring in 2015, a statement, above anything, that their trust rests with Lucas.

To hand a big contract to a player with such injuries in recent years is an undoubted risk. The return to form of Lucas, it seems, is inevitable to those at the club. But this should not signal the end of the search for something different in a midfield desperately needing it.

A player of his ilk to play alongside him would seem essential; a player to play instead of him could prove frustratingly vital.

Liverpool will not want this story of Lucas' rise and redemption, so perfect until this August, to end with a eulogy of what once was and lamenting what could have been. But they are a club well-versed in that. Nothing is perfect in football. They, more than most, have discovered that all too often down the years.