Familiar feeling from years past for Liverpool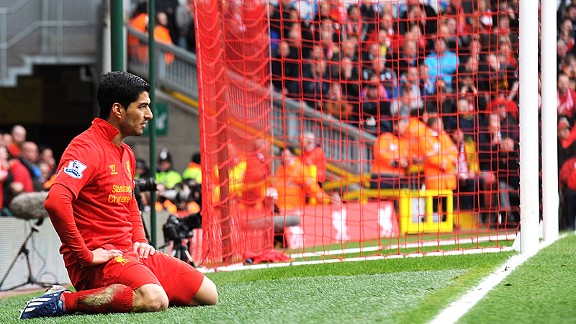 GettyImagesLuis Suarez has been linked with a move away from Anfield
The collective resigned sigh from Anfield upon full time was a recognisable one, the latest effort on a soundtrack eons old. This might have been just the second goalless draw at home this season for Liverpool, but it felt like a result far too familiar. West Ham came for a point and gleefully cradled it at the game's end, just like they -- and others -- have done before.

- Thorne: Gritty Hammers grab rare point at Anfield
- Jolly: Liverpool stutter to stalemate
- Allardyce still not certain of safety

These results happen. Before the hand-wringing and head-banging, allow a cursory glance at this season's Premier League. The struggle to break down defensive sides is an affliction suffered by most. Yet Liverpool have the propensity to do so at moments most inopportune -- here, with Tottenham and Everton meeting at White Hart Lane, the chance to pressurise those above them is now wasted. Let the banging and wringing commence.

To most sides who have parked the bus at Anfield this season, Liverpool have taken a baseball bat to the windscreen aggressively. It has been an impressive reversal from seasons past: Lower-half sides have been eviscerated with goals of three, four or five.

But West Ham are not most sides, certainly not like those who have visited Anfield and departed chastened. Much like Stoke -- the other side who have held Liverpool to a 0-0 home draw this season -- their setup is based on defending. They not only know how to, but enjoy doing so. It is not a style too pretty, but it is pretty effective.

How Liverpool wish they had a player of such ilk, particularly during games like Sunday's. When the key cogs are failing to turn, how helpful sweat would be to oil them once more.

That is not to say Liverpool's 0-0 with West Ham was because of disinterest or lack of effort -- this was simply a day when their most important players failed to produce. But be it a far-post run, near-post dart or anything in between, something different could be of use.

Against a side so deep, with such a steadfast loyalty to defending, there is little room for error. Luis Suarez produced two within the first two minutes, relinquishing possession with worrying ease. The tone was set.

Though Suarez would eventually start to weave his way into the game's tapestry, he still struggled more than he has all season. James Collins was outstanding, never allowing his breath to leave the Uruguayan's neck. Not only should he celebrate a clean sheet at Anfield and a man-of-the-match performance, but the accolade of being one of the first to limit Suarez's highlight reel to so little.

Suarez was not alone. Philippe Coutinho had an afternoon most futile, his decision-making not quite of the level it has been previously. On the other side, Stewart Downing did little before his injury; his replacement, Daniel Sturridge, would battle unsuccessfully to find the assurance with ball at feet that permeated his early days at Liverpool. Lucas Leiva yet again looked one-paced, while Jordan Henderson and Steven Gerrard could not replicate their impact at Villa Park a week previous.

That the front six -- seven, once Sturridge emerged, then eight with the surprising appearance of Oussama Assaidi -- could all be regarded as below-par provides the perfect synopsis to this result, one that has been seen several times before.

But just because this fate has befallen other Liverpool managers does not mean Brendan Rodgers should be exempt as a protagonist, either, for this was not a game bound by fate; it was not a game that had its narrative written in stone. Against Wigan in November, Liverpool suffered a similar opening 45 minutes but grasped the initiative. No such moment here.

The forced first-half change did not help, of course. Liverpool had actually started brightly, keeping possession and tentatively exploring the avenues behind West Ham's defence, as rare as they appeared. But Sturridge replacing Downing brought a reshuffle not needed or wanted at that time. His progress has stalled drastically since his injury in February, and there has been little time for he, Suarez and Coutinho to play together. Now clearly was not the time to try it once more.

Synergy between the trio was nonexistent in the first half, but this was not unexpected, particularly with Sturridge in an unfamiliar role on the right. With the halftime whistle came relief --- a chance to re-evaluate their front line, to adjust and amend accordingly.

It was not a chance taken. How apt on an afternoon bedecked with them on the pitch. Sturridge started the second half on the right once more. Suarez continued to toil against Collins, Coutinho's velvet curls continued to matt with the sweat of inefficiency. Behind those three, Gerrard and Henderson looked unsure who would run where.

Every ball by everybody was always the wrong one. It was a day where those with the ball were often caught in two minds, both of them incorrect. On the rare occasion Liverpool saw a sight of goal, West Ham were equal to it: James Tomkins cleared off the line from Steven Gerrard, while Jussi Jaaskelainen, who had 11 straight defeats against Liverpool, looked determined to stop it from becoming 12. Suarez would fizz a ball across the goal line, but nobody was there to tap in.

Liverpool missed chances, but not necessarily ones regarded as clear-cut. Jaaskelainen did not don the blue tights at any stage, just merely made saves expected of him. The biggest save came from referee Anthony Taylor, who refused Liverpool a penalty with 20 minutes remaining after Gerrard was felled by Tomkins. But that is no excuse for Liverpool. The finger should be firmly crooked toward a disjointed performance, one hardly remolded by Rodgers, against a team that thrives on such discord.

After the performance of the front three of Suarez, Sturridge and Coutinho, there will be calls for the oft-mentioned, never-specified "Plan B." Plan B is the term uttered in despair, a by-word for a big wardrobe of a striker, much like the one who could not play for West Ham against his parent club. Plan B, essentially, is tossing balls onto the ponytail of Andy Carroll while skillful players look for the scraps like rats scurrying for shrapnel in a gutter.

This was not a game for the Carroll from Newcastle, but Lewis Carroll -- only his language could describe the dissonance between Liverpool's attacking players. It was a performance of befuddlement, confusilation and discombobulation. How Rodgers gets his three prized forward assets working together is a dilemma becoming more and more complicated.

There is no need to summon the Geordie striker back yet; there is no need to panic. But something different is unquestionably required in games not won with an hour played. Against Aston Villa, they showed ability rarely seen under Rodgers: At 1-1, they built momentum, slowly putting pressure on Villa and forcing them into errors. Nathan Baker's desperate lunge at Suarez for the penalty was ultimately an act of desperation, the final solution to an unanswerable question.

Sustaining pressure and maintaining composure when most needed is something that has been missing for most of the season. That sustaining and maintaining is more important than any personnel change. Liverpool lose all cerebral matter when needing a goal, tossing the ball forward with little care and looking to score as quickly as possible. There is no recycling of the ball, no turning of a screw, no inevitability about the opposition succumbing to relentlessness. The arrival of Assaidi with 20 minutes left only served to emphasise that.

Liverpool have only scored two match-altering goals in the final 15 minutes this season -- an own goal against West Ham in December and Gerrard's 82nd-minute penalty at home to Tottenham, both to turn draws into victories. This is a side that is supposed to utilise brain over brawn, yet look to flex their muscles at adversity at the first opportunity. Rarely does it work. If Lucas had not been stationed on the line late on, it could have been even worse.

This is the first season under Rodgers. It should come as no surprise there is still a soft underbelly, particularly against a side so regimented under Sam Allardyce. Rodgers, and Liverpool, are still learning. But the timing to show that could hardly been worse with European football that little bit further away once more.