Liverpool's comeback win brings new whiff of hope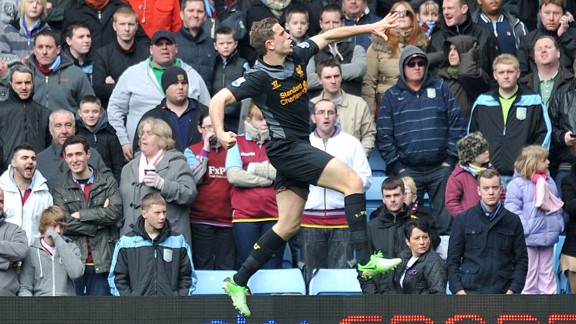 PA PhotosJordan Henderson celebrates his cool finish that made it 1-1 at Villa Park
At some point on Easter Sunday evening, Liverpool fans will file out of Lime Street station and be met by buildings so familiar; buildings old, new, worn, torn, tall and small. Amongst those buildings is the Royal Court - so unmissable and unmistakable, a place where theatre is supposed to live. On its vast, towering brick wall front is a poster equally towering and vast. It promotes a recent play, not long since the curtain fell for the final time, and so much else. Its name is Hope.

- Raynor: Coutinho quality too much for Villa
- Hughes: Defensive lapses stall Villa progress
- Jolly: Gerrard rolls back years
- Rodgers hails Liverpool 'character'

That one word, the title of the play, rests there in big, yellow letters, greeting those who enter the city. How apt it will feel that is one of the first things those Liverpool supporters will see after slowly making their way home from Birmingham after watching their side's 2-1 victory over Aston Villa.

To talk about hope in football seems trite and cliché; it fits the discourse that has followed Liverpool for the 23 years without a league title. Next season will always be their season. It never is.

The supporters are still counting the years. The supporters still hope. It is the basis on which those who watch football function. It is a game of passion where cogent thought is rarely present and correct. Victory brings elation, defeat heralds the world's end - but every result brings hope.

The target has been lowered over the past few years. No longer is the title the aim, but simply slow improvement, child-like steps towards the Champions League. No matter. All football fans hope, even if it is to simply survive.

Liverpool have got their fans hoping again. This was an away victory that keeps the limp carcass of a season still breathing, still lifting itself from the canvas. In a season banished at so many stages throughout, it seemed improbable it would still do so with seven games remaining.

But this side sit just five points from fifth and seven from fourth, albeit having played games extra. The gap has not widened or narrowed since their defeat to Southampton a fortnight ago and the target remains the same, with a game less to achieve it. How winning a game of football can mangle a mindset, particularly in the manner they did.

Liverpool have been a team that struggle when pressure presents itself. But this was a victory that was just enough. After the past few years, just enough is more than good enough. A goal down, they went into half-time with a feeling so familiar: the better of the play, but not the better of the scoreline.

Still, it was not a Liverpool of much wonder in the opening 45 minutes. Steven Gerrard stung the palms of Brad Guzan but no more. Chances were handed to Luis Suarez, both from his own endeavour and Villa's incompetence, but the surety in front of goal was not as it was against Wigan, Tottenham and so many others this season. Christian Benteke's goal inevitable, both in timing and tone.

Once more, the Belgian had used his strength to put Liverpool behind. Once more, the defence struggled against brute force, while the midfield's shield to them was non-existent. Liverpool seem to perpetually fail to read between the lines as the opposition float in-between them.

One of the biggest afflictions of Liverpool has been their ability to turn a bad situation into one quite good. This was a day where all questions of mental fragility were answered, if only for a week. They had not won a league game after conceding the first goal since December 2011, when Newcastle were turned over at Anfield, while just one half-time deficit has been turned into a full-time win this season.

That win against West Ham came from a three-minute whirlwind late on. This redemption was far more measured, a plan carried out with intelligence and nous. Stewart Downing, stationed on the right, pushed back left-back Joe Bennett; the young Englishman habitually played the rest of Liverpool's attack onside, allowing Suarez and the increasingly influential Philippe Coutinho to combine. Within two minutes of the restart, success: Coutinho received the ball on the left in space and played it into the path of the oncoming Jordan Henderson.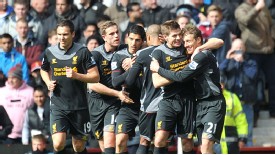 PA PhotosLiverpool celebrate Gerrard's winning goal
Everything about the goal was just right. The Brazilian's ball, which was perfectly weighted; the finish from Henderson, perfectly placed; the simple fact it was indeed Henderson, marginalised in recent weeks, who sprinted towards the away support and absorbed adoration that should have been his long ago.

Henderson was central to the second-half revival, the 15-minute period which brought two goals and hope once more. It is said the role Henderson plays is one that widely goes unnoticed in football; no such luck for the shy lad from Sunderland. He broke up Villa's attacks, often running beyond Lucas Leiva - the designated holding midfielder - to tidy up in midfield. He offered himself for every ball and provided them for all around him.

He was not the only one to shine in the second half. Suarez's performance would receive the moment it deserved when he won the penalty, Nathan Baker's foul the final, desperate attempt to end a desperate afternoon against the Uruguayan. Likewise Gerrard, improving with every pass, deserved to put the emphatic finish upon an impressive period.

With hope firmly established once more and glances cast upwards instead of downwards, it was the turn of the defence to prove their obituary has not been fully penned. It took over 135 minutes to deal with Benteke. It was worth the wait. Jamie Carragher battled and Daniel Agger hardened. Lucas, who still awaits full fitness and full capability, dug in.

This was a collective effort to keep the lead: Gerrard stretched his neck to clear off the line; Downing ran from right to left to support the raw, naive Raheem Sterling. Brendan Rodgers stalked the sideline, verbally plugging every gap and chasing every loose ball.

There will be the caveat, of course, of this being Villa - a team who is not just flirting with relegation, but writing its wedding vows. There will be the worry that once again the team struggled to keep the ball sufficiently once going 2-1 ahead and that the buzz of ending the game with a third goal took preference over removing the sting from a potential Villa equaliser.

That will come in time. For now, Liverpool will just keep hold of hope, both for this season and beyond. This was a game where they learnt, in some small way, what is needed to turn around a performance far from ideal to finish with more than that.

The Liverpool fans will see hope when they return home; hope that this is a club learning and progressing. They will see that too when they wake up in the lazy Easter sunshine on Monday. They might as well enjoy it - who knows when the curtain could fall.