Liverpool look to learn from chastening lesson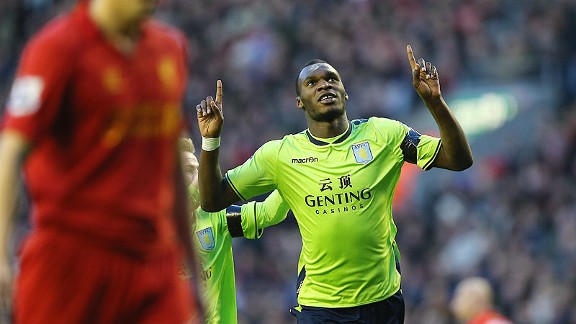 Clive Brunskill/Getty ImagesChristian Benteke ran rampant over Liverpool's defenders in their first meeting this season.
Of all the opposition players Liverpool have faced this season -- World Cup winners, global behemoths, PFA Player of the Year awardees alike -- there is one who wounded them greater than all.

Christian Benteke is not a World Cup winner. He is not yet a global behemoth. There have been no PFA Player of the Year awards either, though his nomination for this year's under-23 category is imminent, justifiable, deserved. But the young Belgian's right foot is the imprint embedded most firmly on the minds of Liverpool; in a season so trodden and worn, it is his mark that matters most.

- Stopping Suarez is Villa's challenge
- Rodgers: Sturridge can learn from Suarez

The impact was not necessarily left by the two goals he scored at Anfield in December, nor the classy, caressed flick to Andreas Weimann for Aston Villa's second. Instead, it was his overall performance -- and Liverpool's lack of one when falling behind -- that provided the deadening blow of reality. The big-chested brute bullied Liverpool's centre backs and sent them back into the bottom half.

This was an Aston Villa side who sat out of the relegation zone because they had not conceded as many goals as Wigan. This was a Liverpool side that had beaten Southampton and West Ham and travelled to Udinese and won in between. This is Anfield, where inconsistency feels at home and never makes momentum feel welcome.

Confirmation, if any was ever needed, that there was no quick-fix solution for Brendan Rodgers; that any transformation, if coming, would take time. Confirmation, for it was seriously needed, that the spine of Liverpool's side was weak; its defence disturbed by any player with muscle, the team's fragility the first of many hurdles to straddle.

A lot of those criticisms still exist. Liverpool's last league game against Southampton produced the same score line as Villa and the same miserable surrender as a centre forward strode through unchallenged. Three months and 12 games had passed in that time. Far more, it seemed, should have passed into their collective brains.

It is said often that Rodgers is learning on the job, that the only way to stop the mistakes of inexperience is to make them, ruminate upon them, learn from them. That his Liverpool side failed to do that at St Mary's will worry him. Don't look down just yet: Benteke is forthcoming to show what has been absorbed at Anfield so far this season.

The concept of progress is multi-layered and subjective. There will be reports on progress game-by-game as the season's pendulum vacillates so viciously, but no definitive notion of it will exist until the end of the season. Maybe later, for later is better than not at all. Some things invariably improve week-by-week, others stagnate with lessons rarely learnt.

Liverpool cannot be stagnant against Benteke as they were in December when they found themselves three goals down within an hour, for a lack of progress and learning will be cited. Liverpool cannot lose back-to-back league games for the first time this season, for it will be regarded as a step backwards in a twinkle-toed season that has gone every direction imaginable.

The overall reality may be slightly different. Liverpool's marked improved in the second half of the season correlates, at times, with an ongoing education. The insipid submission at home to Arsenal in September was the ultimate example of how not to take on Arsene Wenger's side -- their January visit to the Emirates was anything but, a five-minute whirlwind from Theo Walcott denying an intelligent, organised Liverpool three points. Their 2-1 defeat to Tottenham in November was the quintessential hard-luck story, but the narrative was flipped at Anfield when Spurs left with nothing.

But those turnarounds are in among the failure to contend with Romelu Lukaku twice, Matt Smith of Oldham, Stoke's Jon Walters and Southampton duo Jay Rodriguez and Rickie Lambert. The positives of Arsenal and Tottenham are nullified by other moments less favourable: the slow start at Old Trafford, most gallingly, after Manchester United looked so liable to crumbling under high-intensity football at Anfield.

The only thing to be said for sure is that few things are ever sure at Liverpool. But here is something to be sure about: Liverpool must stop Benteke. They must show that they can dissect a defeat, acknowledge their opponent's strengths and marginalise their own weaknesses. The affliction is widely known to all bar Liverpool, it seems. The loss to Villa was the perfect snapshot of Liverpool's issues this season: A lack of protection from midfield and a defence with little organisation, augmented by a collective drop of heads when trouble presents itself. A vicious, dizzying cycle.

A positive result against Villa is not about revenge for December; it is not about making Benteke's skyward glance one of exasperation instead of elation. Rodgers is not a manager who believes in mixing football with emotion for it makes mistakes more likely -- this season proves he is right, even if he is not able to implement it.

But at the time of year where rebirth and regeneration is prevalent, this is an opportunity for Rodgers to show Liverpool's ability to adapt.

Villa was arguably their lowest point of the season -- some effort, given the undulating nature of it. Victory would not bring them their highest point on an aesthetic level, but it would be a small sign they can learn from what was the most chastening of lessons. That might be more important than three points in the long-term.