England can aid Liverpool youth development
Amongst the patchwork of banners, mosaics and flags that appear on the Kop, there is one particular, eye-catching blob of belligerence that is unfurled by Liverpool supporters: "We're not English, we are Scouse".

With a community so diverse, generalisation is a demon. There is no widely-held opinion, no unyielding doctrine. The words of a few never have, and never will, represent all. But such opinion is worthy of respect. Liverpool, both the city and football club, have rarely held affinity towards the England set-up and the nation it represents.

Liverpool was a port city, a bubbling pot of diversity proud of who they are and what they represent. Some cannot identify with England, regarding it as a celebration of the banal and bromidic. In England, but not of it. What shrapnel of benevolence the city felt towards the establishment was demolished decades ago, as the changing socio-economic climate left the city to rot and ruin.

That is an overly simplistic summation of a complex socio-political history centuries-old, granted. Footballing disparity proves far easier to trace: John Barnes was never fully accepted on a national level, while Robbie Fowler was never given an opportunity; Peter Crouch was labelled a freak and Steven Gerrard was constantly told he let his country down, as if 47 years of mediocrity rested upon him alone.

The England-Liverpool relationship is one historically fractious. There were few St George's flags flapping in the Mersey wind this week. But the landscape may be changing. The banners proclaiming independence may be consigned to the attic in the next few years, from a footballing perspective at least.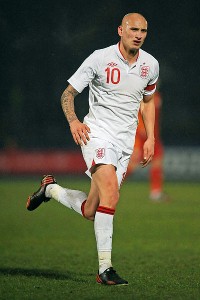 Christopher Lee/The FA/Getty ImagesLiverpool supporters hope Jonjo Shelvey someday brings his England Under-21 form to Anfield.
The future of England looks as if it might reside at Anfield.

The England Under-21 side has benefitted from seven Liverpool players in the past two years - not since England's 5-1 victory against Germany in 2001, when all five goals were scored by Liverpool players, has there been such influence from the club.

That's not to suggest a few talented youngsters will change a mind-set decades-old. But they could provide a genuine window to peer through, a chance to assess what could lie ahead for Liverpool. Some would say noses have started the press against the glass already. It's hard to do anything but.

Jack Robinson, Martin Kelly, Andre Wisdom and Jon Flanagan - 20 England Under-21 appearances combined - could line up as Liverpool's back four if not for injury and senior internationals. Raheem Sterling and Jonjo Shelvey were both key components of Brendan Rodgers' manifesto on youth at the start of the season, and are now both key to Stuart Pearce's set-up. In the centre of it all is Jordan Henderson -- central midfielder, captain and ambassador to all what Pearce is trying to achieve.

Liverpool by name, but not necessarily Liverpool by nature. The Shelvey of Liverpool -- frustrating, erratic, raw -- is not the same as the one for England, who strides around the midfield intelligently, diligently, scoring and creating. The excitement Sterling generated at the start of the season is now reproduced at England Under-21 level, his partnership with Wilfried Zaha in the recent game against Romania leaving defenders agog.

Though Henderson is underappreciated at Anfield, he is also unrecognisable from the consistent performer in a white shirt -- his neck cranes higher, his shoulders stretch wider, his confidence diffuses to team-mates far quicker.

It is easy to disregard all that happens in the Under-21s. Of the 10 most-capped players, only three have made more than 30 appearances for the senior side, and five have failed to make the step up into the full squad at all. In the all-time goalscorer list, Alan Shearer sits on top alongside Francis Jeffers, now of Accrington Stanley.

But this is different. This is an England Under-21 side that has won nine straight matches without conceding a goal, scoring 22 goals in that time. The dire football style readily affiliated with Pearce has transformed into something far more exciting; effervescent, but efficient. These are not players simply turning up to fulfil an obligation, but players striving to continue an incredible run of form ahead of the European Championships in Israel this summer.

If Rodgers watched their games against Romania and Austria in the past week, or any others in the past six months, he would have done so intently. Questions, more than answers, abound. They always do for Rodgers. How to get Shelvey at the level he shows for Pearce; where the intent of Sterling's forays forward have gone; what is needed to conjure that something extra Henderson shows.

It is not an exact science, of course. Performances at youth level do not automatically extrapolate to club football. There is a clear gap in quality between Premier League sides and Austrian teenagers, particularly when one must be tackled in front of an expectant home support.

But it does teach other things, regardless of opposition. Winning consistently, under pressure, is always a good thing, no matter what level. Doing so with club team-mates, those who could be for a number of years, is even better. At a club still searching for a winning mentality lost long ago, that their players produce that for England will bring hope to Liverpool.

There are no guarantees. John Welsh, so highly thought of at Liverpool in the mid-2000s, made eight appearances for the England Under-21s but now fights League One relegation with Preston; Stephen Wright, 10 Under-21 caps, recently celebrated FA Trophy success with non-league Wrexham.

But Liverpool is now a club intent on cultivating such talent, with a network created to nurture. The new-found relationship between England Under-21s and Liverpool is no coincidence. Flanagan, Kelly and Robinson were seemingly born at Melwood, but Wisdom was poached as a 14-year-old from Bradford City, while Shelvey, Sterling and Henderson were signed when establishing themselves at other clubs.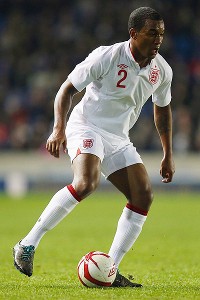 Bryn Lennon/Getty ImagesAndre Wisdom's performance for the England U-21s could lead to a long audition at centre-back with Liverpool.
In an era where clubs increasingly hold rancour towards their international counterparts, Liverpool and Rodgers would serve well to resist such yearning with Pearce's England side. How things change. With such pressure on Rodgers to finish the season strongly and Europa League football long gone, the chance for Shelvey, Henderson, Sterling and Wisdom to play competitively in their natural positions is not one readily available.

It is the latter who is the wild card since his promotion into the Under-21 set-up; he will be the player who will turn the Rodgers cog most. In a season where the centre-back position has been an ongoing question for Liverpool, the answer may not rest in the thick dossiers of the scouting team, but on the training pitch.

Wisdom played at centre-back when he captained the reserves and looked far more natural than he did during his first-team stint at full back. Indeed, his qualities appear to fit what Rodgers wants from his central defenders -- quick, strong, mobile, powerful in the air and ability on the ball.

Herein lies Rodgers' dilemma, and herein lies the worth of the England set-up. To play a 19-year-old at centre-back in a defence far from stable would be both brave and folly, but Wisdom will eventually need games there, whether that is in the Premier League or a Europa League far from guaranteed. The club should have learned about failure to hone talent at centre-back, but the cautionary tales of Mikel San Jose and Gabriel Paletta are set to be repeated with Sebastian Coates.

The transition from reserve centre-back, to sporadic first-team full-back, to genuine first-team centre-back is one few make. It is one Kelly, before his season-ending injury, was expected to. But with Wisdom at the heart of a successful, competitive England Under-21 side that is refusing to concede goals, it's a progression that is more likely to be made.

That goes for all of those at Liverpool who have appeared for this impressive England side. Whether it is enough to make Rodgers reconsider the future of some seemingly heading for the Anfield exit door will emerge in the summer, so too whether those players are capable of doing it at Premier League level.

If so, Liverpool supporters might have to keep those banners locked away and get used to investing that little bit more in England for years to come.