Allen absence is the latest midfield woe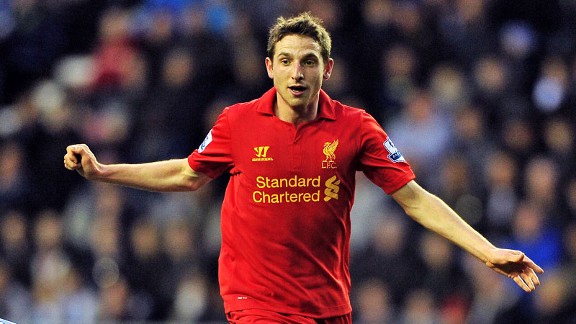 Paul Ellis/AFP/Getty Images The recent injury to Joe Allen epitomizes the struggles felt in midfield this season at Liverpool.
On the eve of Liverpool's second Champions League final in three years, supporters danced through the Acropolis of Athens proclaiming their team's midfield as the best in the world. It was not the hyperbole football usually delights in, for this was a midfield of Steven Gerrard, Javier Mascherano, Xabi Alonso and Mohamed Sissoko.

But that was 2007 and the dancing died long ago. The midfield of Liverpool, once a source of pride, is now reminiscent of the Parthenon ruins that rest on city's edge. As Joe Allen confirms he is to miss the rest of the season after shoulder surgery, another brick disintegrates.

- Allen out for the season

Some might regard that as an overreaction to the news of Allen's injury. Allen, after all, has wrestled with Fabio Borini all season to avoid the crosshairs of castigation. Injury only forces what appeared necessary -- time away from the first-team, time away from the scorching glare of the spotlight to ruminate and recharge.

But this is not necessarily about who. This is about what and how. His absence, no matter how lightly it will be felt, leaves the current midfield looking exposed even further.

This is not a defence of Allen, nor is it a disparagement. The downturn in Allen's form was as sudden as it was alarming, but his injury can only shoulder the blame so much. Maybe it will stop hurting so much when he no longer carries such expectation as he did in his first season at Anfield.

Allen's shoulder may now be fixed, but the midfield is a long way from full health. Brendan Rodgers began the season wanting five or six competitive, fit central midfielders jostling for three places. He now sits through the international break with just two.

For Rodgers, seeing Steven Gerrard and Jordan Henderson on international duty this week will bring him sleepless nights. Bring him some cotton wool and a lullaby. There is little else he can rely upon. Lucas Leiva is yet to find optimum fitness since returning in December, Jonjo Shelvey has played 60 minutes in the league this year and Nuri Sahin spends his weekends at the Westfalenstadion.

He knows good midfields are vital to successful sides. The midfield imposes its imprint heaviest upon a side. Liverpool are no different, and history proves it so.

Rafael Benitez, a manager who likes his side to control games, made Alonso his first big-money signing; Dietmar Hamann was pursued by pragmatic, efficient Gerard Houllier in his first summer in sole charge. The pair would eventually line up together in Istanbul and embrace as Champions League winners. Earlier in the tapestry, Roy Evans never really addressed his midfield issues; when he did, Paul Ince proved too little, too late, too unpalatable.

The aforementioned quartet of 2007 lasted just 11 months but in that time reached a Champions League final and lost just five games. It worked both individually and collectively, a perfectly balanced foursome that was adaptable against the biggest and best. It had tenacity, artistry and raw power, all interchangeable behind or alongside Gerrard, a footballing supernova.

No wonder the midfield rested high on Rodgers' hefty to do list last summer. He talked up the young, raw Shelvey and demonically pursued Sahin; he brought in Allen for £15m and willed Lucas to recover from injury far quicker than anticipated. Central to all this, as he has been for over a decade, was Gerrard. Henderson was no more than bait dangling outside of the transfer window for further funds, but still provided depth and energy if nothing else.

It looked an impressive medley, a midfield that could control a game, and do so for a long time -- if you dared to disregard Gerrard, it possessed an average age of 22 years old.

How quickly things can change. How apt it should do so viciously given the season so far, a season perpetually flickering between good and bad, optimism and pessimism, right and wrong. Lucas injured himself for three months before Sahin had inked his contract. The tone was set; the slapstick has begun. There has been little fortune in the middle since.

Allen has regressed and Lucas still battles with fitness as he tries to recapture his 2011 form. Sahin did not complete 90 minutes in the league before his loan stay was cut short in January, while Shelvey's early season promise has failed to manifest into anything more than a few hair-tearing cameos. Henderson, meanwhile, has been a part of Rodgers' perverse hokey-pokey -- in and out of contention despite consistently impressing.

Central to all this, as he has been for the past few seasons, is Gerrard and the conundrum over how to get the best out of him.

The conundrum is yet to be solved all over. Liverpool have provided fewer sights more sorry this season than their futile attempts to track the opposition as they run straight through the centre of the pitch. No trickery was required by Aston Villa's Christian Benteke; no guile or craftsmanship was necessary for Jay Rodriguez of Southampton. Those two goals, three months apart, highlight that the unravelling midfield is an issue yet to be unravelled by Rodgers. The defence are rightly criticised for such surrender to forwards, but they are not helped by those in front.

If only is a prefix much used this season, and so it proves once more. If only Lucas had remained fit at the start of the season, Sahin had settled and Shelvey's confidence correlated with ability. This summer would be far easier for Rodgers and his scouting team, for starters.

That is not to absolve Rodgers of scrutiny, either. Do not think he has been devoured by the wolves of fate. He played a struggling Allen too much and brought Lucas back much too soon; his treatment of Henderson verges on surreal, as did his insistence to play Sahin further up the pitch than he has throughout his career.

Worst of all, he found a midfield with balance -- one that worked away at Manchester City and Arsenal. He has since disregarded it. How folly it is wipe the equation's answer off the chalkboard.

Henderson provided the energy a half-fit Lucas and 32-year-old Gerrard desperately need alongside them. He exhibits the confidence that Allen lacks, the desire sometimes absent in Shelvey and the ability to quickly move vertically, unlike the departed Sahin. Yet he has played just 116 minutes since. He appeared for only six minutes against Southampton, with the sore-shouldered Allen picked ahead of him. Rodgers has also opted for Shelvey and a two-man midfield ahead of Henderson in recent weeks.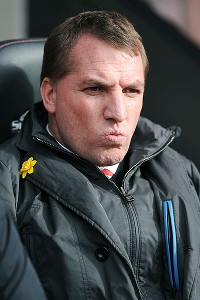 Olly Greenwood/AFP/Getty ImagesBrendan Rodgers faces an unenviable task of juggling his depleted midfield in the Premier League's run-in.
With Allen now out, Rodgers may have little choice but to play the three he strangely broke up so soon; the other options, Shelvey and a two-man midfield, have the red lines of West Brom and Southampton crossed through them. The Northern Irishman would no doubt wish for an extra physical presence to call upon, but that is an affliction seasons-deep, and one he did not rectify in his two transfer windows so far.

How different this could have been; how a deep-lying Sahin, progressive Shelvey or fully-fit Lucas would shift the landscape. How none of that would matter if Henderson had not been toyed with, like a rubber-necked ball of blonde string.

Rodgers wanted his midfield to make a statement of who he is and what his team does. He wanted to bring death by football, but now simply has a dearth of options. It is through a mixture of bad luck and bad decision-making that the final eight games will see the midfield stretched further.

This should not be forever: Allen could improve, Henderson could play more and Lucas could regain fitness and the feeling nothing shall pass the Brazilian glottal stop. But there are no guarantees. The potential that his midfield possessed in August, and realising how little of it is left in March, should demonstrate that.

Allen's injury may not seem important on the pitch, but it serves a harsh reminder of how far away the best midfield in the world is right now.