Laughter and lamentation for Owen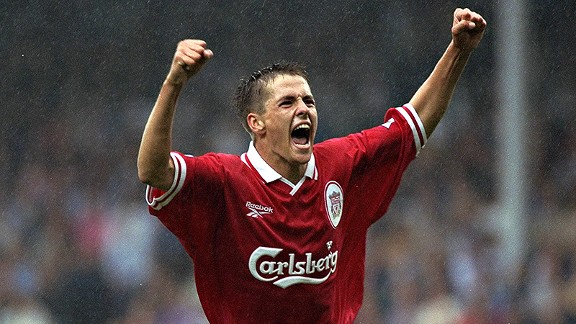 Gary M Prior/Getty ImagesThe boy in the baggy shirt -- Michael Owen celebrating a goal for Liverpool in August 1997.
The finest trick of Michael Owen was to persuade you he was never loved.

It is the season to retire, it appears. Only last month, Jamie Carragher announced his imminent life away from the football pitch. If the timing was unexpected, then the reaction wasn't: tributes, eulogies and even a few masculine tears rained upon the 35-year-old. The weather has hardly changed since.

- Video: Houllier tips Owen for management
- Whittaker: Owen announces retirement
- Report: Owen to retire at end of season

No such luck for Owen, who has faced a storm of jibes and jokes since broadcasting news of his. This is the punchline of a joke years old, absorbed by one of English football's biggest punching bags.

It was never meant to be like this. Like Carragher, Owen's footballing education came at Anfield; like Carragher, he looks into his trophy cabinet and sees his gold-tinted reflection in the tiny testimonials of his success. But there are few tributes or eulogies for Owen -- certainly not at Liverpool, and from few places otherwise.

Many will say it is deserved, that he made his bed of money and must now lie in it. How different it could have been, should have been and would have been.

There is no need to distort history, for it has been unkind to him enough. Ignore the revisionism, if you can: Owen was a remarkable talent for Liverpool. His debut came on a dark, dank evening at Selhurst Park in May 1997; it was there he would score the first of his 118 league goals for the club in typical fashion: a dart away from defenders, followed by a cool side-footed finish into the bottom corner of the net. A player, in all his trademark efficiency, was born.

The excitement Owen generated was matched only by Robbie Fowler's emergence earlier in the decade, and has rarely been recaptured since. Owen would prove to be one of the final relics of his generation, a young player breaking through who still retained a mysterious aura about his ability. This was a time before social media, YouTube compilations set to thumping trance music and, indeed, the internet itself in its powerful form.

He had impressed in Liverpool's youth team and helped them to the FA Youth Cup a year previous, but word-of-mouth alone told of this teenager with the rare triumvirate of speed, touch and finishing prowess. Seeing this young boy, who wore a jersey five times too big for him, was the only way to believe.

Even seeing him was not a guarantee of believing at times, such was his impact. Within a year, that jersey, so baggy around his slight frame, had been filled out by a player who took to the pressures of Premier League football with few issues. He scored 18 league goals in his first full season and exploded onto the radar of every top club in the world after his World Cup goal against Argentina in Saint Etienne.

Everybody knows of what Owen did at Liverpool. The quick-fire double to win the FA Cup in 2001, the middle trophy in their treble-winning season; the Ballon d'Or a year later; his partnership with Steven Gerrard, combining most memorably at the League Cup final of 2003 as the pair downed Manchester United.

But something was always askew. Their love for Owen and his performances in front of them never fully correlated. Here was a player who had achieved so much at the age of 24, but could not achieve the celestial status bestowed upon others. He did not possess the cheekiness of Fowler, the visceral exterior of Gerrard or the dogged overachievement of Carragher. He lacked the Scouse sagacity of all three.

That's not to intimate Owen was merely a victim of location and circumstance. To say Owen put his international career ahead of Liverpool may seem churlish, but it is not without premise. Too many times he put more pressure on his hamstring, already strained from his teenage years, to appear for England. In his last five seasons at Anfield, he only surpassed 30 appearances in one of them. There was little regard of who paid his wages and provided his platform.

Reminiscing about Owen's time at Liverpool in all its imperfection is a process tinged with sadness, much like getting attached to the labrador in Marley and Me. The ending ruins all enjoyment of what goes before. For some Liverpool fans, it is difficult to watch the 2-1 win over Arsenal 12 years ago despite it being one of their greatest cup triumphs; a 2-0 win in Rome, courtesy of an Owen double, is hardly remembered, despite its ranking alongside some of the more famous European nights.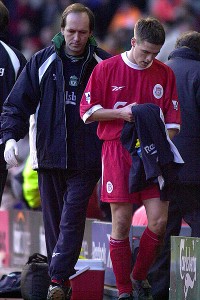 Ross Kinnaird/ALLSPORT/Getty ImagesFar too often during his career Michael Owen was forced to leave a match due to injury.
To claim Liverpool fans did not take to Owen is a fallacy. They did -- particularly when he was scoring goals, which he did a lot. One hundred fifty-eight times, in fact. Not many resented him then.

They resent him now. When Owen left Liverpool for Real Madrid, there was no sorrow or heartbreak, but anger. Anger that Owen had refused to be fully transparent with the club and allowed his contract to run down with a year remaining; anger at his refusal to give new manager Rafael Benitez a chance. To leave for Real Madrid is understandable, but to short-change the club who had nurtured him proved the final curdle in a souring relationship. Gerard Houllier said in 1999 that £25 million was not enough buy Owen's left leg; five years later, the Spanish side were getting far more than that for £8 million and Antonio Nunez.

Owen's decision-making, above anything else, had let him down. This would prove prescient -- bad decisions have permeated his career as much as goals.

Once emotion subsided, it was thought the move was best for both parties. If only that was true for the England striker. Liverpool would reinvest the money in Xabi Alonso and win the Champions League that season. Within another two years, they would have another striker to worship, to sing the name of with the passion Owen never fully experienced. By that time, Owen had joined Newcastle. His return to Liverpool had been rejected by Benitez; his return to Anfield had been met with boos.

History has not been kind to Owen at all, perhaps unfairly so. As Liverpool's brightest star at the turn of the millennium, his untarnished, angelic image was important to the incoming Houllier, who was redefining the culture of the club both on and off the pitch. Everything fans regarded as a negative in Owen was seen as a positive by the Frenchman; the cherubic face of Owen would only be found on the back pages of newspapers, not the front as had happened too often under Roy Evans.

There are other cases to make for Owen if he deserved such attention. Liverpool should have been far more alert to the danger of Owen running down his contract, particularly after Steve McManaman had done similar. His decision to move to Manchester United was not the heresy some claim given Liverpool had publically shunned him in 2006.

But history will regard all those as wrong turns in a career full of crossroads. If only his decision-making in front of goal was replicated off it. That is not to argue his home should have forever been Anfield, but he should have been less keen to trash his own doorstep.

It is not just Liverpool, of course. Owen will never be a player wheeled out by a club to be paraded at halftime. Of the five clubs he has played for, only Real Madrid would acknowledge his existence by virtue of a goal against Barcelona. Maybe in time he would not be met with boos at Anfield. Maybe in time he would not be met with apathy at St James' Park, Old Trafford or the Britannia.

How unfortunate that a career that started with such gusto is surrounded by regret as much as admiration. At 25, he stood just 15 goals from becoming England's all-time top scorer, his crowning seemingly inevitable. At 27, he needed just 10. He would never score for England again. That his career ends soldered onto the substitute's bench at Stoke seems somewhat apt.

But maybe he just doesn't care. He certainly hasn't seemed to in recent years. Maybe that, above all, is the reason why he retires with the nagging sense of disappointment surrounding him, one of the biggest what ifs of the past few decades. Maybe he and Liverpool were made for each other after all.

But irrespective of that, there will be no tears for him at Anfield like there is for Carragher. The only tears that will fall for him will be those of laughter and lamentation that it all ended like this for the boy in the baggy jersey.