No deja vu for Liverpool, just failing to learn from mistakes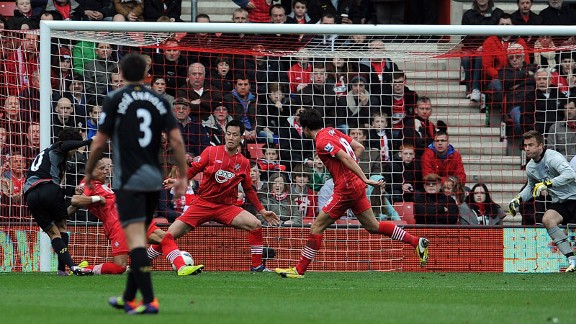 GettyImagesPhilippe Coutinho pulls a goal back for Liverpool.
As another half-hearted Liverpool attack finished how it started, eyes scanned the scoreboard at St Mary's. Five minutes it replied, but it felt like 50, 500, forever.

The question of how long remained was not preempting one final drive toward redemption but simply how long the marathon of misery in the 3-1 defeat would be prolonged for. How familiar it felt, even if it had been a while.

- Rann: Saints sink Pool!
- Rodgers rues bad day for Liverpool

Déjà vu does not exist in football. It is simply an inability to learn from mistakes. The mistakes came often on this sorry afternoon, the biggest two coming before a ball had been kicked. There were two changes from the side that beat Spurs -- one enforced, one voluntary, but both ultimately detrimental to Liverpool's hope for a point, let alone three.

This is a story that has been told before and, most worryingly of all, will definitely be told again: defensive frailties, midfield imbalance, attacking ataxia -- all familiar foes that returned at the time when Liverpool needed to smother them most.

But before the post-mortem, take time to simply assess a result that leaves Liverpool's season motionless on a cold, hard slab of concrete. The season is quite not over with eight games remaining, but the epitaph has begun. In truth, the engraving could be completed already, for Liverpool's issues are clear for all and have been all season.

When Liverpool are good, they can be phenomenal; when Liverpool are bad, they are monstrous. Here, they were the latter in all its hideous grotesqueness, a distorted portrait to show exactly why they are struggling to qualify for Europe next season. It was 90 minutes of ineptitude and frustration from the away side with only the briefest respite given by Philippe Coutinho just before halftime.

After four consecutive victories and 15 goals scored, little needed to change for Liverpool to maintain this momentum. But with Jamie Carragher ruled out, Brendan Rodgers had little choice but to turn to Martin Skrtel, whose spell on the sideline did little to halt his downturn in form.

With one foot out of the Anfield exit door, it is little surprise Skrtel struggles to keep his balance in the centre of defence. He is a player who typifies this Liverpool side, as it is impossible to determine which incarnation will appear. More often than not this season, he has been the one who is bullied by centre forwards and finds himself taking positions as rash as his challenges. So it proved again within five minutes, a mistake from Glen Johnson followed by the Slovak's failure to track Morgan Schneiderlin's run. The following 85 minutes would bring little more.

Nothing could be done about Skrtel's inclusion, though an international centre back should not be such cause for panic. But something could have -- and should have -- been done about the baffling midfield choice. Of all the mistakes made this season, there has been far too much clamour to attribute them to Rodgers. There has been an unfair scramble from some to lay all travails at the small feet of the Northern Irishman.

But the decision to play a half-fit Joe Allen instead of a similarly afflicted Lucas Leiva or a fully fit Jordan Henderson has Rodgers' fingerprints all over it. Against a side of Southampton's setup, it was sheer criminality. It was recently revealed Allen awaits surgery on his shoulder after playing with the complaint since October, something that surprised few given his decline this season. Southampton are a side that press high up the pitch, giving the opposition little time on the ball. Since Mauricio Pochettino's arrival, they have also worked on moving both horizontally and vertically, closing down the angles for passing.

Allen at 100 percent may be able to cope with this, but with the Welshman lacking confidence -- even more so due to his injury -- it would prove a costly addition. To play just two in central midfield against Southampton's industrious five was chancy; to choose Allen ahead of the energy of Henderson or strength of Lucas, albeit strength hindered by a slight knock, was asinine. For Rodgers, the midfield selection was either arrogant or inept. Pick your poison.

That is not to blame Skrtel or Allen solely for the defeat. In such a defeat, blame is an obsolete concept. To scapegoat them would be grossly unfair, for this was a team unified in mediocrity and disharmony.

It is also a team with a spine that shatters under minimal pressure. For full proof, see the expected second-half charge that never threatened to materialise. Southampton's third goal typified the surrender, Jay Rodriguez running from the halfway line unchallenged, for to define the attempts by Lucas and Skrtel as challenges stretches its very definition.

Liverpool do not have a team that can achieve anything if every outfield player fails to. Daniel Sturridge and Luis Suarez failed to combine bar a fleeting 10-minute spell in the first half; Stewart Downing and Coutinho worked hard, but every action was one of futility. Steven Gerrard struggled, Daniel Agger flailed his limbs in wild panic, and Johnson produced a 90 minutes that has recently become commonplace, playing as if his feet were turned backward. That Brad Jones was Liverpool's best performer says more than anything else.

But above all the problems on and off the pitch, the biggest one is that they are yet to fully learn from them. Until they do, success will be a far-flung notion. They cannot keep making mistakes, particularly at times when all seemed to be falling into place and momentum started to build once more. Though Rodgers brought on Lucas at halftime, it was 45 minutes too late. Most knew it as the game kicked off, including the midfield milquetoast Allen, who nervously fumbled with his shorts as the game began, searching for anything but the ball.

Perhaps he was searching for the answer to one of the biggest questions of Rodgers' reign: the remarginalisation of Henderson, particularly in games suited to him. Imagine finding a completed Rubik's Cube and smashing it to smithereens. After two excellent performances away to Manchester City and Arsenal, he has inexplicably played just 116 minutes. At a time when he should be given more responsibility, all semblance of it has been snatched from him.

And so the story goes on. The pages keep turning as they have for the past few years. It is not always a pleasant read for Liverpool, as great performances and a good run of form are abruptly ended at any given moment. The mental barrier is yet to be broken down. With Arsenal and Everton both winning, it is yet another must-win moment that evaporated in such ignominy with another three goals against them. Liverpool have conceded two or more goals in over half their league games but also have kept 12 clean sheets. This is the dichotomy of Liverpool; this is their inconsistency.

This inconsistency is not limited to Rodgers' time, but some decisions will hardly change that. He has had good moments since his arrival, but this was not one of them. He must learn, as must his squad. When, how and if that will happen remain unanswered. Any sign of it happening usually serves only to make the fall back to earth that little bit more bruising.

Déjà vu does not exist in football. It is simply an inability to learn from mistakes. They must learn from them both on and off the pitch or risk this maddening, topsy-turvy existence for a while longer.