Pressure, yet again, in return to Southampton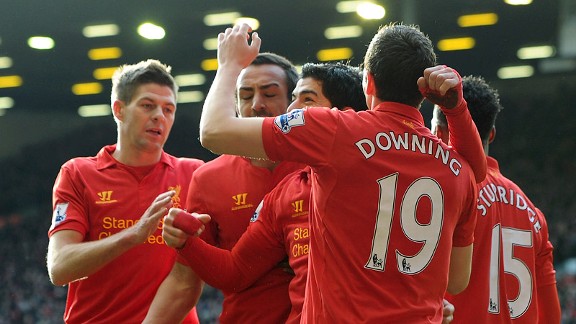 John Powell/Liverpool FC/Getty ImagesIf Luis Suarez, center, and Liverpool can continue momentum from the win over Spurs at Southampton on Saturday, it will be a welcome change from recent history for supporters.
When Liverpool travel to St Mary's Stadium in Southampton on Saturday, there will be a sense of deja vu; a nagging feeling they have been here before.

Their subconscious is not playing tricks on them, for they have been to St Mary's before. From its opening in 2001 until the Saints' relegation in 2005, Liverpool visited four times, losing three, all by two goals without reply.

- Rann: Saints welcome Liverpool

But this is not about Southampton, nor their stadium. To hell with statistics. The club Liverpool face on Saturday is immaterial, so too results that happened a decade previous. Of the team that last lost to them in January 2005, only Jamie Carragher and Steven Gerrard remain at Anfield. How strange it will feel when such a footnote can no longer be regurgitated after this season.

Liverpool's record at Southampton might be enough to see beads of sweat trickle down some brows, but there is a far bigger monster that lurks. After the 3-2 victory over Tottenham Sunday, Liverpool's season received an unexpected lightning bolt to revive it.

It's alive, it's alive - but now that Saturday's game is one immersed in pressure, it might not be alive much longer.

Pressure has been no friend of Liverpool over the past few months, years, decades. The slimmest sign of a must-win fixture is usually followed by a litany of failure. Shoulders hunch, red mist descends, heads explode. Little surprise they have waited 23 years for their 19th league championship.

It is not an exact science, of course. Moments of pressure do not always precede fiasco, particularly in Europe. But there is a narrative that runs through recent history: when expectation rises, so does Liverpool's propensity to confound it all in the most disappointing manner.

A brief glimpse of the past few fixtures against Southampton provide perfect snapshots. In 2002, a win at St Mary's would have taken Liverpool second in the Premier League. Two years later, victory would have put them within a point of fourth with 10 games remaining. Three points in March 2005 would have ultimately put them four points behind Everton, who lost 1-0 at home to Charlton Athletic.

Three chances, three failures. Free from any pressure, these were all good sides that lost on the South Coast. These were also sides who would finish second, fourth, fifth respectively; the lattermost would win the Champions League. Some would argue such finishes show the pressure was not always so asphyxiating; the retort is that these sides should have finished first, third and fourth.

It has become worse in recent years. Rarely has a run of form ended when logic dictated it to. This has been an illogical, crazy club for years; the locomotive barely releases its steam before it skids off-course, rarely when it as expected to. A long list of must-win games becomes difficult reading.

Kenny Dalglish's side had to beat Tottenham in the penultimate game of the 2010-11 season to maintain their hope of European football - but they were a derisory ramshackle outfit, a shadow of the team that scored 13 goals in the previous three games, losing 2-0 in a performance devoid of intelligence and coordination.

Against Arsenal last spring, only a win would do to keep their Champions League chances a reality; 1-0 became 1-2, Robin van Persie's last-minute winner another hammer blow, a deadening reality check that Liverpool find it difficult to win the games they have to.

It is hard to distinguish how this has happened. Twenty-three years without a league title, and history through the lens of hindsight, says it is a mentality rife through the club -- yet this is also a club that has housed some of the most intense European nights at home and bravest defensive performances away. Perhaps that it remains inexplicable is the only explanation; no solution has yet been fully offered.

Whatever the reason, this has -- in part -- truncated the points haul of Brendan Rodgers. How galling their defeat to Aston Villa at home felt, just at the moment their season started to turn in their favour; how humbled they were by West Brom after positive results away to Manchester City and Arsenal.

Both games were billed as must-win; both were seen as an easy route to redemption and recovery. Both saw Liverpool as their limb-flapping worst. That's not to absolve the manager or players of responsibility, but reversing a trend so steep can be difficult.

But the 3-2 win against Spurs was a bucket of cold water doused over all. How refreshed Anfield felt. 2-1 down and an agitated crowd following a script so familiar, Liverpool suddenly overcome the pressure. Sleeves were rolled up, knees were muddied; a collective effort to change this discourse. It prompted all sorts of statistics: most amazingly of all, the first time they have won four games consecutively since February 2011 in the early romance of Dalglish's second coming.

Much has changed since then, except this wilting under pressure.

It can be a vicious cycle; a wall that extends even higher once it appears the summit is in sight. By overcoming Spurs, yet more pressure falls at their feet away to Southampton, for this season suddenly means something once more. With Everton hosting Manchester City in the early kick-off and Arsenal away to Swansea, victory could take Liverpool to fifth - the lowest position that will bring European football this season.

But this is not necessarily about European football for Liverpool, simply starting to shift a mentality that has run through the club and its fans for far too long. That could be more important than any October trip to Eastern Europe in the long-term. There is little middle ground in football, especially at a club that elicits such emotion from so many: victory brings world domination, defeat simply ends it.

Neither is a fair assessment, but there does come a moment when momentum must be sustained beyond a few games at a time. Consistency is the sign of a side's progression.

If Liverpool beat Southampton at the weekend, then perhaps teams that face Liverpool will be the ones under pressure to beat a side in good form and pushing for a European place.

Perhaps winning football matches regularly has been the answer all along.