Character makes a welcome return to Anfield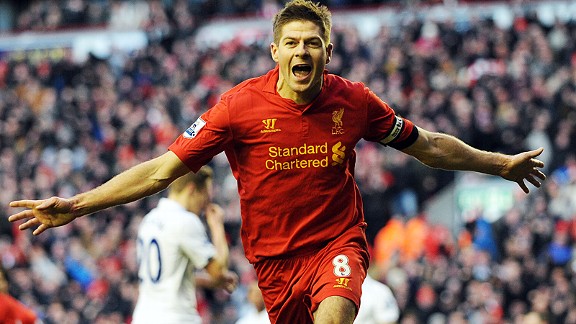 GettyImagesSteven Gerrard
It is said that winning ugly is the sign of champions. Make no mistake, Liverpool are hardly Champions League material, let alone champions elect. There will be no victory parade around the city just yet. The open-top bus remains in the garage, no champagne corks will litter the streets of Anfield.

- Liverpool 3-2 Tottenham

But winning ugly is not reserved for champions alone, as proven during Liverpool-s topsy-turvy 3-2 win over Tottenham on Sunday. It can simply be a sign of a team that is learning, a team that has started to marry its unquestionable ability with the unquantifiable, undeterminable beast of character. For Liverpool, character has only revealed itself in its absence. Whatever character is, it has barely resided on Merseyside this season as Liverpool wither and wilt under the spotlight of pressure.

But this was character in its handsomest form. This was full, tangible proof of progress at last. Spurs had Liverpool reeling after half-time, which usually results in them sprawled out on the blood-stained, tear-soaked canvas by full-time. Against Aston Villa they were bullied, with each goal a further spiral into depression; against West Brom, their confidence ebbed away before Romelu Lukaku helped squash it completely with his foot.

So many games, so many moments of mental fragility: Arsenal, Manchester City, Stoke. The ink is yet to dry on a list seemingly endless. Against Tottenham in November, one goal quickly became two, an insurmountable task created within 16 minutes.

History looked to be repeating at Anfield. Luis Suarez's opener was eradicated by Jan Vertonghen's double, but the 2-1 lead did not reflect the dominance Spurs were enjoying. Enjoying it they were, too. Their ball retention was relentless and the movement off the ball mesmerising as players flitted from right to left, left to right, in perfect synchrony. Liverpool had no response. Brendan Rodgers regards time on the ball as the time to rest - here stood a team of insomniacs after seeing so little possession at the start of the second half.

Liverpool should have capitulated, for that is how the narrative flows. At times this season, this has felt like a club bound by destiny, unable to escape what is expected of them by others. They have yielded to teams far worse than this Spurs side which had gone 12 games unbeaten and has a realistic chance of finishing in the top three for the first time since 1990. They have crumbled against sides who don't contain the raw, brutal efficiency of Gareth Bale, the masterful movement of Moussa Dembele and the imposing Vertonghen.

But they didn't yield nor crumble. They won ugly; some would even say rancid and disfigured, such was the performance at times. Communication was non-existent; heads began to drop, chins dragging across the Anfield turf, tearing it apart. As the Kop's disgruntlement grew, so did the inability of the players before them to pass to a team-mate. Yet when luck was presented at their feet - literally, courtesy of Kyle Walker's loose back pass - they took advantage of it. It matters not it was handed to them by incompetence from the opposition; this is a side who, in recent years, would drop the world if they changed hands.

That is not to intimate Liverpool were poor throughout. Toss aside the psychoanalysis and there were still some things that had Rodgers happily scribbling onto his notepad. Maybe front and centre of it is a portrait of Suarez with a heart sketched around it, for that is the emotion he prompts for many. Though Liverpool didn't reach the performance levels of recent games, Suarez was his usual spritely, serpentine self, snaking and slaloming past outstretched legs with cantankerous glee.

He was central to all that was good for Liverpool, despite not playing so central himself, rotating with Daniel Sturridge as the apex of attack. Supported by the excellent Downing and Philippe Coutinho, the trio were integral to a good Liverpool start. After 20 minutes, a moment of beauty: the trickery of Coutinho, the power of Jose Enrique, the finesse and finishing of Suarez. Picture-perfect pinball. If Liverpool could capture that, frame it and replicate it every game, they would. With 56 Premier League goals this season, there might not be much need to anyway.

Liverpool could have scored a goal as beautiful and multi-faceted as the brightest aurorae - this Suarez strike was close enough - but what followed is what success is ultimately founded upon.

The cosh and the character. Rarely has the latter followed the former for Liverpool in recent times - only their 3-2 win against West Ham in December brought three points after falling behind this season. Pass and move may be a staple of the club, but winning is its lifeblood, its foundation. It may take a while to implement that once more, but consider this a small memorandum.

This is what character looked like, and character to win a game of football at that. It has peeked over the parapet at times this season, at Goodison Park, Stamford Bridge and against Manchester United with 10 men, but with no victory to act as the footnote. Against Spurs, it would have been easy to regurgitate the same, tired story of the season: three steps back, three steps forward, two to the side - foxtrotting with inconsistency, failing to sustain momentum from the performances previous.

It would have been easy, also, for Downing to blast the ball towards goal instinctively once Walker had presented him with the ball and Hugo Lloris had mistimed his clearance. The target was open for a man who has been such an open target himself since his move to Liverpool. But he waited, steadying both mind and foot to give Liverpool an equaliser the 20 minutes previous scarcely deserved. How refreshing this role-reversal felt for the home side, how refreshing Downing absorbed adulation instead of scorn.

What Downing did took character. What Steven Gerrard did 15 minutes later did too, placing the penalty to his unfavoured right-hand side on advice from goalkeeping coach John Achterberg to ultimately win the match for Liverpool. But it was Rodgers' substitution on the hour that began to arouse the slumber and stop the stupor. Indeed, it took character to take off the popular attacking threat of Coutinho for the out-of-favour Joe Allen, a reaction to Liverpool's struggles with ball retention. Much brow-furrowing and mumbles of discontent sounded around the gallery, but Allen did what he had to do.

So did Liverpool, for this was a match they had to win to keep their season interesting, to retain the forlorn hope of European football next season. This was a match which, at 2-1, they could not lose to halt the seeds of doubt blossoming into a fully-grown confidence crisis. Defeat against Tottenham would have posed a question of just how and when a win against such a side would come. The longer it is asked, the more difficult the answer becomes. Ask no more.

But with jubilation comes frustration - frustration over how poor Liverpool were at times, particularly in defending set-pieces. How Pepe Reina was missed as Brad Jones stood on his line throughout watching the mayhem before him unfold. Lucas Leiva continues to be a walking dichotomy after returning from injury, too. Though he is nowhere near the level he is capable of as he learns what Rodgers expects of him six months after everybody else, the results have improved since his return.

With elation comes irritation. It has taken 29 league games for this to happen for Liverpool, at a time when Champions League football is no more than a distant light that faded from the opening day onwards. Though they are now in sixth - the highest they have been all season - there will be some preoccupied with the what ifs once again.

Not that it mattered at the full time whistle. Frustration and irritation will have their day once more. The celebrations from the home support acted as a reminder of how starved they have been of afternoons of this ilk in recent years against a team of such quality.

They had probably forgotten what character had looked like in a game of such importance. It certainly felt like Liverpool had. How both enjoyed reacquainting themselves with it, in all its ugly beauty.