Why Rodgers should save his Sterling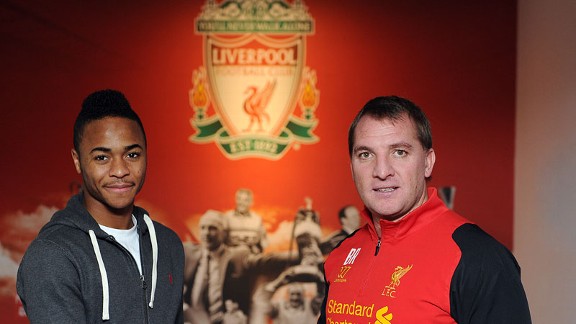 GettyImagesRaheem Sterling has been central to Brendan Rodgers' plans
There has been a buzz about Raheem Sterling for a long time now and rightly so.

Having flourished since signing as a prodigious 15-year-old from Queens Park Rangers just over three years ago, there was talk of how Liverpool had finally found a cure to their long-standing ill of lacking a natural attacking winger.

- Rodgers heaps praise on Sterling

That talk intensified after a starring role in a 9-0 thrashing against Southend United in an FA Youth Cup tie, in which he scored just the five goals, that alerted Kopites to a talent that was destined for bigger and better things.

Just 12 months later, the ascension was complete. Having been introduced as a substitute during a 2-1 defeat to Wigan Athletic, the pint-sized frame of Sterling had reached the dizzy heights of the first team long before his 18th birthday. But since the arrival of Brendan Rodgers, he has been catapulted even further by becoming a regular in the starting 11 throughout the first half of the 2012-13 season.

While some may argue a case of too much too soon, it was only a matter of time before Sterling was given his opportunity to star on a weekly basis. After being handed his full league debut against Manchester City many could have been forgiven for thinking he would shy away from the champions and their solid defensive rear guard. However, Sterling's small frame didn't shy away from the task that faced him and his eye-catching display was one of the more pleasing aspects in a 2-2 draw.

For the first time in over a decade, here was a winger in red who was capable of taking on defenders at will, and whose crossing offered real hope in a season that has since had its trials and tribulations. And while other young players in his position may have felt comfortable by then, Sterling showed no let-up with a string of performances that offered real encouragement during a testing period for a Liverpool side who struggled to find their feet in the opening months of the season.

His first goal came in a 1-0 win at home to Reading in October 2012 -- making the then 17-year-old the second youngest scorer in Liverpool's history -- but testing times have since followed. Perhaps one obvious reason is the fact that Sterling's prominent rise to first-team football may be a case of too much too soon. Since the turn of the year, that boundless energy which tired the defences of City, Manchester United and Arsenal has been replaced by weary legs.

Which is why this week's comments from Rodgers suggest that it would perhaps be a blessing in disguise for Sterling were he not to play again this season. After all, not many players aged 17 or 18 are regulars for their side, plus it may benefit both parties in the long run. Having had a taste of what it's like to play at the top level, Sterling will have to be careful of not falling into the trap of shining brightly and fading as quickly as a meteor falling into the Russian outback.

It will be interesting to see how Rodgers manages the young star beyond this season. While the temptation will be there to throw Sterling in every week, the Northern Irishman knows that were it not for a bigger squad, then he will certainly not have played as much as he has done over the past eight months. His raw talent is not without its flaws and Sterling can always be developed further before he becomes the complete footballer.

It is not the first time a prospect has taken to the field in front of the Kop, tasked with entertaining the masses behind that embankment. Recent history shows the likes of Steve McManaman, Robbie Fowler, Steven Gerrard and Jamie Carragher have flourished under the weight of expectation that comes with wearing the liverbird upon their chest.

For anyone starting out on the road of a long career in football, the attention is enough to fill anyone with dread, but if Sterling is to fulfil his potential and stay grounded, his ability may light up the Premier League for many years to come.