Sturridge becomes a real player at Liverpool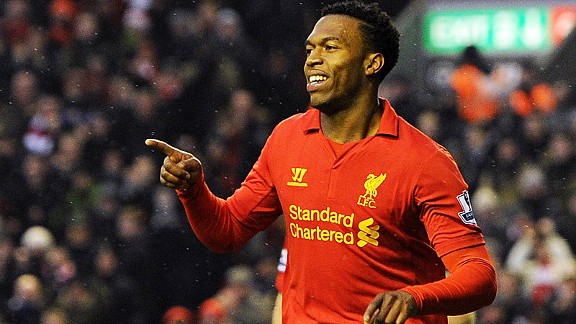 GettyImagesDaniel Sturridge began his professional career with Manchester City before moving to Chelsea
As he sat in front of Liverpool's in-house press team after completing his protracted move from Chelsea, Daniel Sturridge seemed surprisingly relaxed. Having failed to live up to expectations at Stamford Bridge after deciding to spurn a £45,000-per-week deal with Manchester City, he had received a stark warning from manager Brendan Rodgers that the Anfield switch was likely to be his last chance at the top level of English football.

"People look at the situation of me moving on to Chelsea and see someone being greedy or ill-informed," he told The Independent. "I realised City had all the money in the world and could buy anyone they wanted. Since I left, they've probably bought ten centre-forwards."

It made his decision somewhat understandable. Knowing that getting a game at City was going to be increasingly difficult, he took the risk of a move to London and the chance to succeed Didier Drogba. Naivety was perhaps his biggest crime.

His remark upon arriving that Liverpool were "the biggest club" he'd played for also stirred up some controversy, but he was happy to provide clarity on that, too. "People saw it as a lack of respect for Chelsea and City but I stated a fact," Sturridge said in an interview with the club's magazine. "Liverpool have 41 trophies and Manchester United have 40. Other clubs are way behind. There's only one club that compares [with Liverpool] and that's United."

His manager would far prefer column inches to focus on the striker's performances, which have been highly impressive so far. Netting four goals in his first six games, his record represents the best of any new Liverpool striker in 11 years and only Robbie Fowler has done better in the last two decades.

Much like Fowler, Sturridge finds no greater pleasure in life than putting the ball between the posts. "It's that anticipation of knowing where the ball is going to land in front of you and the release of emotion when it ends up in the net," he said in his interview with The Independent.

Just as Fowler once formed a formidable partnership with Stan Collymore during the mid-'90s, Sturridge is eager to do the same with Luis Suarez. The pair are already displaying a good understanding, and Sturridge's delightful dummy for Suarez's goal against Norwich typified why they work so well - the new man eager to help Suarez secure a personal accolade. "I'll try to help him get there [in the Golden Boot stakes] and give him opportunities," he told the club's official website last week. "It's always good to get individual glories as a player because they're the things you can look back on at the end of your career and tell your grandchildren you were top scorer for that season. I'm sure he'll be gunning for that."

Rodgers rates Sturridge best as a central striker, where he can use his pace, but he has experience of playing out wide from his time at Chelsea. The Liverpool boss is keen to equip his side with players who can operate in a variety of positions and give the team tactical flexibility, and few teams will have an easy time trying to contend with Suarez and Sturridge in tandem.

Sturridge is just relishing the chance to get back out there. "When you don't play, a loss doesn't affect you as much because your body isn't filled with adrenaline and emotion," he told The Independent.

Having been overly reliant on Suarez, Liverpool now boast a partnership that can ease the burden on the Uruguayan and give the Reds the chance to look forward to next season with optimism.

Sturridge's permanent switch to Anfield came at Chelsea's insistence, with Rodgers having preferred a loan deal, but they look to have captured a player who is finally ready to fulfil his potential.

In an interview before Christmas, Damien Comolli, Liverpool's former director of football strategy, told talkSPORT: "When you have talent you have to wait for it. Arsene Wenger says you don't have a player until he's 23. I agree."

Sturridge, who turned 23 in September, is starting to look every inch the player he had always threatened to be.